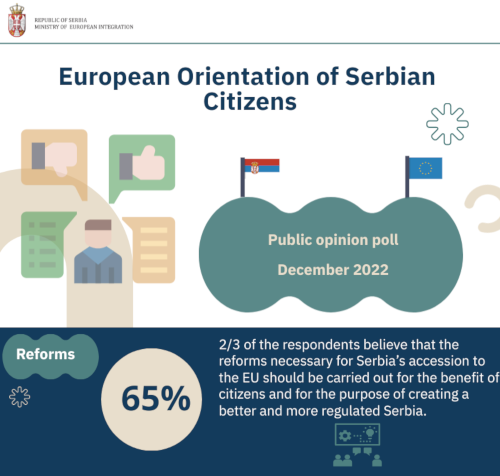 If a referendum were to be held tomorrow with the question "Do you support Serbia's membership in the EU?" 43 per cent of Serbian citizens would vote for, 32 per cent would vote against, while 13 per cent would not vote at all, and 12 do not know how they would answer this question, is the result of the latest public opinion poll, "European Orientation of Serbian Citizens", which was, conducted by the Ministry of European Integration in mid-December last year. The poll, in which 1,050 respondents over the age of 18 participated, was conducted on the territory of the Republic of Serbia (excluding Kosovo and Metohija) according to the Eurobarometer standard.
As in the previous years, citizens' support for reforms remained high. Out of the total number of respondents, two-thirds (65 per cent) believe that the reforms necessary for Serbia's accession to the EU should be carried out all the same, for the benefit of citizens and for the purpose of creating a better and more regulated Serbia.
When asked about development grants to Serbia from 2000 to date, 28 per cent of the respondents recognised that the EU is the biggest donor to our country, followed by China, Russia and Norway. Compared with official data on bilateral aid, citizens are correct in identifying the EU as the largest donor, because, in the period from 2000 to the end of 2020, the European Union and its member states contributed to the development of Serbia with EUR 5.3 billion in grants. The next largest bilateral donors are Germany, Sweden and Italy.
A third of the respondents, 33 per cent of them, are aware of the fact that projects funded by the EU are being implemented in Serbia, especially in the areas of environmental protection, education, health, science and innovation, cross-border cooperation, energy, culture, transport, agriculture, private sector development, public administration reform and judiciary and internal affairs. In border areas, that percentage is much higher, because as many as half of the respondents (48 per cent) know that cross-border cooperation projects are implemented in their areas, and more than 80 per cent of them fully or partially agree that they see concrete results from the implementation of these projects financed from funds of the European Union.
An equal number of citizens, i.e. 38 per cent, believe that both the state and they personally would benefit (or greatly benefit) from our state's membership in the EU. Citizens believe that the biggest benefits from our state's entry into the EU will be enjoyed by large companies, industry, small and medium-sized enterprises (35 per cent in total), health care 11 per cent, education 10 per cent, and judiciary and social protection 7 per cent each. On the other hand, 21 per cent of citizens think that domestic agriculture will lose the most from Serbia's entry into the EU.       Citizens see the fight against corruption and the health system reform (17 per cent each), better protection of human rights and the education system reform (12 per cent each) and judiciary reform (11 per cent) as the most important and as those that have the greatest impact on their daily life. Next in importance to them are the improvement of agriculture (11 per cent) and better environmental protection with 10 per cent.
For the largest number of citizens, EU membership represents the possibility of travelling within the EU (15 per cent), more employment opportunities (14 per cent) and a path to a better future for young people (13 per cent) but for 13 per cent of respondents, it also represents the risk of losing their own cultural identity.It is interesting to note that the largest percentage of citizens expressed their willingness to change their current lifestyle habits, if it is for the purpose of joining the EU. This refers to activities in everyday life such as starting to separate garbage for recycling, paying a deposit for PET packaging, and saving energy and water – as many as 41 per cent of them declared that they are ready for this. A third of the respondents states that they would be ready to also change their work habits with the same goal, primarily working hours, vacation length and work benefits.Finally, when asked what kind of social system they would like to live in, citizens first cite Switzerland (25 per cent), followed by Germany (20 per cent) and Norway (14 per cent) as ideals.