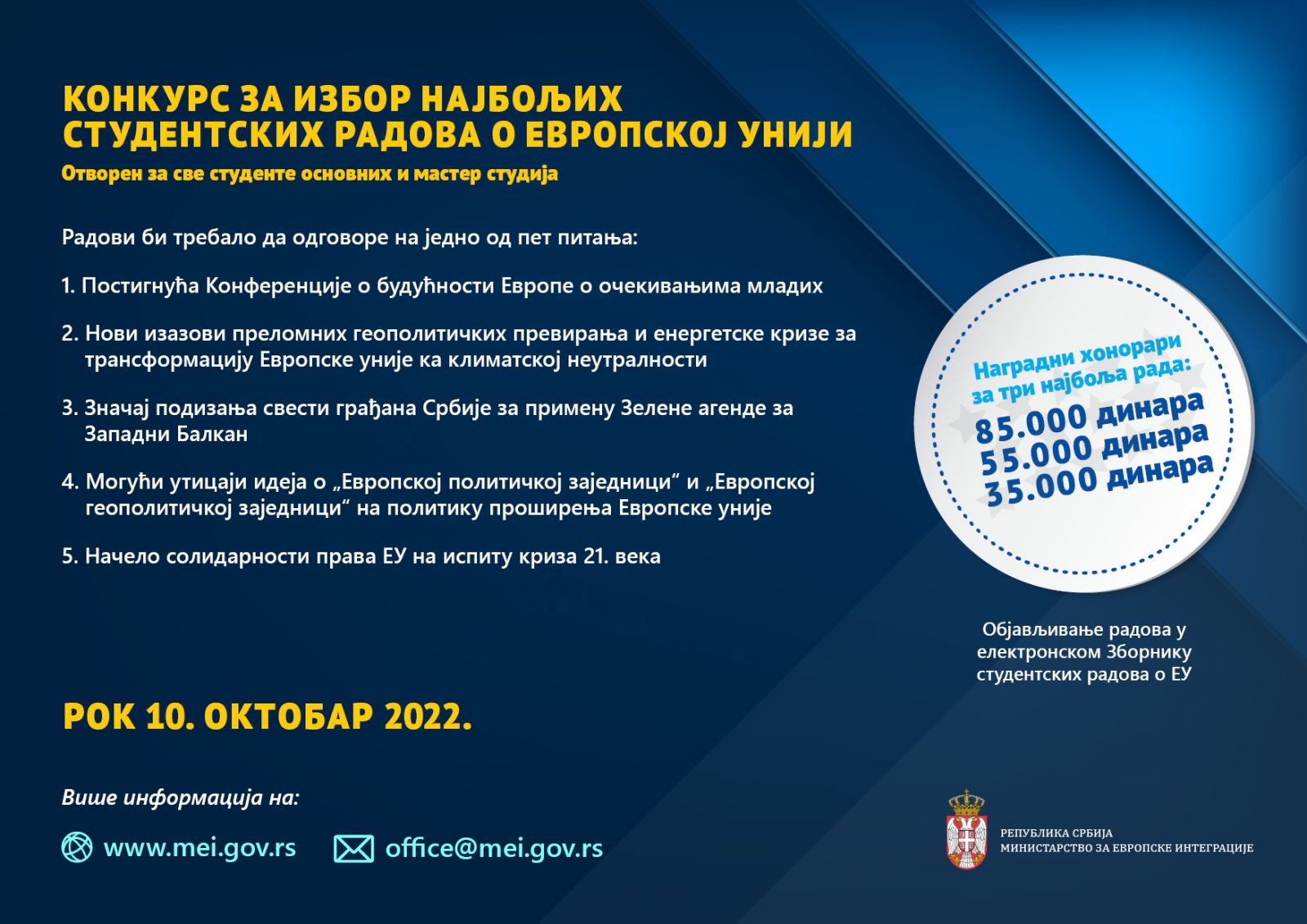 The Ministry of European Integration of the Republic of Serbia is announcing a competition for the best individual student papers on Serbia's European integration and EU accession process.
The aim of this competition is to directly involve young academic citizens in an open argumentative debate on important aspects of the accession process and membership of the Republic of Serbia in the European Union.
The papers should answer one of the following five questions:
1.    Achievements of the Conference on the Future of Europe and youth expectations;
2.    New challenges of ground-breaking geopolitical turmoil and energy crisis for the EU's transformation towards climate neutrality;
3.    Significance of raising awareness of Serbian citizens for application of the Green Agenda for the Western Balkans;
4.    Possible impacts of the ideas of "European political community" and "European geopolitical community" on the European Union's enlargement policy;
5.    Principle of solidarity of EU law challenged by the 21st century crises.
The committee of experts composed of University of Belgrade professors will assess the quality of submitted papers, while the authors of the three top-ranked papers will receive prizes worth RSD 85,000, RSD 55,000 and RSD 35,000, respectively. In addition to the three top-ranked papers, the Ministry will publish other papers that meet the competition criteria in its electronic collection.
The competition is open for students enrolled in basic academic and master study programmes at all universities in the Republic of Serbia.
The deadline for the submission of papers is 10 October 2022.
You can download the text of the competition here.
You can download the decision announcing the competition here.