Dialogue: Citizens trust the Government in the fight against the pandemic
November 10 2021 | Belgrade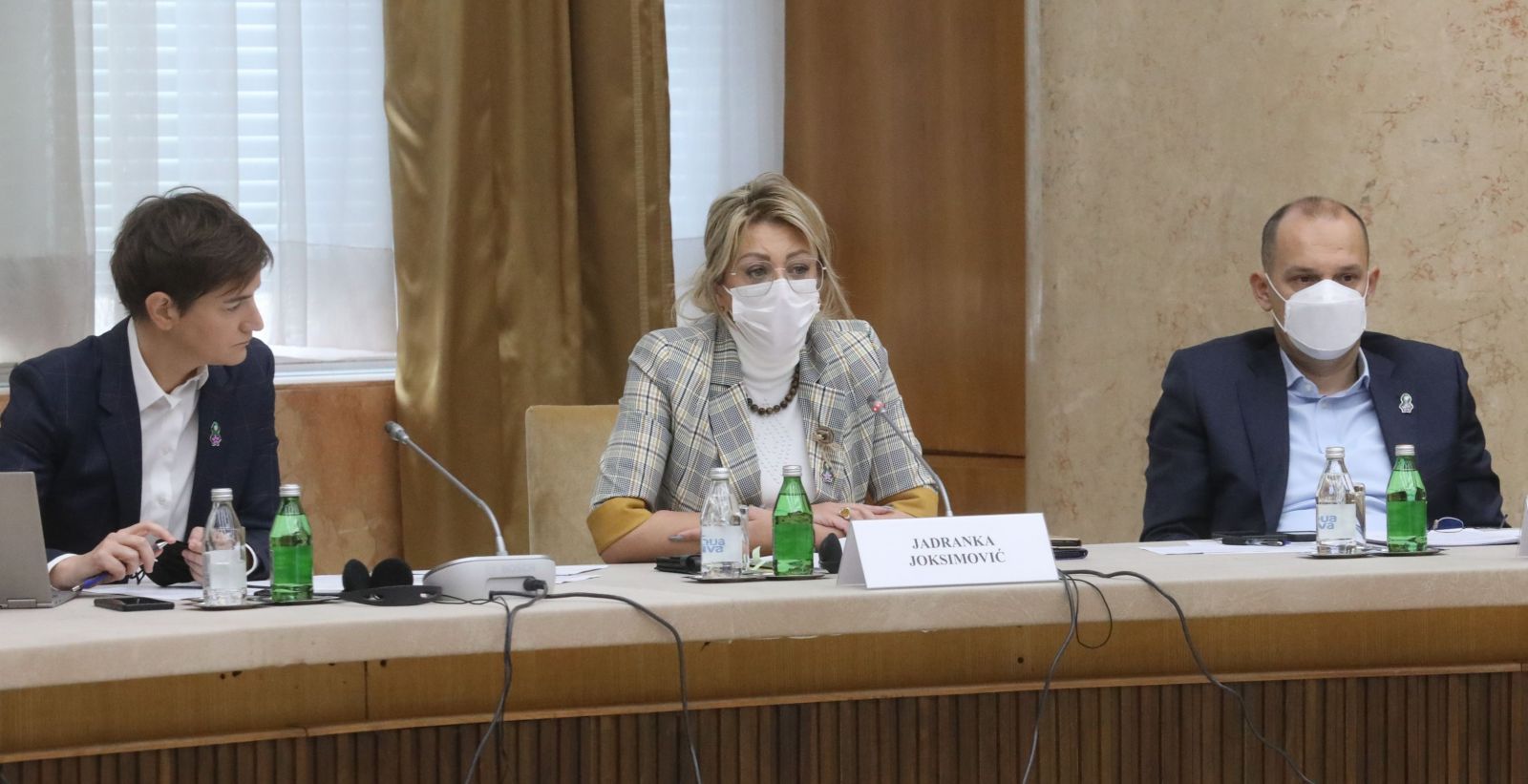 Minister of European Integration Jadranka Joksimović has attended a dialogue with the National Convention on the EU titled 'Public health, COVID-19 and vaccination', which has also been attended by Serbian Prime Minister Ana Brnabić, ministers Zlatibor Lončar and Darija Kisić Tepavčević, and Ranko Panić, a representative of the Serbian Trade Union of Doctors and Pharmacists. The Minister has stated that it is true that the vaccination average in Serbia is lower than in other European countries and that it is necessary to determine what caused it and whether the Government is responsible or it is, nonetheless, the responsibility of mature Serbian citizens.
"I think that Serbian citizens trust the state", said the Minister, who has stressed that annual reports provide clear information on the measures and steps that Serbia has implemented, adding that there is also the EC annual report which notes that the Serbian Government made significant efforts that yielded results starting from week seven, that Serbia aligned its measures with the WHO, that it launched a successful vaccination campaign in January, that it was a frontrunner in the region, that it donated 600,000 doses, etc.
According to her, the Report also notes successful communication between Serbian and European institutions in all stages of the pandemic. The Minister has added that the Negotiating Position for Chapter 28 has been adopted and that many issues have already been resolved.
Minister Darija Kisić Tepavčević has stated that she is convinced that every Serbian citizen feels supported by the state, but she has also stressed that the virus cannot be beaten in this wicked game if every individual does not take the matter into their own hands and protect themselves and the people around them. "That is the only certain way to win", said Kisić Tepavčević.
The first part of the dialogue was launched by Convention representative Nataša Dragojlović, who said that Canada and Canadian Prime Minister Justin Trudeau are an example of how to treat citizens, particularly bearing in mind his message that the Canadian Government stands by its citizens. In response, Kisić Tepavčević emphasised that there can be no victory without a joint fight, because there is no magic wand or anything any government can do to make the virus disappear.
"We have vaccines, newly built hospitals, we have done countless things, made huge steps for the first time in decades... All this has started to be considered as implied, which is a good thing, because it means that the citizens are certain we have a humane healthcare system", said Kisić Tepavčević.
Prime Minister Ana Brnabić spoke about the results the Government achieved during the pandemic, including the procurement of vaccines, ventilators and state-of-the-art medicines, and opening COVID hospitals, also stressing the importance of digitalisation that will bring fundamental changes to the healthcare system.
"If the entire healthcare system had been digitalised at the beginning of this pandemic, we wouldn't have had so many problems with testing... We share the opinion that healthcare will be one of the matters of national security, and that is why it is necessary for it to be efficient", said the Prime Minister, adding: "We have also increased capacities for testing, test processing, so much so that now we can process up to 25,000 tests a day, and at the beginning we could do only 500 to 1,000."
Brnabić also recalled that it is important to talk about vaccination, stressing that she has a sense that Serbian citizens place more trust in domestic producers, and that, therefore, the expansion of Torlak's capacities and two new production lines will increase citizens' trust and lead to higher vaccination rates.
The Prime Minister regrets that the state has been blamed for everything throughout the pandemic and the fight for the preservation of health, but that it has not received any recognition.
"I am proud of what we have done, how we have fought and I am sorry that we have witnessed various abuses, that completely opposite attitudes have been expressed about what we should or should not do, from some very important organisations mind you, and that we have suffered the consequences of such irresponsible policies and decisions", said Brnabić.
Minister of Health Zlatibor Lončar stated that Serbia had done everything it could in the fight against the coronavirus. According to him, in Serbia, 30 % of COVID-19 patients have had access to hospital treatment throughout the pandemic, compared to 7–12 % in EU countries. "Everyone should know that few countries other than Serbia could receive that many COVID patients for treatment", emphasised Lončar.
"Words don't matter but actions do, I can come out and say: 'People, I'm taking you all to the Moon' and you give me praise... what matters is what we have done and what citizens and patients have felt and how the healthcare system works", added the Minister of Health.
He recalled that 3,827 doctors and nurses have been employed since January, stressing that young doctors and nurses have carried the greatest burden, with an enormous help of older and more experienced colleagues that trained them. "Those are young people that entered the system, kids who were residents...they all entered the system, gained knowledge and now they have experience. They are running COVID hospitals, this is our treasure and this must be the future of the Serbian healthcare system. We need this generational shift, and those kids must introduce a new concept of healthcare", said Minister Lončar.
The Minister said that, with their experience and knowledge and the help they should receive, that generation will create a completely new picture of the healthcare system. According to Lončar, there are ongoing analyses to determine the efficiency of vaccines, medicines, measures, etc.
Source: Tanjug