EU provided 27 forest fire-fighting vehicles
June 25 2021 | Belgrade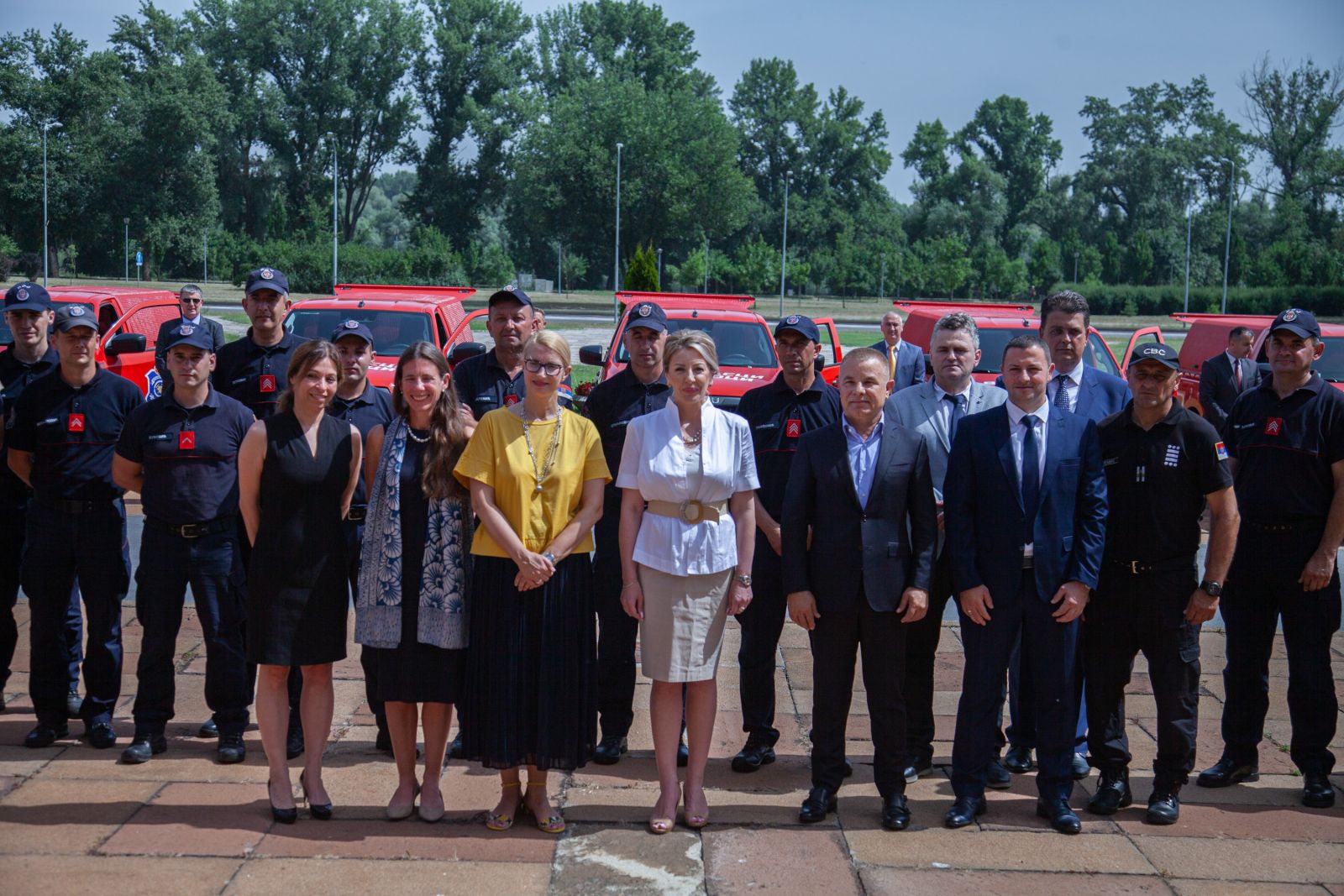 To equip appropriately all regions in Serbia for fighting forest fires, preservation of human lives and property, as well as forest ecosystems, Ms. Mateja Norčič Štamcar, Deputy Head of Delegation of the European Union to Serbia and Ms. Francine Pickup, UNDP Resident Representative in Serbia, have handed over 27 forest fire-fighting vehicles to Milosav Miličković, State secretary of the Ministry of Interior (MI) of the Republic of Serbia. The official ceremony of handing over the fire-fighting vehicles has also been attended by Jadranka Joksimović, Minister of European Integration in the Serbian Government and Sandra Nedeljković, Acting Deputy Director of the Public Investment Management Office.
Total value of these vehicles is above EUR 1 million, and they will be handed over to administrations and departments of the Sector for Emergency Situations of MI in Subotica, Zrenjanin, Kikinda, Pančevo, Sombor, Novi Sad, Sremska Mitrovica, Šabac, Valjevo, Smederevo, Požarevac, Kragujevac, Jagodina, Bor, Zaječar, Užice, Čačak, Kraljevo, Kruševac, Niš, Prokuplje, Pirot, Leskovac, Vranje, Novi Pazar, Prijepolje and Belgrade. Owing to these vehicles, about 3300 members of fire-fighting units across Serbia will be safer and more efficient in fighting forest fires.
Minister of European Integration Jadranka Joksimović has stated today on this occasion that the Government of the Republic of Serbia, in cooperation with the Delegation of the European Union, has secured from IPA programme funds for 2019 more than EUR 14 million for improving the system of civil protection and emergency situation management. 
"Taking into consideration disaster risks, we are realising this project jointly with the European Union with an aim of securing better safety of Serbian citizens, by protecting material, cultural and natural goods from such challenges and risks. Through the donation of 27 fire-fighting vehicles we will enable competent services to more easily control forest fires and open-air fires, even in remote and hardly accessible terrains. Vehicles will be equally distributed per regions, and in case of heavy fires in the neighbourhood, there is a possibility for the vehicles to be jointly engaged from the neighbouring regions for the benefit of all citizens of Serbia."
 "I am very pleased to see that the Ministry of Interior now has at its disposal these 27 state-of-the-art vehicles for fighting forest fires as soon as they occur, in hardly accessible areas, in every corner of Serbia. The EU is there for people in Serbia, in every difficult situation that could happen", said Mateja Norčič Štamcar, Deputy Head of Delegation of the European Union to Serbia.
Milosav Miličković, State secretary in the MI has emphasised that owing to good organisation and team work this project, launched in 2019, has been successfully drawn to an end. "We are planning the improvement of premises of the Sector for Emergency Situations in the value of EUR 2.6 million", Miličković has added, mentioning that Serbia never had such modern vehicles so far and that he hopes the cooperation between all partners will continue in the future, in the interest of all, notably the citizens of Serbia.
According to Francine Pickup, UNDP Resident Representative in Serbia, in order to protect health of people and the planet and to sustain the economic growth, we have to protect the forests, in Serbia and globally. "Extreme weather conditions which can cause forest fires, such as heat and periods of draught, occur more often due to climate changes. According to data from the Ministry of Agriculture, Forestry and Water Management, of all forests destroyed in the country since 2002, 40% were destroyed in forest fires", Pickup has mentioned.
Sandra Nedeljković, Acting Deputy Director of the Public Investment Management Office has mentioned that firefighters are people who in their essence have a strong desire to save and help people, adding: "Since 2014 and huge floods, the Office has been closely cooperated with the Sector for Emergency Situations and we are well aware of the necessary efforts and the costs of each disaster to our country. For this reason we jointly place prevention on the first place. The EU is the largest donor to Serbia in the phase of recovery from floods in 2014, assisting in reinforcing the resilience of our country in the peaceful times alike, so we would be more ready to face new disasters. We are extremely honoured to participate in the activities that have an aim to secure daily safety of our citizens." 
The donated vehicles move much faster than the standard fire-fighting trucks and can more efficiently localise fire even in hardly accessible terrains. This is paramount for urgent reactions immediately after the fire breaks out, and for the protection of people who live in faraway areas. 
To decrease the harmful impact on the environment and reduce petrol use, the vehicles are equipped with low level air pollution engines (EURO 6 standard).
Forests cover about 30% of the territory of the Republic of Serbia. Average temperature increase, due to global warming, increases the likelihood of fire outbreaks, which is a great threat for forest areas. Moreover, forests have an important role in stopping the climate change, since at the annual level forests absorb one third of the global carbon dioxide emissions caused by burning fossil fuels. Preservation of forest ecosystems is therefore central for protection of the planet and quality of life of the future generations.
Handing over forest fire-fighting vehicles was organised in the framework of the project "EU for Serbia Resilient to Disasters", funded by the European Union, and implemented by the UNDP. Project goal is the reduction of Serbia's vulnerability to crises and disasters, through support for institutions and organisations at the national and local level to fortify the preventive measures and increase readiness to respond.