Sixth Forum of the EU Strategy for the Adriatic and Ionian Region now open
May 12 2021 | Izola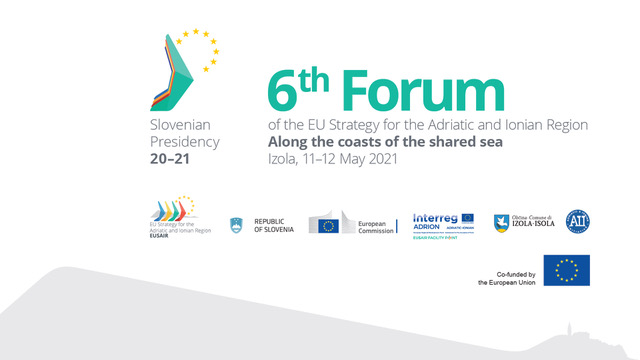 The two-day conference titled 'Along the coasts of the shared sea' marks the end of the Slovenian chairmanship of the EU Strategy for the Adriatic and Ionian Region and will be held in a virtual form in Izola (Slovenia) on 11–12 May 2021. 
More than 70 speakers and officials from countries included in the EU Strategy for the Adriatic and Ionian Region (Albania, Bosnia and Herzegovina, Greece, Italy, North Macedonia, Slovenia, Serbia, Croatia and Montenegro), as well as from San Marino and the European Commission, will participate in this year's EUSAIR forum. 
The topics that will be discussed include: Green and smart solutions in transport, circular economy, sustainable blue growth and innovation, sustainable use of coastal and marine resources, transnational tourist projects aimed at sustainable green macro-region, and green energy. 
A special session, organised within the Adriatic and Ionian (ADRION) Transnational Programme and dedicated to promoting innovation and support to the process of integration of the Western Balkans into the EU through the example of the Smart Specialisation Strategy, will be held on 12 May. 
You can follow the forum at the following link: https://vimeo.com/event/941271/videos/547863987/