J. Joksimović: Energy sector transition – important part of Green Deal
March 10 2021 | Belgrade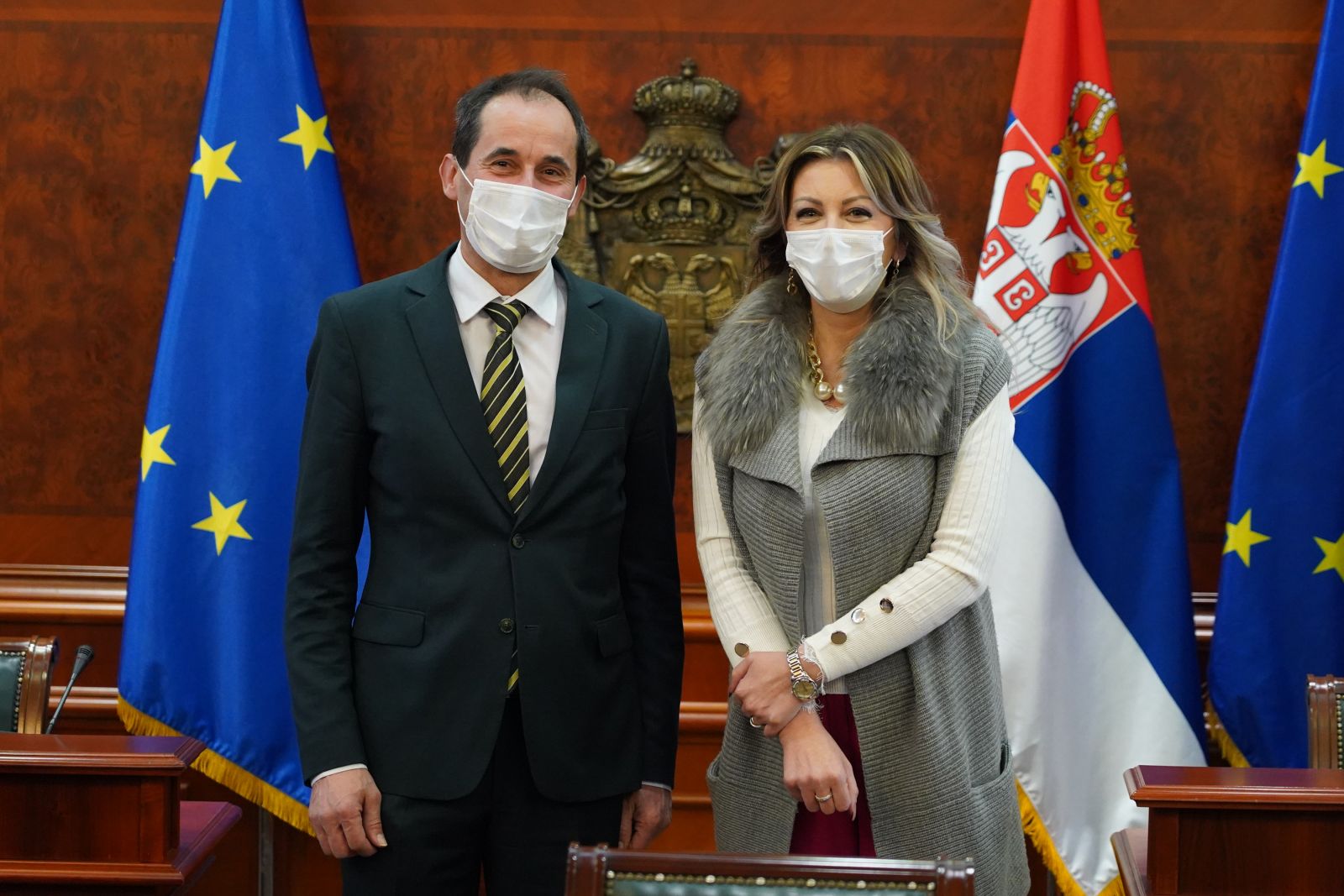 Minister of European Integration and National IPA Coordinator Jadranka Joksimović has met today with Janez Kopač, Director of the Energy Community Secretariat.
Joksimović and Kopač have agreed that Serbia has indisputably demonstrated readiness to undertake the obligations from the Energy Package, and that it will gradually reach full alignment with the EU energy market.
Joksimović has stressed that the Ministry is fully committed and actively participates in coordinating the processes of EU funds planning and programming, with a view to supporting priority projects of Serbia's energy infrastructure, including projects of regional importance through the Western Balkans Investment Fund (WBIF), which is in line with the EU Connectivity Agenda.
Joksimović has expressed satisfaction at the fact that this contributes to achieving the key goal of the Energy Community – creating an integrated pan-European energy market.
In that context, the Minister has underlined some of the vital strategic projects, such as Gas Interconnector Serbia–Bulgaria and the Trans-Balkan Electricity Corridor. 
As regards connecting gas systems with Bulgaria, the project of the construction of the Serbian part of the gas line (Niš–Dimitrovgrad – border with Bulgaria) is prepared at the technical level and is currently in the stage of contracting. A total of EUR 49.6 million has been allocated for the realisation of this project from IPA 2017 National Programme.
Kopač has particularly presented the EC Secretariat's plans regarding decarbonisation and establishing a special fund for facilitating the demanding process of transition to production with a greater share of renewable energy resources and reduced carbon-dioxide emissions.
Joksimović has outlined the Ministry's activities on IPA III planning and programming, conducted in accordance with the IPA III Programming Framework and the EC Economic and Investment Plan for the Western Balkans, pointing out the importance of the EC Secretariat's further support to Serbia in the challenging process of energy sector transition.
The Minister has expressed her gratitude for the expert assistance the institutions of the Energy Community have so far provided to Serbia, as well as her belief that the fruitful cooperation will continue in the upcoming period.
Source: Tanjug