Fifth Annual Forum of the EU Strategy for the Adriatic-Ionian Region (EUSAIR)
January 22 2021 | Belgrade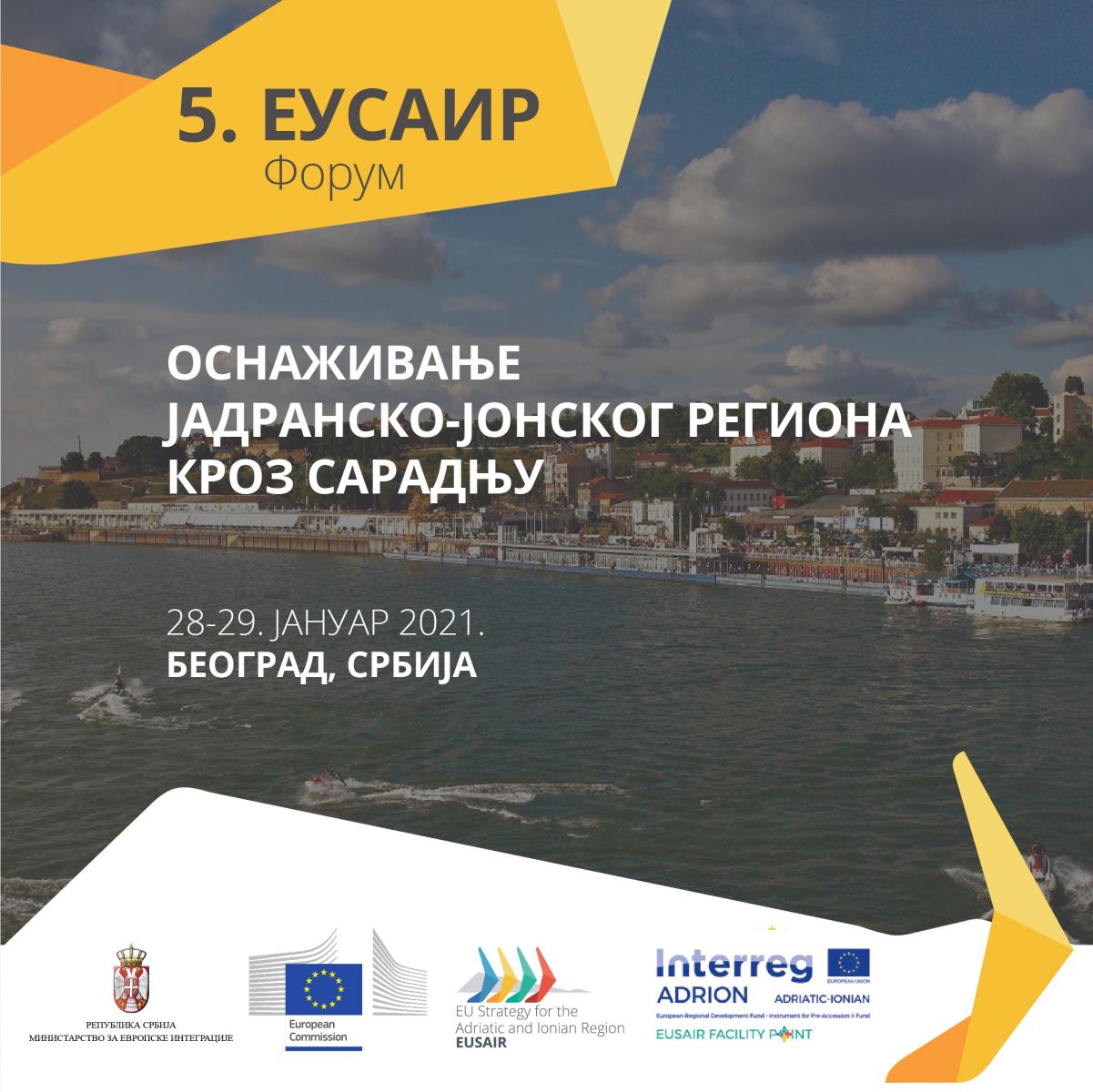 The Fifth Annual Forum of the EU Strategy for the Adriatic-Ionian Region (EUSAIR) will be held in the form of a virtual conference in Belgrade, on 28 and 29 January 2021, under the slogan "Strengthening the resilience of the Adriatic and Ionian Region through cooperation".
The Forum is jointly organised by the Government of the Republic of Serbia and the European Commission, with the support of the EUSAIR Facility Point.
This year's EUSAIR Forum will be attended by speakers and officials of the countries included in the EU Strategy for the Adriatic-Ionian Region (Albania, Bosnia and Herzegovina, Greece, Italy, North Macedonia, Slovenia, Serbia, Croatia and Montenegro).
The Forum will also enable a virtual networking between stakeholders from Serbia, as a host, and their European partners during the breaks between sessions. The participants and attendees will have the opportunity to learn more about the initiatives and projects in the Adriatic-Ionian region at the Forum's virtual exhibition stands.
The Fifth EUSAIR Forum will bring together the officials of participating countries and the European Commission, relevant experts, public policy creators and general public to take part in discussing the future of the Strategy for the Adriatic-Ionian Region and its role in addressing the key issues in the region.
The event will also be an opportunity to analyse macro-regional cooperation in relation to the EU 2021–2027 strategic and legal framework, with a view to financing macro-regional priorities through EU pre-accession funds and the EU structural and investment funds.
The areas where macro-regional priorities have already been established are the following:
1. "Blue" growth ("blue" technologies, fisheries and aquaculture, sea basin management and maritime services management),
2. Regional connectivity (maritime transport, intermodal connections to the hinterland, energy connectivity),
3. Improving the quality of the environment (marine environment, transnational terrestrial habitats and biodiversity),
4. Sustainable tourism (diversified tourist offer and sustainable and responsible tourism management).
The plenary and thematic sessions will focus on the digital and green transition, the regional response to the COVID-19 crisis, macro-regional cooperation in relation to the EU post-2020 strategic and legal framework, the new methodology for EU enlargement and the Green Agenda for the Western Balkans, as well as the recovery of the cultural and creative industries in the region.
Particularly in light of the coronavirus pandemic, it has become even more important to join our forces and try to find common solutions to the challenges we are facing.
You are kindly invited to join us at this virtual event. Registration is mandatory and you can register at: https://www.adriatic-ionian.eu/event/5th-annual-eusair-forum/registrations/.
On the above webpage, you will find more information about the Forum, including a detailed agenda and a list of speakers.