V4 strongly supports Serbia's European path
June 16 2020 | Belgrade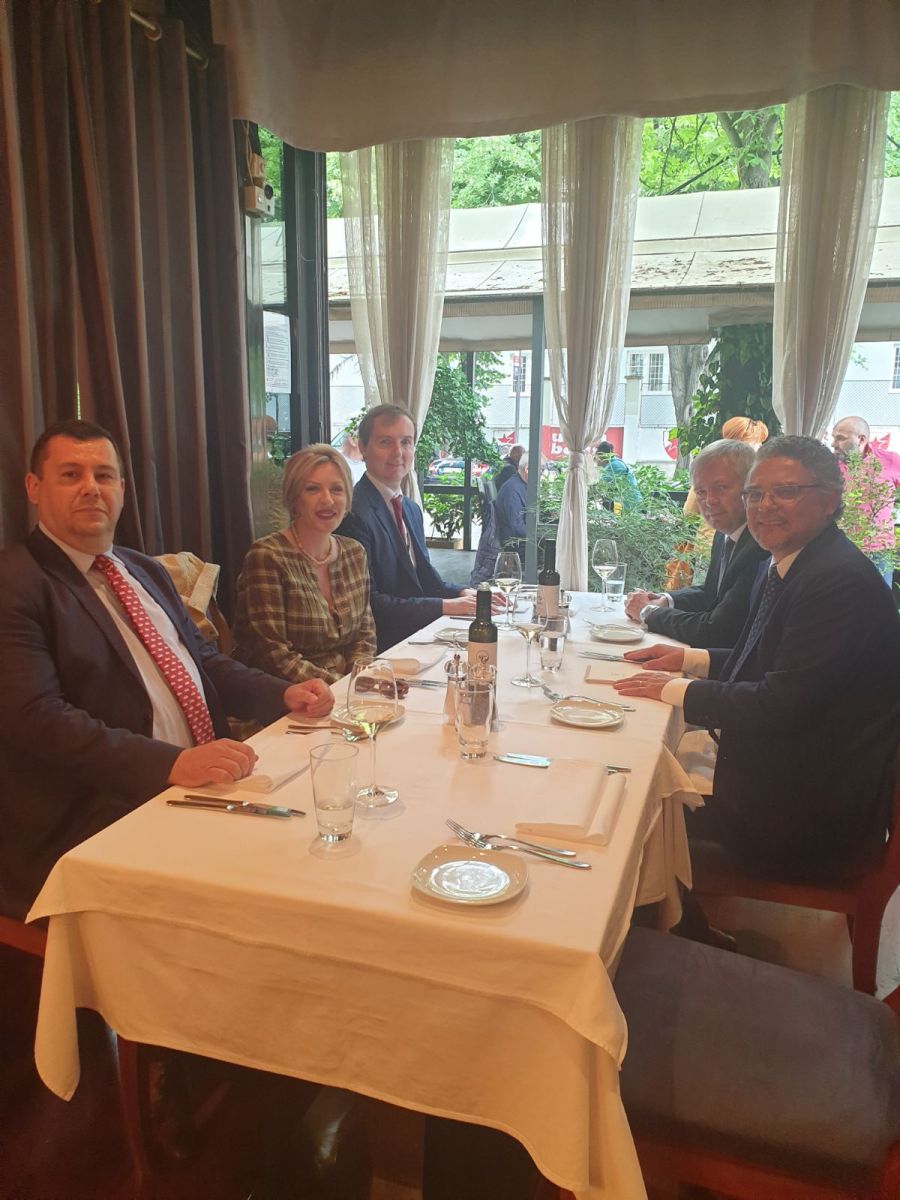 Minister of European Integration Jadranka Joksimović has spoken today with the heads of diplomatic missions of the Visegrad Group countries in Belgrade (V4) about the ways to further improve the already constructive and continuous cooperation between Serbia and V4 members, about current developments regarding Serbia's EU accession negotiations, and other important issues of regional and international policy, as announced by the Ministry of European Integration.
Joksimović has spoken with Hungarian Ambassador Attila Pintér, Slovakian Ambassador Fedor Rosocha, Czech Ambassador Tomáš Kuchta, and Chargé d'affaires of the Polish Embassy Andrzej Kindziuk.
On the occasion, Joksimović has emphasised that Serbia, as one of the frontrunners in the EU accession process, significantly contributes to the credibility of the enlargement policy and to the competitiveness of the European Union.
"We primarily accomplish this by thoroughly implementing the reforms required for membership and by advocating the key values the Union is founded on," stressed the Minister.
She has added that the pandemic-caused crisis was an opportunity for countries to show solidarity with each other – the European Union with Serbia, as well as Serbia with others – and for citizens to understand how much solidarity in practice is important for Serbia, for every citizen, but also for the EU and its public image. 
Joksimović has particularly thanked the V4 countries which, both bilaterally and as a regional organisation, actively advocate the EU enlargement policy, particularly with regard to Serbia. She has further stressed that Serbia greatly relies on the experience and assistance of these four countries in its negotiations with the EU.
"It is important that all EU member states recognise the progress made in chapters 23 and 24, which was presented in the European Commission's Report on Serbia's progress in the area of the rule of law, i.e. in the non-paper published last week. This document contains a well-balanced presentation of the significant progress we have made, as well as certain delays; therefore, we expect that, during the Croatian EU presidency – i.e. by the end of June, Serbia will get a consent for the opening of some of the five chapters we are fully prepared for," said Joksimović.
The V4 ambassadors have reiterated that the EU enlargement policy is the best mechanism for achieving stability and prosperity in the Western Balkans.
They have emphasised that the V4 will continue to actively support Serbia in the accession process, bearing in mind Serbia's commitment to the implementation of the reforms aimed at achieving European values and standards in all areas crucial for citizens' benefit. 
They have particularly introduced Joksimović with the content of the latest V4 declaration adopted on the occasion the 20th anniversary of the International Visegrad Fund – the most important joint organisation within V4, which will continue to finance programmes aimed at promoting regional cooperation and solidarity both within the V4 region and with other countries, particularly with the Western Balkans.
Source: Tanjug