J. Joksimović: Our European path includes both the reforms and the issue of K&M
June 01 2020 | Belgrade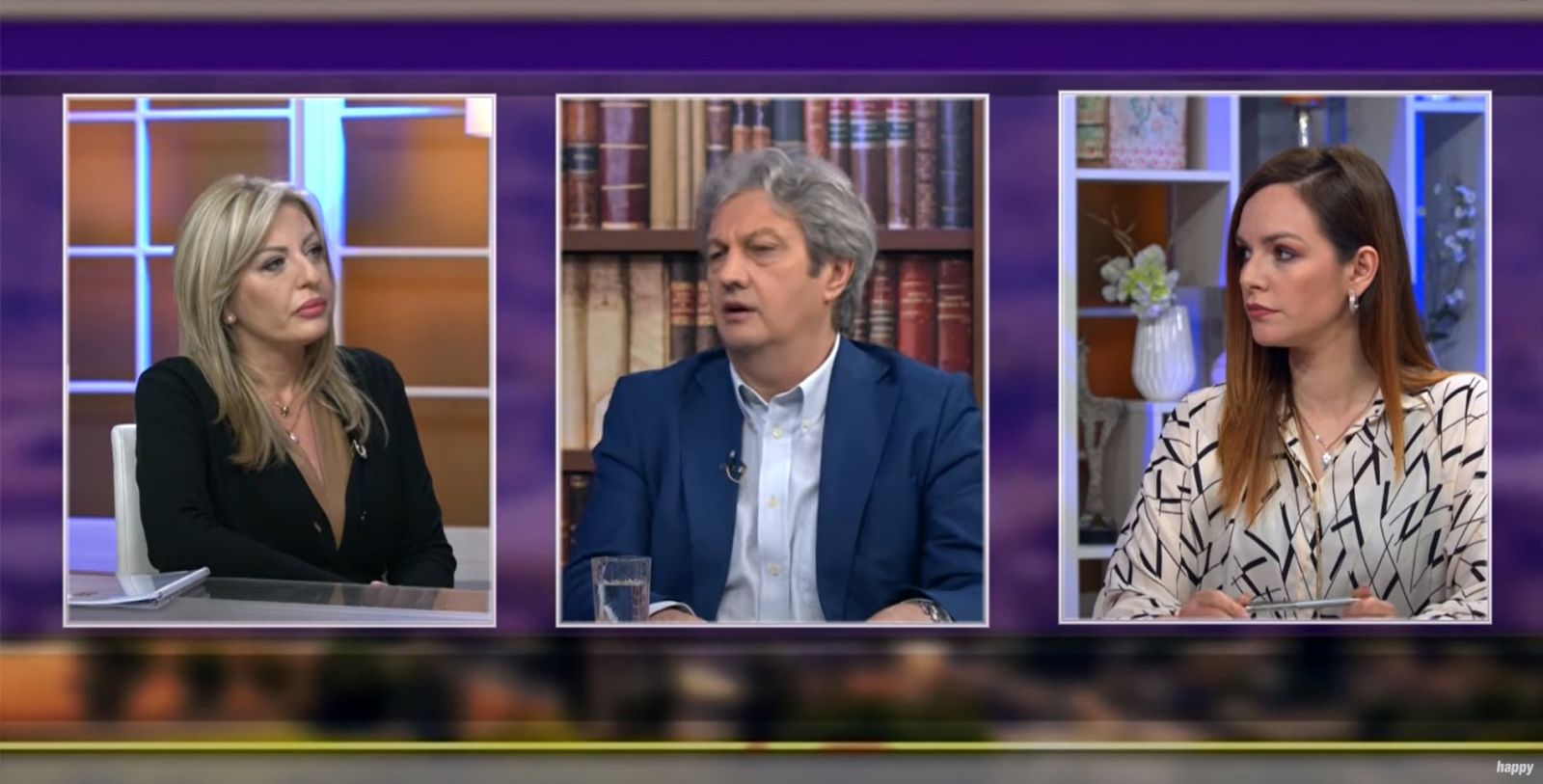 Serbia is the only country that had to start its negotiations with the EU by opening the most difficult chapters – chapters 23 and 24, stated Minister of European Integration Jadranka Joksimović, adding that Serbia's European path includes a cumulation of two conditions – reforms, which are mandatory, and the issue of Kosovo and Metohija.
As a guest of TV Happy, Joksimović has explained that chapters 23 and 24 are the most difficult because they cover all matters essential for a society, which become sensitive when they need to be changed – rule of law, fight against corruption, judiciary reform, fight against organised crime, national minorities, security, media and all other matters that constitute a democratic society.
"All chapters that we have opened – 18 so far, we could open not only when we were prepared for a given chapter, but also when we achieved progress in the rule of law, which no other country had as a principle of negotiations," said Joksimović.
According to her explanation, if Serbia has prepared certain chapters, for example transport, it cannot start negotiating on them immediately, but only if the EC and member states say that progress has been achieved in chapters 23 and 24, i.e. in the rule of law, can Serbia continue to open the chapters from other areas that it has prepared.
The closing of chapters is the most important thing, but opening is also important, said Joksimović, explaining that, for example, Serbia is preparing chapter 28 on consumer and health protection, where the opening of that chapter would mean that it has already done a lot with regard to the mechanisms that also exist in the EU in terms of consumer protection. 
"When a chapter is opened, a series of activities follows. These are concrete matters, adoption of laws, by-laws etc., and when the level of almost full compliance is reached, the chapter is closed," added Joksimović.
She has also emphasised that these 18 chapters that Serbia has opened imply that there have been serious reforms in the area of the rule of law, because Serbia would not have been able to open those 18 chapters if the reforms had not been implemented.
According to Joksimović, when the SNS was in the opposition, grand democrats and pro-Europeans had a proliferation of European values, laws, and rhetoric, while there were no substantive reforms at all.
"It was an epic fail of the judiciary reform, the Serbian network of courts was distorted, and even today we feel the consequences of one such failed reform. We entered the process in 2014, we opened negotiations that year, the Brussels Agreement had already been signed, which was one of the conditions to continue on our European path," noted Joksimović.
According to her, in the past six to seven years, Serbia has had a stable economy, and it is investments that recover the economy. 
In that context, Joksimović has stated that the EU is the largest investor in Serbia, adding that, in the past two years alone, 70% of all investments have come from the EU.
"This is what recovers our economy. Now, we will recover from the pandemic as fast as the European market recovers, because it is our market as well," said the Minister.
Asked to comment on the fact the EU allocated EUR 7 billion to Croatia, and EUR 70 million to Serbia, Joksimović has said that Serbia would also get more if it were an EU member.
She has explained that a candidate country, such as Serbia, has the right to pre-accession funds, recalling that, on Friday, the first part of the 2020 IPA worth EUR 70.2 million was signed, and that another EUR 98 million will also be signed, while Serbia will also have EUR 45 million for the 2020 IPARD – agricultural funds.
"For the past ten years, we have had around EUR 200 million in grants at the annual level, and when you are a member state, you become part of the EU common, regional and cohesion policy, whose main goal is to reduce regional inequalities," added Joksimović.
The Minister of European Integration has emphasised that, if Serbia were an EU member, it would receive around EUR 1.5 billion in grants, adding that actually, over the period of six to seven years, Serbia has received EUR 1.3 billion, the amount which it would receive in one year if it were a member state. 
President Aleksandar Vučić has asked the EU to give Serbia a clear European perspective, while Joksimović has said that Serbia's European perspective exists, adding that it is only the matter of the speed at which this perspective is realised. 
Asked whether Serbia would immediately become an EU member if the country was not run by President Vučić, but by someone who would recognise the independence of Kosovo, Joksimović has said that, in Serbia's case, there is a cumulation of two conditions – reforms, which are mandatory, and the issue of Kosovo and Metohija.
"We also have the Belgrade–Pristina dialogue, and that is a fact; the reality is such that we singed the Brussels Agreement in 2013 and that we chose an option that did not mean the recognition of independence, but comprehensive normalisation of relations, which would be regulated by a series of agreements that would have to be implemented," added the Minister.
According to her, the main text of the Brussels Agreement called the First Agreement on Principles Governing the Normalisation of Relations is only the first agreement.
Noting that Pristina had an obligation to form the Community of Serb Municipalities, and that it has not fulfilled it, Joksimović has said that, if Pristina fulfilled the CSM obligation – with Belgrade already having fulfilled its obligations – the parties would move forward to "Brussels 2", which includes the issues of property, protection of religious buildings, internally displaced persons, human rights and other crucial matters. 
"It is primarily because the CSM has not been formed that we stopped in the middle of nowhere," said Joksimović, adding that then everyone started criticising Vučić for suggesting the exchange of territories while no one paused to ask how it had come to that point to discuss other options. 
"Now that Miroslav Lajčák has been appointed EU Special Representative, it is important to have a fundamental exchange of opinions on what has been achieved so far within the Brussels Agreement," stressed Joksimović.
Stating that, yesterday, Lajčák asked the Kosovo Albanians to withdraw the reciprocity measures prohibiting the entry of goods from central Serbia without the declaration "Republic of Kosovo" to the territory of Kosovo and Metohija, Joksimović has said that Lajčák reacted in such a way because the measures imply the negation of what still exists in the EU, and that is status neutrality.
"The EU as a supranational organisation does not recognise states, nation states can do that. There are five countries in the EU that have not recognised the independence of Kosovo, and that is why we accepted the mediation of the EU, because it must be status neutral. And that is why Lajčák has reacted saying that such reciprocity measures further undermine the dialogue," said the Minister. 
She has said that a concept of the Western Balkans and regional connectivity has developed recently – which she personally does not oppose, adding, however, that she is primarily interested in what will happen with Serbia. 
With regard to "mini Schengen", Joksimović has said that its establishment makes sense and that President Vučić was smart to do that.
However, Joksimović has emphasised that, for her, the most important thing is to push the topic of negotiations and full membership forward. 
As regards the EU assistance to Serbia during the pandemic, Joksimović has said that Serbia was granted a significant reallocation of funds in the amount of EUR 93 million, and that, on the occasion of the previous week's signing of the first part of IPA, Commissioner Várhelyi announced that Serbia would be included in additional EU financial instruments during recovery, for which President Vučić also expressed his gratitude. She has further emphasised that Serbia also helped countries in the EU and the region, and that the European Union recognises that.
"At Vučić's initiative, I personally went to Italy in the middle of the pandemic; we delivered five million masks, while they said that very few countries had sent them such abundant assistance. Serbia has demonstrated that it has the means to contribute to the EU common resilience, and everyone knows that, and that is why I am not pessimistic," concluded Joksimović.
Source: Tanjug