Successful cooperation with Hanns-Seidel-Foundation continues
March 12 2020 | Belgrade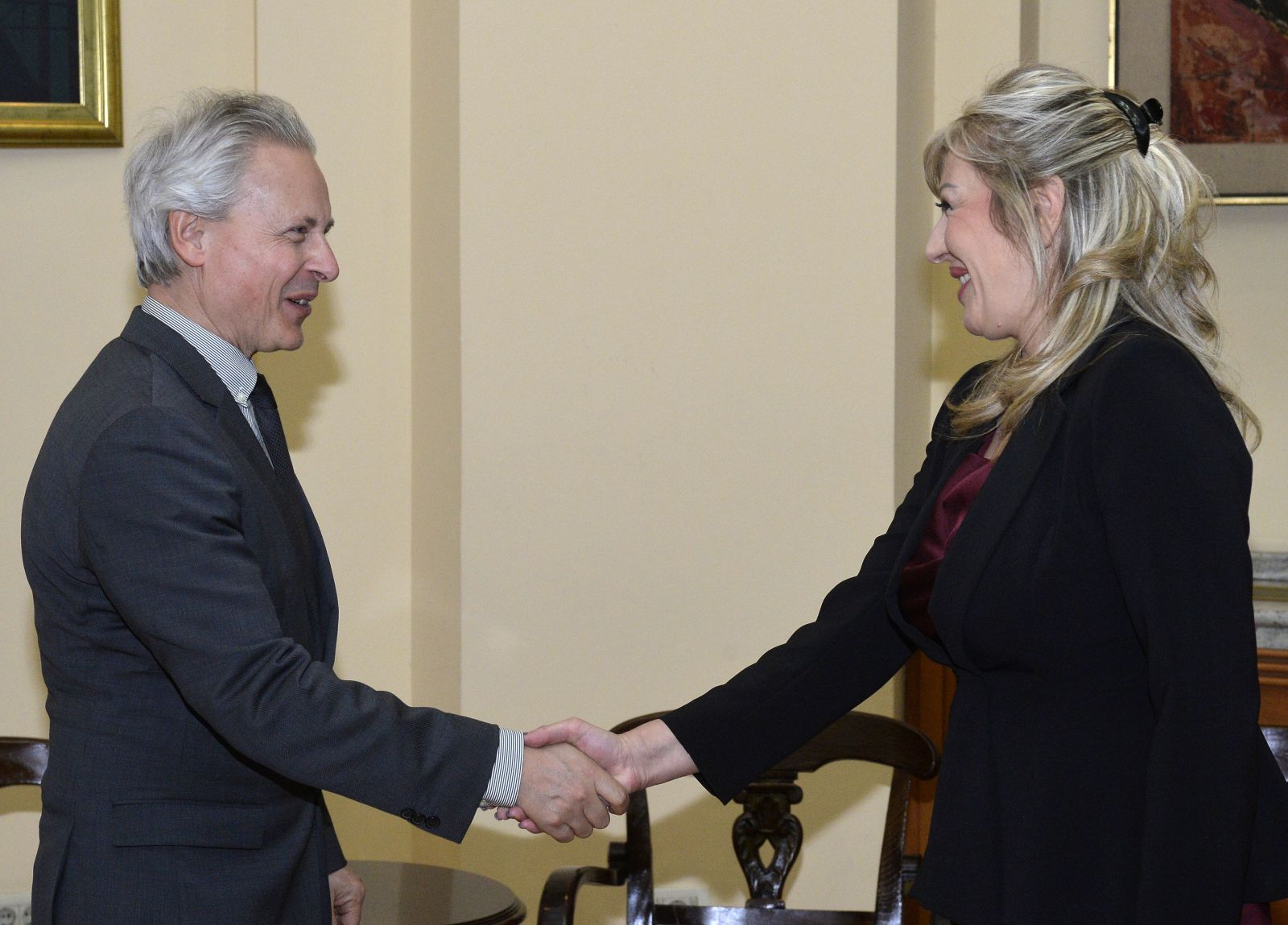 Minister of European Integration Jadranka Joksimović has met today with Klaus Fiesinger, Regional Director for Southeast Europe of the Hanns-Seidel Foundation. They have discussed the process of European integration, the reforms Serbia is implementing on the European path, the issue of the current migrant crisis, the situation in the region, and further cooperation between the Ministry of European Integration and the Hanns-Seidel Foundation.
Joksimović has emphasised that EU membership is Serbia's foreign policy priority and that Serbia is committed to implementing comprehensive reforms, primarily in the area of the rule of law and economy. She has added that positive results in these areas have been confirmed by investments of numerous foreign investors that have recognised Serbia as a stable and reliable partner. In that context, she has particularly stressed the importance of Germany, as the largest individual donor, which in the previous two decades has donated around EUR 1.8 billion to Serbia for development projects.
"Serbia has a long-standing and successful cooperation with many international organisations and foundations, including the German Hanns-Seidel Foundation which takes a significant place", underlined Joksimović.Speaking about the success achieved in realising joint training courses and seminars, as well as numerous conferences and round tables, regarding the matters of current relations between Serbia and Germany, strengthening of political and economic cooperation between the two countries, and Serbia's progress in the European integration process, the Minister has stressed that such cooperation and support that Germany has been providing to Serbia contribute to further strengthening of human resources and institutional capacities of Serbia.
Fiesinger has stated that he is glad to have the opportunity to achieve closer cooperation with the region, given that he is in charge of the Hanns-Seidel offices in Belgrade, Zagreb, Sofia and Tirana. In that sense, Fiesinger has particularly emphasised the importance of cooperation achieved with Serbia so far, expressing hope that the cooperation will deepen with the newly established team of the Hanns-Seidel Office in Belgrade and that they will all work together on additionally profiling new programmes to better reflect their positions and expectations.
Source: Tanjug
https://youtu.be/qpRz-2JJAsY