J. Joksimović: We must invest in friendships with countries that support us
February 15 2020 | Munich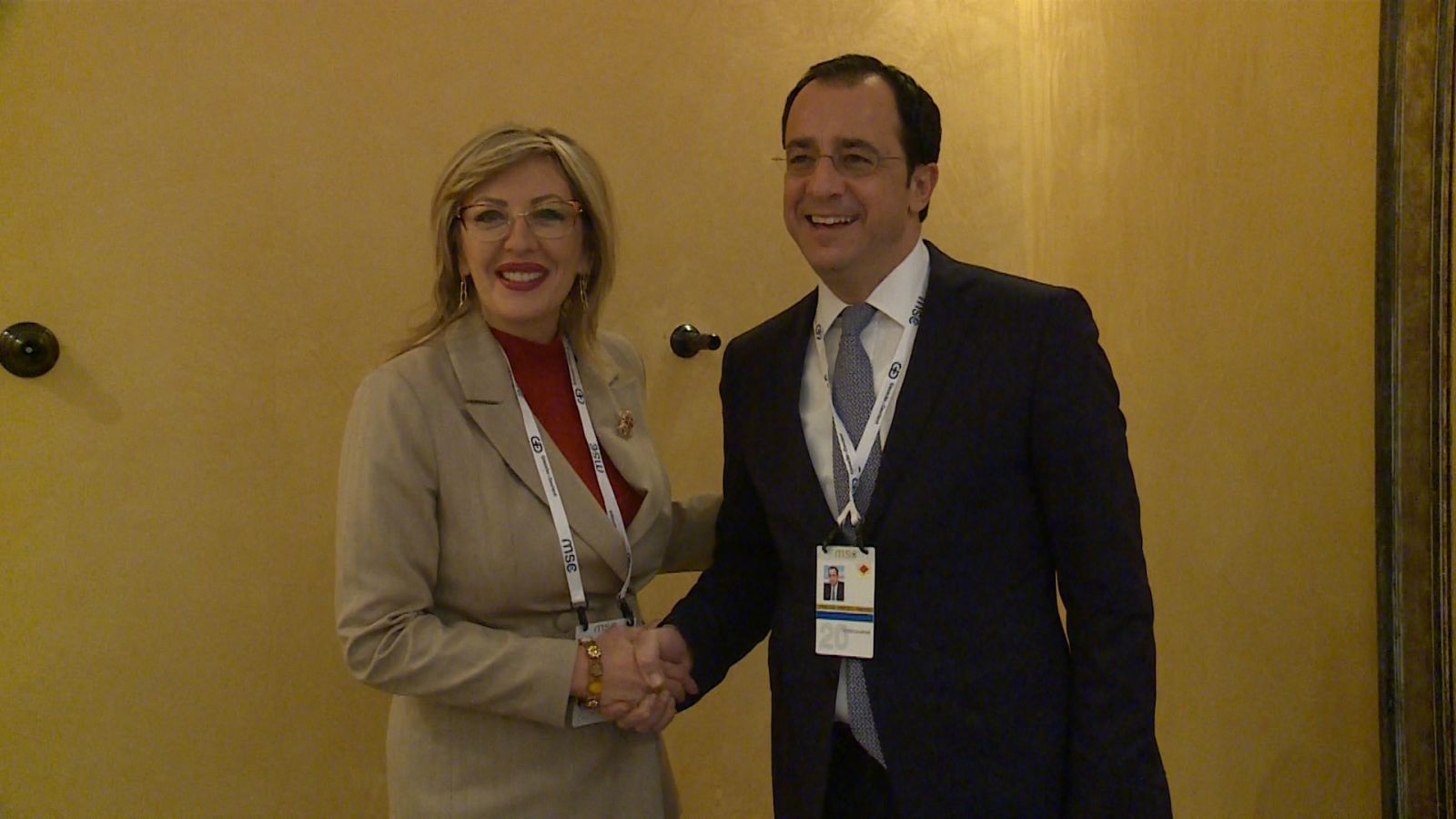 Within the Munich Security Conference, Minister of European Integration Jadranka Joksimović has met today with Minister of Foreign Affairs of Cyprus Nikos Christodoulides. After the meeting, Joksimović stated that Serbia must not forget and presume good relations with countries that support it on its European path and regarding the matter of non-recognition of Kosovo, but that it must intensively invest in good relations with those countries, including Cyprus.
According to her, at the Munich Conference, the Serbian delegation has used the opportunity to meet with representatives of the countries that hold importance for Serbia's European path and that are Serbia's important friends and partners, and at the same time EU members, some of which do not recognise the independence of Kosovo.
"We must not forget and presume good relations, but we must intensively invest in friendship and good relations with those countries. Cyprus, with whose Minister I have met today, actively and most sincerely supports Serbia, including on our European path; they are vocal proponents of the enlargement policy, they always ask us about the problems and what they can do to help accelerate the process, about our expectations and positions, while they always indisputably reiterate their support to the territorial integrity of Serbia", said Joksimović.
"Friendships are important and they must be fostered", stated the Minister, emphasising that Serbia must not forget and assume that everyone supports it, but that it must truly invest in those relations.
Joksimović has stressed that Serbia has extraordinary relations with Cyprus, without any outstanding issues, adding that it is a country that, despite its problems, remains a consistent and sincere friend to Serbia.
"Minister of Foreign Affairs Nikos Christodoulides was very interested in Serbia's position regarding the new methodology proposed by the European Commission", said Joksimović adding that he was interested in what Serbia thought, what its expectations were, what it saw as benefits and what as limitations.
"The new methodology has yet to be approved by all Member States, and for me, as a Minister of European Integration, it is vital to talk about it with EU ministers, to tell them that we, on our side, are not negative, that we are willing to analyse, that we see some benefits of the new methodology, but that we also have some expectations and want to see how this economic plan and economic measures will be presented before the Summit in Zagreb", stated Joksimović.
She has added that only after the EU Summit in Zagreb will Serbia be able to analyse the methodology in the right way and see whether it should apply it or not.
According to her, a particular question is how the progress Serbia has made so far in European integration would be measured, which she assumes is the question Montenegro will also ask.
However, she has stated that Serbia is not negative regarding the new methodology, and that it sees some benefits. She has added that it is important to Serbia to analyse the methodology in cooperation with EU countries that are ready to support it, and obtain as much information as possible, so that it can make the right decision.
President Aleksandar Vučić participated in the Munich Conference yesterday, while Prime Minister Ana Brnabić will participate today. Minister Joksimović, who is participating all three days, has said that the Conference is the right place to meet with everyone, both with friends of Serbia and with those with which Serbia cooperates on numerous matters.
"We have used and are using the Munich Conference in the right way – there are difficult questions, there are outstanding issues, but this is why Serbia is demonstrating the capacity to discuss everything openly, protecting our interests, but also understanding that dialogue on all issues is crucial with everyone interested in talking with us", said the Minister. 
She has stressed that representatives of Serbia do not run away from dialogue or from difficult questions, adding that they can also pose questions to which they expect answers, while they also know how to protect and promote the interests of Serbia and its citizens.
Source: Tanjug