Info session and Partner Search Forum organised at Vrdnik on the occasion of publishing the Second Call
December 05 2019 | Vrdnik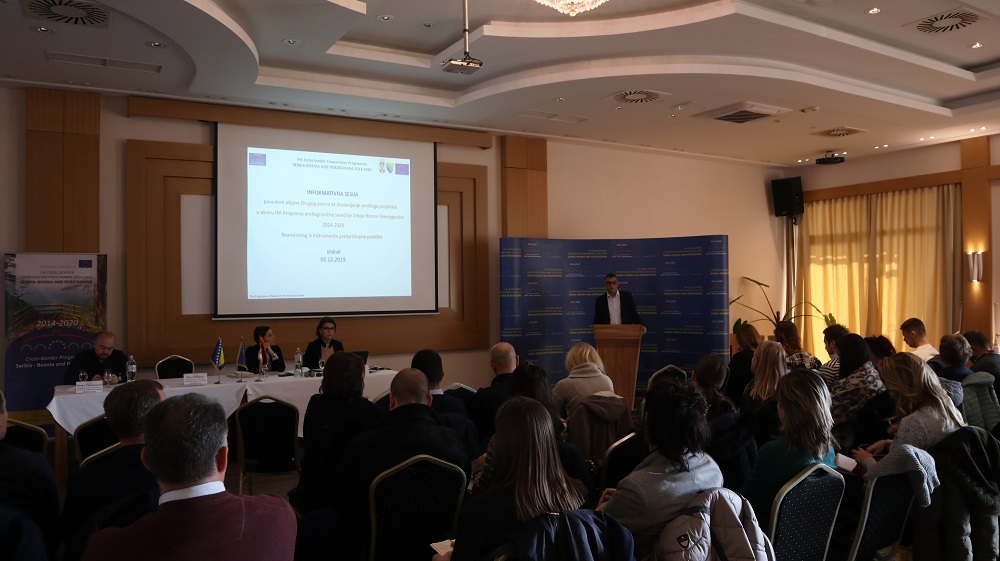 Info session and Partner Search Forum on the occasion of publishing the Second Call for Proposals within the IPA Cross-border Cooperation Programme Serbia–Bosnia and Herzegovina 2014–2020 have been organised today at Vrdnik by the Ministry of Finance of the Republic of Serbia, in cooperation with the Programme operational structures – the Ministry of European Integration and the Directorate for European Integration of the Council of Ministers of Bosnia and Herzegovina, and with the support of the Joint Technical Secretariat of the Programme.
The event was launched by the opening speech of Živko Kolašinac, Head of the Programme Joint Technical Secretariat, in which he presented general information about the Programme.
Following the opening speech, Jelena Šarčević, President of the Body Responsible for Contracting and Financing Projects from EU Funds, from the Ministry of Finance of the Republic of Serbia, has presented the instructions for submitting project proposals.
The event was attended by more than 40 representatives of various institutions, who had the opportunity to gain more detailed information on the rules of the Call, while the Joint Technical Secretariat also presented the Application Form.
Partner Search Forum was held after the info session. On the occasion, the participants were presented with the idea of cross-border partnership. The attendees had the opportunity to present their project ideas to other participants, after which interested parties had a chance to hold bilateral meetings.