J. Joksimović and Khulordava: Serbia's experience in the European integration process is valuable for Georgia
06. December 2018. | Belgrade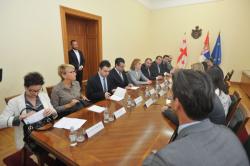 Minister of European Integration Jadranka Joksimović has held a meeting with a delegation of the Georgian Parliament's Committee on European Integration - led by Tamar Khulordava, during which they discussed Serbia's future activities related to the process of European integration, as well as reforms, the situation in the region and other important topics.
The Minister has informed the Georgian MPs about activities in the process of European integration. She has stated that Serbia has opened 14 chapters - two which have been provisionally closed, adding that another two are expected to be opened on Monday. She has said that the reforms that imply the application of European values ​​and standards are being implemented for the purpose of creating a modern and efficient state.
Jadranka Joksimović has stressed that special attention in the reform process is given to chapters 23 and 24 related to the rule of law. She has shared experiences from the European integration process with the Georgian MPs, both in terms of political circumstances and the atmosphere regarding the EU enlargement policy, and from the standpoint of Serbia as a candidate country and citizens' support to ongoing reforms.
The Minister of European Integration has pointed out that Serbia is committed to peace and stability in the region - the preconditions for cooperation, development and progress. Therefore, she has highlighted that moves taken by Pristina, primarily the political decision to increase tariffs on goods from Serbia and Bosnia and Herzegovina, which has been supported by Albania, as well as the announcement of forming an army, not only fail to contribute to the strengthening of confidence, but also seriously undermine EU principles, first of all free movement of people, goods and capital. Joksimović also expects that relevant international institutions, primarily the EU, will respond to Pristina's activities through concrete measures in order to preserve their credibility, in particular due to the situation at Kosovo and Metohija where all citizens have become hostages to a policy that is destroying and disparaging European values.
Chair of the Georgian Parliament's Committee on European Integration Tamar Khulordava has said that Serbia's experiences in the process of European integration are valuable to Georgia and has thanked Serbia for its willingness to share them. She has congratulated Serbia, with which Georgia has traditionally good relations, on the success and results achieved so far within its reforms and the European integration process. She has said that Georgia's citizens also expect a clear European perspective and that support for Georgia's European path is extremely high.
Minister Joksimović has expressed her appreciation to Georgia for the principled support it has expressed regarding the territorial integrity and sovereignty of Serbia.
Source: Tanjug