J. Joksimović and Grande: Italy commends the quality of implemented reforms
29. November 2018. | Belgrade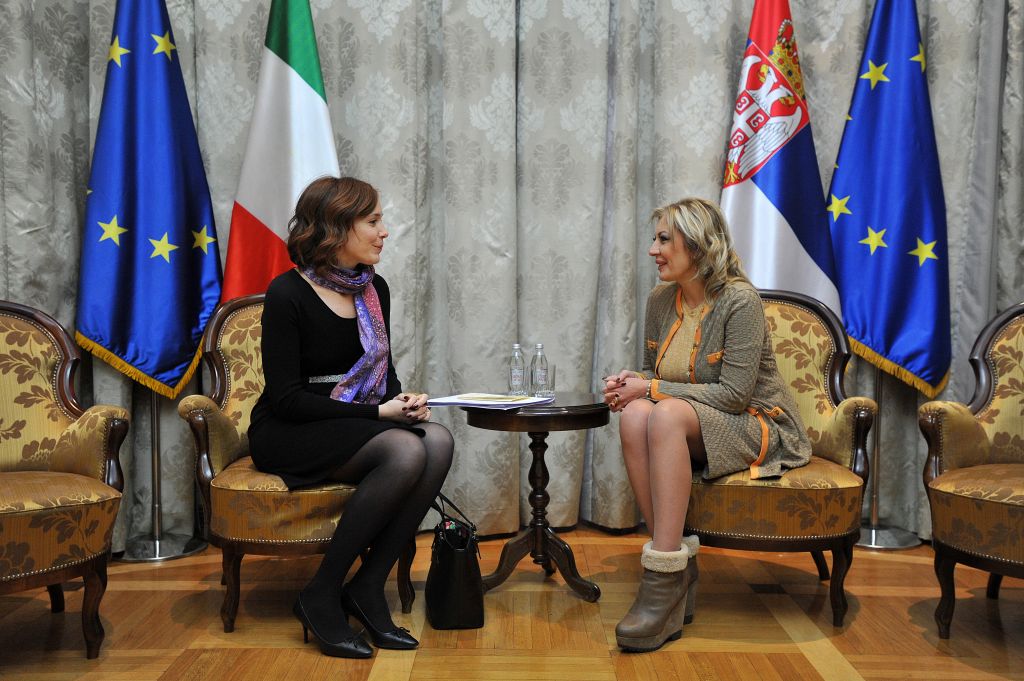 Minister of European Integration Jadranka Joksimović has spoken to the President of the Foreigner and European affairs Committee of the Chamber of Deputies of Italy, Marta Grande, and the members of this body on bilateral relations of the two countries, Serbia's future activities in the European integration process, situation in the region and other important topics.
With regard to the European integration process, Minister Joksimović has emphasised that EU membership is a strategic interest of Serbia. She has expressed her gratitude for Italy's sincere support to Serbia's accession process. She has further conveyed that Serbia has submitted 7 technically prepared negotiating positions and that she expects that several new chapters will be opened at the Intergovernmental Conference planned for December in Brussels.
The Minister has informed Marta Grande that Serbia devotes special attention to reforms in the accession process, explaining that they are primarily implemented for the sake of citizens, in all areas, particularly in those covered by chapters 23 and 24 related to the rule of law. She has underlined that the Government has accepted and acknowledged all recommendations of the Venice Commission on Constitutional amendments in the field of judiciary, where the Commission positively assessed Serbia's activities, adding that the Government has also conducted a transparent and inclusive public debate process.
Jadranka Joksimović has informed Marta Grande on current developments at Kosovo and Metohija, particularly in the context of Pristina's political decision to raise customs duties on goods from Serbia and Bosnia and Herzegovina.
The Minister has assessed that this political decision made by Pristina and openly supported by Albania is a violation of European values and principles the EU rests upon - primarily the free movement of people, goods and capital.
Therefore, Joksimović expects the international community, mainly the EU, to react to Pristina's activities through concrete action and not only verbally, so as to maintain its own credibility. Particularly due to the situation where the citizens at Kosovo and Metohija - Serbs, Roma, Gorani, as well as Albanians - have become hostages to the politics that has abandoned European values.
President of the Foreigner and European affairs Committee of the Chamber of Deputies of Italy Marta Grande has confirmed that Italy will continue to support the European integration process. She has noted that the integration of the region and stability are crucial both for the Union and the Mediterranean. She has stressed that Italy respects the way Serbia is implementing its reforms, convinced that they will contribute to a faster accession process, expressing expectations that the already good results of the reforms will be even more efficient. Marta Grande and deputies believe that, through its activities, Serbia has shown that it belongs to the European Union, emphasising that a well-implemented reform process will result in EU membership. They have further stressed that Italy recognises and properly values Serbia's balanced and responsible approach to Pristina's unilateral moves that have undoubtedly contributed to disturbing regional cooperation.
(Source: Tanjug)