The list of projects proposed for financing under the Second Call from Interreg IPA CBC Program Bulgaria - Serbia approved
27. November 2018. | Pirot
On 26 November 2018, in Pirot, the Sixth Joint Monitoring Committee meeting under Interreg-IPA Cross-border Cooperation Bulgaria-Serbia Programme was held. The meeting was chaired by Valentina Vidović, Ministry of the European Integration of the Republic of Serbia and co-chaired by Denitsa Nikolova, Deputy Minister of the Regional Development and Public Works of the Republic of Bulgaria.
During the meeting, the progress in the implementation of Interreg-IPA CBC Bulgaria - Serbia Programme 2014-2020 was presented, as well as the assessment results under the 2nd Call for proposals of the Interreg-IPA CBC Programme Bulgaria - Serbia 2014-2020. The list of projects proposed for financing under the Second Call for project proposals was approved.
Of 235 received project proposals, 171 passed the administrative compliance and eligibility check. Of that number, 140 received minimum of 65 points on the technical and quality assessment. Based on the ranking, total of 41 project proposals were proposed for financing with the total requested budget of 12 712 316,27 Euro, as follows:
Under Priority Axis 1 Sustainable tourism, 15 projects were proposed for financing with total requested budget of 3 497 611,23 Euro;
Under Priority Axis 2 Youth, 9 projects were proposed for financing with total requested budget of 1 328 962,92 Euro;
Under Priority Axis 3 Environment, 17 projects were proposed for financing with total requested budget of 7 885 742,12 Euro.
The lists of projects provisionally approved for financing by the Joint Monitoring Committee per Priority Axis can be found here:
All candidates will be informed for the results of the assessment and the awarded scores via official letters.
25 project proposals are soft and 16 are in the group of investment projects. In total, 49 project partners are from Bulgaria and 44 from Serbia, whilst 25 lead partners are Bulgarian and 16 are Serbian.
The graphic below represents distribution of project partners per type of the organization: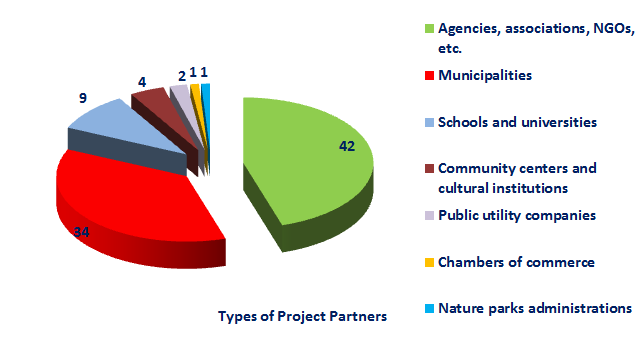 99 project proposals are on the reserve list in order of points obtained during the technical and quality assessment.
Mandate to the Managing Authority for pre-contracting procedures with the provisionally approved projects was discussed and aproved. By the end of 2018 and early in 2019, pre-contracting procedures under the Second Call shall be performed including: visits to investment projects, double financing check, state aid check for Bulgarian partners, budget optimisations and preparation of subsidy contracts.
Atfer the completion of the JMC meeting, JMC members visited the fortress "Kale" in Pirot, which was reconstructed under project "Conservation, revitalization and exhibition of Early Christian basilica and medieval fortress in cross border region", ref. no. CB007.1.11.124.