J. Joksimović: The interest of entrepreneurs in the EU funding is on the rise
September 24 2018 | Belgrade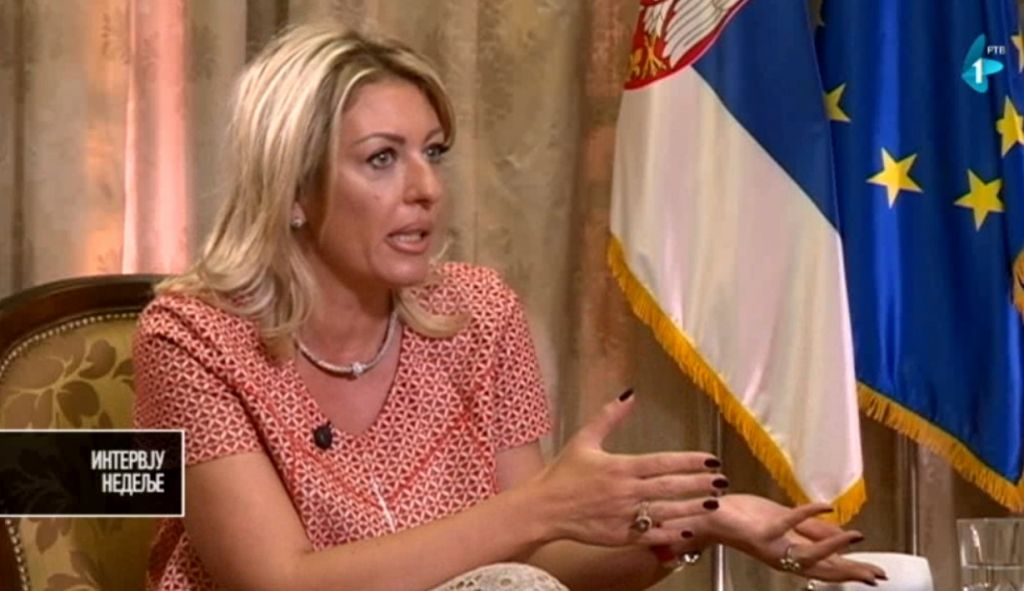 Owners of small businesses from Serbia are showing increased interest in areas and chapters related to improving the conditions and their business operation, said Minister of European Integration Jadranka Joksimović today.

As a guest in the Business Monitor TV show on RTV Vojvodina, she has noted that the best example of this interest is that today entrepreneurs do not have to go to the Business Registers Agency in person since they can register online, while there are also other benefits, such as simplified procedures, reduced costs, e-tax payment, and the like.
"Hence, I have to say that owners of small businesses are showing great interest in our Ministry of European Integration and what certain parts of Chapter 20 will mean. They are becoming more and more interested in actively participating in info sessions, workshops, trainings, and this never means wasting money, but investing in knowledge, in information, since they can use it to become beneficiaries of EU funds that are becoming more and more available to small and medium-sized enterprises," said Joksimović.

Talking about Chapter 20, which deals with enterprise and industrial policy, the Minister has recalled that it was opened in February last year, which means that Serbia is already to some extent aligned with EU regulations and standards, which also means facilitating administrative procedures, reducing costs and fees.
"What is most important is that, as a condition for closing the Chapter, we will have to adopt an industrial policy strategy, an umbrella document of the industrial policy that will have to be aligned with EU industrial policy guidelines," Joksimović said.

Small and medium-sized enterprises are treated in the EU as the backbone of a healthy economy and potential for growth and development - which Serbia has recognised, as Joksimović assessed.

She has explained that through the introduction of numerous standards, small and medium-sized enterprises are becoming beneficiaries of numerous funds, i.e. programmes financed from EU funds, and thus they can get new funds, raise their competitiveness, and learn about what they will encounter tomorrow when Serbia becomes an EU Member State, that is, learn about the business conditions in the EU.

Joksimović has said that it is not true that there used to be more money than projects.
"This year, in May, we published a call for applications for EU PRO grant in the amount of EUR 4.5 million, and we received over 468 applications in a very short time, which exceeds the amount available," said Joksimović.

According to her, the amount applied for is twice the amount of funds available, and companies from Serbia have been participating for some time in these specific EU-funded programmes, such as COSME and Horizon 2020 programmes related to the development of small and medium-sized enterprises, that is, to companies focusing on innovative entrepreneurship.

As another important issue, she has stressed that she would like if Serbian small and medium-sized enterprises further recognised Regional Development Agencies as their important partners.
"We have 16 Regional Development Agencies founded by local self-governments in Serbia, which are here to help in terms of technical assistance and preparation of applications for funds, and I think this is the right way to support local economic development in cooperation with the SME sector and Regional Development Agencies, and identify opportunities," said the Minister.

Asked to comment on the work of commercial banks in Serbia, Joksimović has said that their work can be stimulated, and that the Ministry has already begun to do so.

She has stated that, in 2016 negotiations, she personally insisted on the allocation of a certain part of the IPA package, which is usually around 150 to 200 million euros a year for various reforms and projects.
"At that time, we allocated EUR 20 million in grants and that money is now available for a guarantee scheme that will mean the possibility for commercial banks and other financial institutions to reduce the risk of doing business with the SME sector through this guarantee scheme that comes from European funds, and thus offer more favourable loans with lower interest rates, which can then be a real driver for the additional use of funds for small and medium-sized enterprises," Joksimović said.

According to her, since the release of this guarantee scheme, which started to be implemented and applied, a significantly larger number of commercial banks has shown interest in working with the SME sector in terms of local economic development.

Source: RTV and Tanjug