Publication of the Collection of Student Papers on the EU 2018
August 03 2018 | Belgrade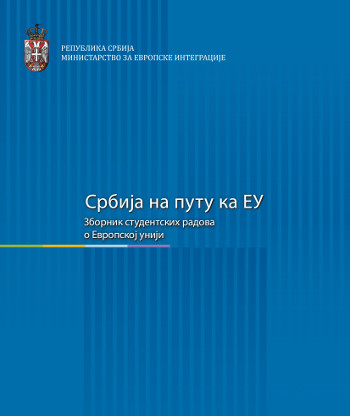 The Collection of Student Papers before you is the result of the second competition organised by the Ministry of European Integration of the Republic of Serbia for the best student papers on the European Union. We announced the competition in February 2018, in order to further contribute to a better reflection on the EU, the processes and changes implied by Serbia's integration into this community, as well as on raising awareness among students about the importance of academic writing and access to topics that are essential for the whole society. This collection, the second in a row, as well as interest in the one published in the previous year, shows that we have not made a mistake.
The Ministry of European Integration gave the students an opportunity to respond to one of the four current topics related to the EU, so the Collection of Student Papers was divided accordingly into the same number of sections: Serbia in the Process of EU Accession: Challenges and Perspectives of EU Enlargement Policy; Reform Potential of European Integration for Serbia: Development, Normative and Value Aspects; Cultural, Social and Political Dimensions of European Identity and Myths about the EU: Prejudices about the European Integration as a Result of Being Insufficiently Informed.
Having read and evaluated all the papers, the Competition Commission, comprised of three professors from the University of Belgrade: prof. Dragica Vujadinović, PhD (Faculty of Law), prof. Vesna Knežević-Predić, PhD (Faculty of Political Sciences) and prof. Ildiko Erdei, PhD (Faculty of Philosophy) noted that the texts submitted for the competition were overall at a satisfactory academic level, that they were original, and that the approach to topics was interesting. Three papers of the students of the Faculty of Law in Belgrade and the Faculty of Political Sciences in Belgrade have been chosen as the best. The paper 'The Importance of Legislation on Personal Data Protection in the Process of Serbia's Accession to the European Union', by Ana Plavšić, a student attending Master Studies at the Faculty of Law in Belgrade, has won the 1st prize. The 2nd prize was awarded to Aleksandar Golubović, a student attending Bachelor Studies at the Faculty of Political Sciences, for his paper 'Border Disputes as a Challenge for the EU Enlargement Policy and European Integration of Serbia', while the 3rd prize was awarded to Aleksa Nikolić, a student attending Master Studies at the Faculty of Law in Belgrade, for his paper 'The Role of the European Union in the Normalization of Relations between Belgrade and Pristina'.
In addition to the three top-ranked papers, another 12 papers that have met the criteria of the competition, and which have been evaluated by the Competition Commission, are published in this Collection of Student Papers.