J. Joksimović and Syllouris: Concrete cooperation between Serbia and Cyprus in European integration
23. July 2018. | Belgrade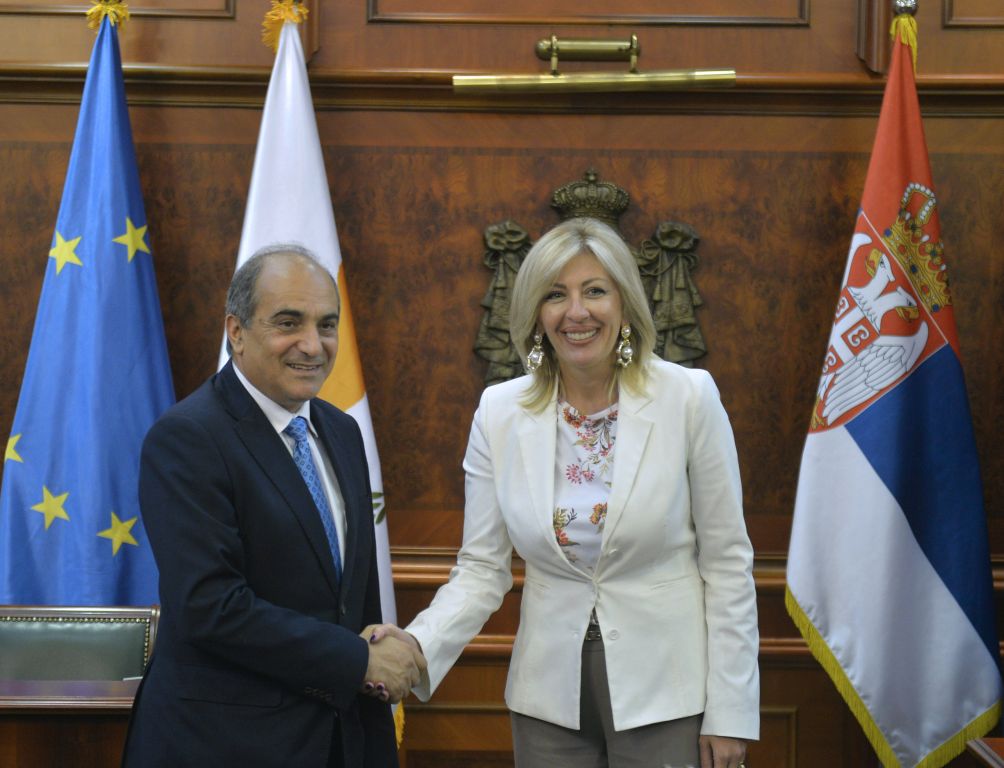 Minister of European Integration Jadranka Joksimović has held a meeting with President of the House of Representatives of Cyprus Demetris Syllouris, with whom she discussed bilateral relations, the continuation of Serbia's EU accession and cooperation in that process, as well as the reforms implemented during the process of European integration, regional opportunities and other current topics.
Jadranka Joksimović has expressed her appreciation for the principled and consistent position by which Cyprus has been confirming its respect for the territorial integrity of Serbia, as well as for its assistance and support to Serbia's process of EU accession. The Minister, who recently - during a bilateral visit to that country - met with Cypriot head of diplomacy, Nikos Christodoulides, has reiterated that Serbia is interested in receiving expert and technical assistance from Cyprus in the process of European integration.
The Minister of European Integration has expressed her expectations that, during the Austrian presidency of the EU Council, Serbia will open the chapters it is prepared for. She has assessed that, as so far, this would be a confirmation that the EU values activities taken by Serbia during the process of European integration, as well as a confirmation of Serbia's determination to implement reforms and apply European norms so as to establish a state that is tailor-made for its citizens - a lawful and just country that is socially secure, economically stable, modern and developed.
Jadranka Joksimović and Demetris Syllouris deem that stability is a prerequisite for peace, cooperation and development, and that the others should affirm this, not only verbally but through concrete action as well. They have also stressed that the stability of the region reflects on the stability of Europe.
Demetris Syllouris, President of the House of Representatives, has confirmed that Cyprus will continue supporting both the territorial integrity and European integration of Serbia. Convinced that the experience Cyprus has in relation to this process would be especially valuable to Serbia and would contribute to the quality of continuing accession, he has stated that Serbia can count on all technical and expert assistance needed on its European path. He has pointed out that Serbia is the most serious candidate for membership due to its attitude towards European integration, the success of its reforms and its approach to problems that the EU is facing.
Joksimović and Syllouris have noted that the two countries' relations are very friendly and close, and as such, an example for others, without any outstanding issues and with a clear positive perspective.
Source: Tanjug