Eighth meeting of the EU-Serbia Stabilisation and Association Parliamentary Committee held
June 15 2018 | Strasbourg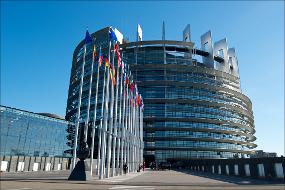 The eighth meeting of the EU-Serbia Stabilisation and Association Parliamentary Committee, co-chaired by Vladimir Orlić, Head of the Serbian National Assembly Delegation, and Eduard Kukan, Head of the European Parliament Delegation, was held last week in Strasbourg.
The following members also participated in the discussion: Anja Rović, State Secretary in the Ministry of European Integration, on behalf of Serbia; Emilia Kraleva, Deputy Minister of Foreign Affairs, on behalf of the Bulgarian Presidency of the EU Council; Genoveva Ruiz Calavera, Director for Western Balkans at the Directorate-General for Neighbourhood and Enlargement Negotiations, as a representative of the European Commission, and Eduard Auer, Head of Division for Western Balkans, on behalf of the European External Action Service.
The Head of the European Parliament Delegation, Mr. Kukan, emphasised that this year's Draft Declaration envisaged for adoption could be considered better than the declarations adopted in the previous years, because it specified a clear European perspective of Serbia. He commended the adoption of the Western Balkans Strategy and the organisation of the Sofia Summit, as extremely important for further European integration of Serbia, stressing that the European Parliament believed that Serbia's European perspective of 2025 was attainable and that there was full support to further reforms. He said that Serbia was one of the frontrunners in the European integration process, commending Serbia's progress in the process of implementing reforms, particularly in the field of economic progress in which Serbia had a leading position in the region.
Anja Rović, State Secretary in the Ministry of European Integration, addressed the Committee on behalf of the Government of the Republic of Serbia. She expressed her gratitude for the interest shown by the representatives of European institutions regarding accession negotiations and further opening of chapters, saying that it was a positive sign for the further process of Serbia's European integration. Rović expressed satisfaction at the fact that Serbia's leading position in European integration was recognised at the Sofia Summit. She informed the Committee about the progress achieved in the field of the rule of law related to constitutional reforms, media strategy, Prosecutorial Strategy for the investigation and prosecution of war crimes, as well as the adoption of new laws, such as: the Law on the Anti-Corruption Agency, the Law on Personal Data Protection and the Law on National Councils of National Minorities, also pointing to Serbia's efforts regarding the normalisation of relations between Belgrade and Pristina. She particularly underlined that, in the area of Chapter 31: Foreign, security and defence policy, Serbia was the first country in the region which had demonstrated readiness to align its national security and defence strategies with the EU global strategy, adding that the strategies were at the final stage of revision and that European integration and EU membership had been defined as state interests in both documents. She underlined that Serbia would further intensify reforms in the upcoming period, all with the aim of aligning with European standards.
(photo: Architecture Studio)