J. Joksimović with the youth of the Christian Democratic Union
May 08 2018 | Belgrade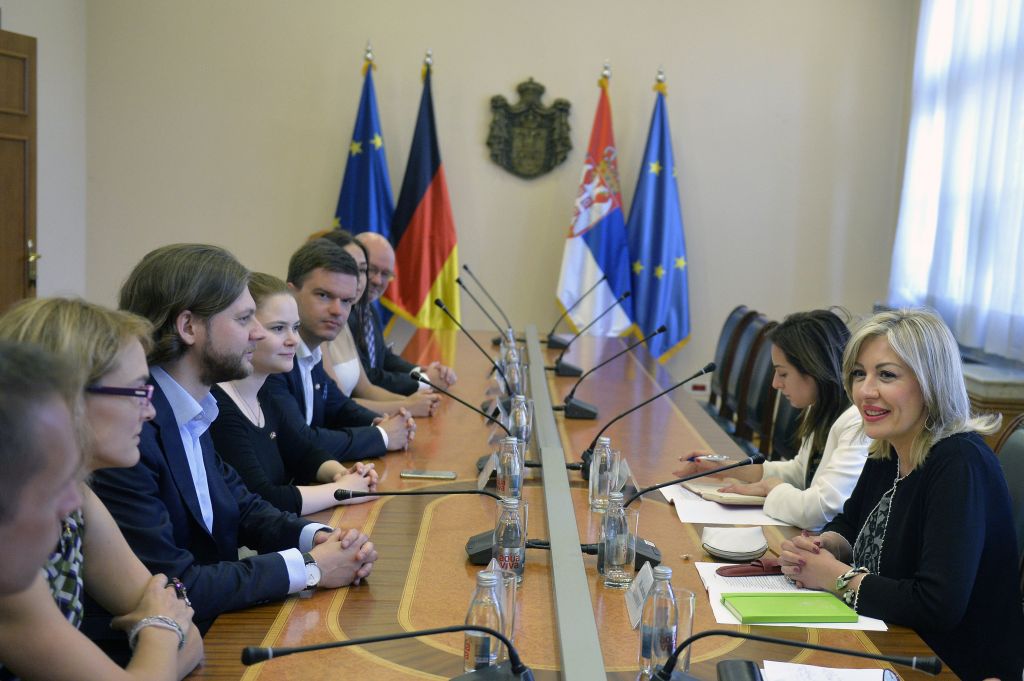 Minister of European Integration Jadranka Joksimović has met with the delegation of experts of the Christian Democratic Union on Eastern Europe. They have discussed the process of Serbia's accession to the EU and the cooperation of the two countries on Serbia's European path, the reforms that are being implemented, the situation in the EU and other important topics.
The Minister has stressed that the President of Serbia, Aleksandar Vučić, and the Chancellor of Germany, Angela Merkel, have, in the previous period, built excellent political relations which have resulted in an even better image of Serbia in Germany, as well as of Germany in Serbia. She has greeted the youth who, as she has said, will represent the elite of German politics in the future, and has thanked them for their interest in Serbia.
Jadranka Joksimović has said that Germany is an important strategic partner of Serbia that provides strong support and aid in the process of EU accession. This is confirmed by the fact that, in the last 15 years, Germany has allocated EUR1.6 billion in grants for numerous development and reform projects.
The Minister has assessed that the Enlargement Strategy is a strong encouragement for Serbia to continue with the initiated reforms and, at the same time, an encouragement and message that Serbia is seriously counted on as an EU candidate. Joksimović has clarified that 2025 is not a guaranteed year of Serbia's admission to the EU, but that it should be understood as a framework and motivation.
The Minister of European Integration expects that, during the Bulgarian EU Council Presidency, Serbia will open at least three out of five chapters for which it is prepared at the technical level: 33 - Financial and budgetary provisions, 9 - Financial services, 13 - Fisheries, 18 - Statistics, and 17 - Economic and monetary policy.
The representatives of the delegation of the Christian Democratic Union, a political party that is part of the German governing coalition, have expressed their belief that Serbia's activities, primarily in the process of EU accession - especially through the results of the reforms - have shown that it is a reliable and serious partner which can and will be counted on in the future. Therefore, as they have stressed, Serbia will not lack Germany's support on its European path.
The interlocutors have concluded that the relations between the two countries are good - this is confirmed by German investments in Serbian economy, and that they are developing to mutual satisfaction.
Source: Tanjug