J. Joksimović for Novo jutro: Serbia is a serious country that is constantly moving forward
April 20 2018 | Belgrade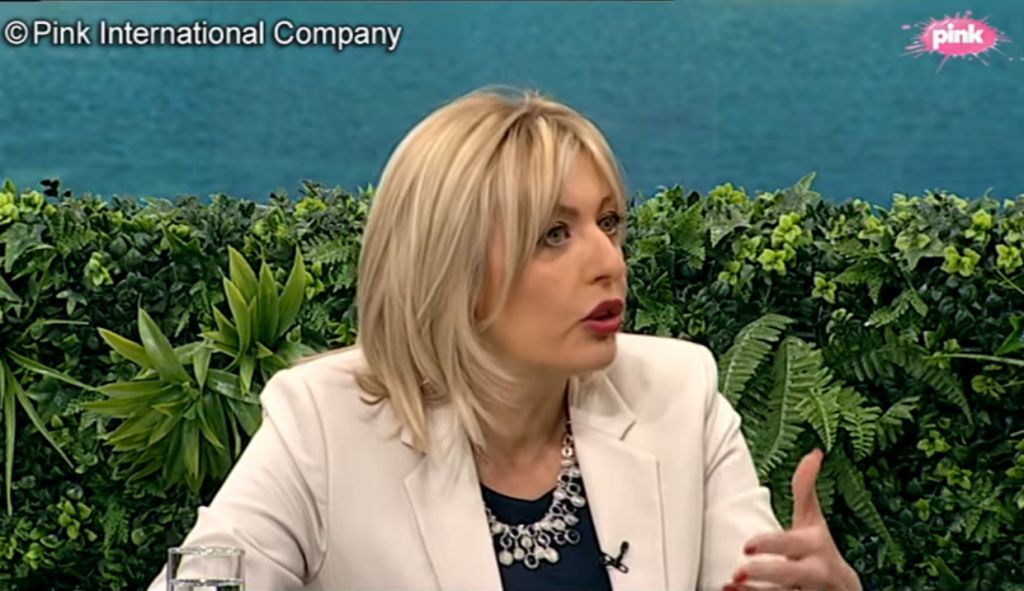 On the occasion of yesterday's visit of Federica Mogherini, EU High Representative for Foreign Affairs and Security Policy, the Minister of European Integration, Jadranka Joksimović has said that the meeting included discussion on the Report and all important matters related to the Belgrade-Pristina dialogue.
"Our people tend to relate Federica Mogherini to the very process of Belgrade-Pristina dialogue, given that the European External Action Service, of which she is the head, is the mediator and has a role of a guarantor and a facilitator of the implementation of the Brussels Agreement. Serbia has been commended in the Report, we have achieved progress in many areas, in some areas more, in some areas less", said Joksimović in her interview for Novo jutro at TV Pink.
She has added that it is extremely important that Serbia, as a candidate country, maintains the trend of a stable position and progress, which is in some areas greater, and in some smaller, while retaining the tendency to progress in every area.
"The progress in the area of economy has been very well assessed, it has even been noted that Serbia is a champion in the region regarding economic areas. We will be satisfied only when our citizens begin to feel an even greater impact of those reforms, but what is truly important, and what has been noted, are macroeconomic stability and the public debt which is in decline. Furthermore, we have seen that the President and the Prime Minister have also announced the increase in salaries by the end of the year", Joksimović has emphasised.
She has said that there is ground for better progress and that this is what the citizens value best, and that the Report notes numerous developments addressed in the Government.
"What is extremely important, and what will be presented to the member states, but has not been included in the Report, because there was not enough time, are constitutional amendments sent to the Venice Commission for opinion, which is a crucial matter in the judiciary reform, with regard to the independence of the judiciary", assessed Joksimović.
She has added that, by the end of June, Serbia will receive the opinion of the Venice Commission, after which the amendments will once again be put to debate.
"At this moment, it is the quality that must matter the most, so that those changes and reforms would be sustainable, because this means new investors and a more favourable atmosphere for the country's progress. The Report is not only an overview of the state of play, but this overview is the basis for the decision on how we will move forward both in the process of opening new chapters and reforms", explained Joksimović.
The Minister of European Integration has underlined that everything written in the Report should be taken into account and worked on, and that Serbia has nothing to run from because it is a serious democratic country.
"We are a serious democratic country, ready for reforms. I can say with full credibility that our country has nothing to be ashamed of. We are a serious country which is now constantly moving forward, we are respected in Europe, as a responsible country and a responsible government. I am in that sense proud to represent Serbia", emphasised Joksimović.
Serbia's image is constantly changing for the better, added Joksimović noting that Serbia's role in regional cooperation has been recognised in the Report.
"We discussed this with Federica Mogherini yesterday, and she understands how difficult it is to be constructive and maintain constructiveness in a situation when others do not show responsibility for good relations. Some are really provoking, and some in the region are doing more to indulge populist interests than what should be a priority to us all - to preserve peace, stability, because that is the only way our citizens are going to live better", assessed Joksimović.
She has said that she has immediately reacted to the part of the Report mentioning the progress of Kosovo regarding the establishment of the Community of Serb Municipalities.
"I reacted on the first day, for two reasons - first, there is still no progress, not to mention that it is five years late, and the Report should have included only activities implemented by the end of February 2018. At first you get angry, but, if we are to see it in a different way, this is maybe a backhanded favour to Pristina. Since the Report assesses this as progress, we will now refer to this Report and see in the next three or four moths whether the progress has been achieved", explained Joksimović.
She has added that progress is now an additional obligation due to the fact that it was mentioned in the Report as visible progress.
"We don't need concessions and favours, only the same criteria for all, and that is enough for us", stressed the Minister.
Joksimović has said that the Report was discussed last night, while the President and Federica Mogherini also talked about the continuation of the dialogue.
"Do not forget that we have all focussed on some future legally binding agreement, as if the Brussels Agreement wasn't legally binding. Once signed, it became part of the EU common foreign and security policy. Do not think that it was only an act of good will that Federica Mogherini came after the scandalous arrest and treatment of Marko Đurić - it was an obligation", stressed Joksimović.
She has said that Serbia has prepared five negotiating positions on the following chapters: chapter 17, related to economic and monetary policy, chapter 33, related to budgetary and financial provisions, chapter 18 - statistics, chapter 9 - financial services, and chapter 13 - fisheries, all of which have been sent, adding that several more are being prepared.
"When we close chapters, that means that we have implemented all reforms from a certain area, and I believe that it is an important signal that the country is progressing, which is also a signal for investors", said Joksimović.
Source: TV Pink