J. Joksimović and Frattini: Serbia is committed to progress and stability of the region
April 12 2018 | Belgrade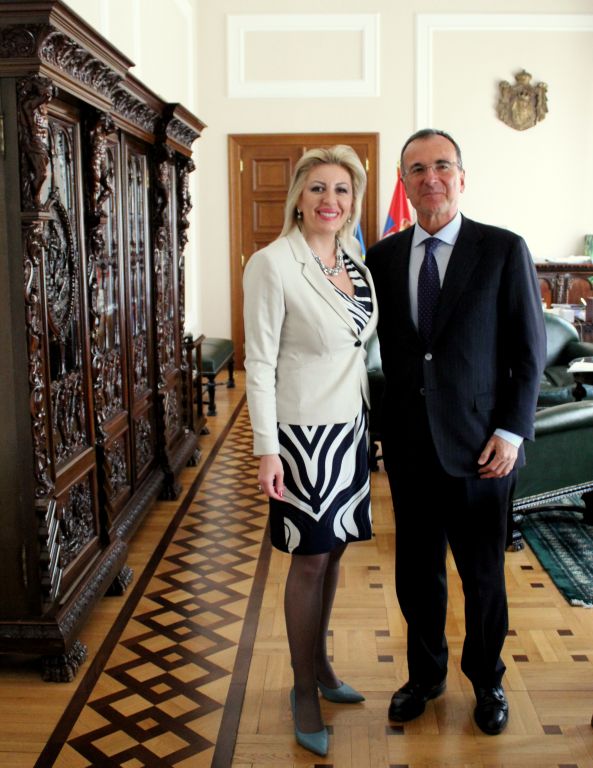 Minister of European Integration Jadranka Joksimović has met with President of the Italian Society for International Organization Franco Frattini. They discussed the Enlargement Strategy, the accession of Serbia to the EU and relations with that organization, reforms that are being implemented in the process of European integration, circumstances in the region and other significant topics.
The Minister of European Integration has assessed that the EU Enlargement Strategy represents an important incentive and great encouragement for Serbia. Simultaneously, it is a vital political signal confirming that Serbia is rightfully counted on as a candidate for admission to the Union. She has also stated that 2025 is not the promised year when the country's accession to the EU is to be expected, but that it should be accepted as a framework deadline.
Jadranka Joksimović has expressed her expectations that several chapters will be opened during the Bulgarian presidency of the EU Council in the first half of the year. She has pointed out that Serbia is fully prepared to open five chapters: 33 - Financial and budgetary provisions, 9 - Financial services, 13 - Fisheries, 18 - Statistics and 17 - Economic and monetary union.
Jadranka Joksimović and Franco Frattini both believe that the stability of the region is also significant for the European Union. As for Serbia, commented the minister, establishing and ensuring stability - which is a condition for peace, development and progress, is a priority that should be accepted and followed by everyone in the region.
The interlocutors have pointed out that the EU, as the guarantor of the implementation of the Brussels Agreement, has undertaken to conduct full implementation of everything agreed upon, particularly, in this context, the establishment of the CSM.
President of the Italian Society for International Organization Franco Frattini has highlighted that the Government's intention to be an active and reliable partner of the EU has been confirmed, and also acknowledged by European partners. Convinced that the reforms implemented in Serbia have provided actual results and that they are in the function of developing the economy - primarily through new investments, Frattini has emphasised that Serbia has shown that it deserves to become a member of the European Union. He has promised to assist the country's European path in any manner possible.
(Source: Tanjug)