J. Joksimović: Serbia to receive EUR 2.7 million in grants from Norway
10. January 2018. | Belgrade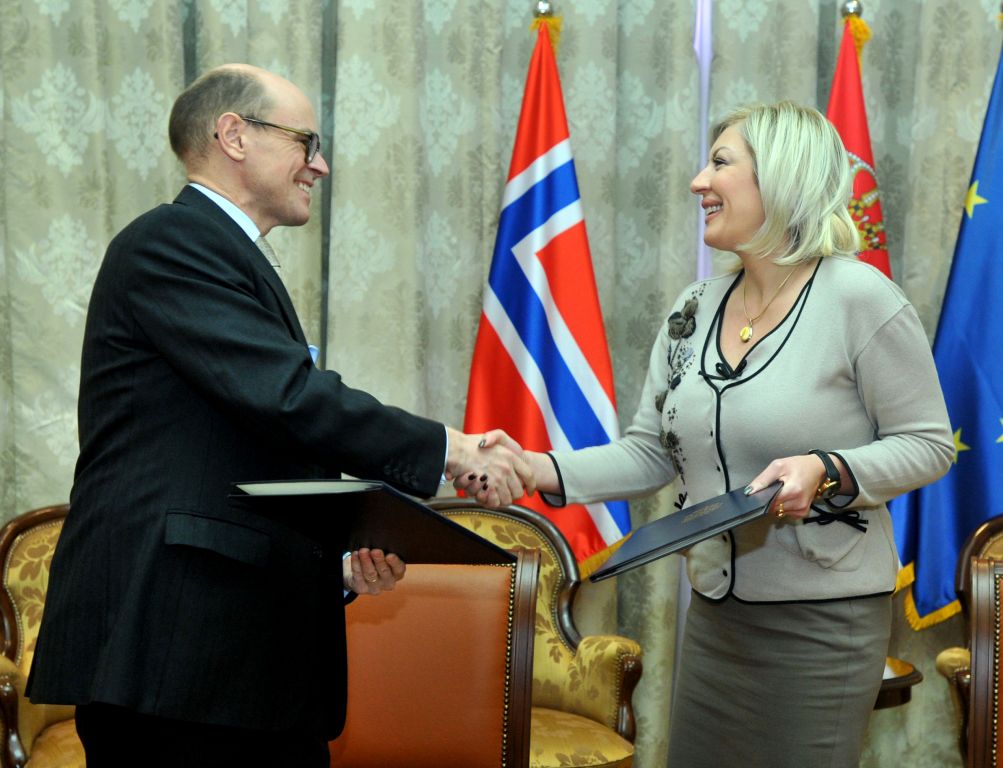 Serbia will receive EUR 2.7 million in grants from Norway for various projects, including EUR 1.68 million allocated to assist the Ministry of Internal Affairs for harmonisation in the field of combating cyber-crime and drug trafficking, said Minister of European Integration Jadranka Joksimović today.
Furthermore, EUR 78,000 has been allocated for a project aimed at strengthening Europol units, while a direct grant amounting to EUR 380,000 has been planned for the Ministry of Labour, namely inspections, to fight illegal employment, Joksimović stated.
Today, in the Government of Serbia, together with Norwegian Ambassador Arne Sannes Bjørnstad, she signed a Memorandum of Understanding between her ministry and the Ministry of Foreign Affairs on Norwegian development assistance.
"Norway has been providing development assistance to Serbia for a long time, not only in the process of European integration but also in the overall reform process related to certain chapters, such as chapters 23 and 24, which include the rule of law, security and justice," said Joksimović.
The Minister specified that for the last ten years, Norway had helped Serbia with over EUR 100 million in grants and expressed her hope that cooperation between the Ministry of European Integration of the Republic of Serbia and the MFA of Norway would be successfully continued, especially with respect to the selection of projects and available funding resources.
According to her, the Ministry of European Integration coordinates the identification of projects and available sources of funding, so as to prevent borrowing for projects that could be supported by development partners.
She explained that development assistance is oriented towards the internal development of Serbia - as the goal of European integration, and also achieving of sustainability in the reform process, while facing numerous global challenges, not only as a candidate country, but also as a future member of the EU.
In this way, she highlighted, donors can strengthen their visibility and good image, and, at one moment, as we progress in the process of European integration, Serbia will be not only a recipient but also a country that will put its knowledge and experience, and money too, at the disposal of those who need it.
She noted that relations between the two countries had an upward trend and that Norway was a significant partner.
The Norwegian ambassador said that he supported Serbia in its European integration, as well as its social and economic development.
"We are not a member of the European Union, however, we are in the common economic market," Bjørnstad said, adding that Norway was preparing a plan that would include Serbia.
Bjørnstad underlined that Norway had an understanding of Serbia, not only as a partner, but as a friend.
(Source: Tanjug)