J. Joksimović: Predictable framework is important for European path
20. December 2017. | Belgrade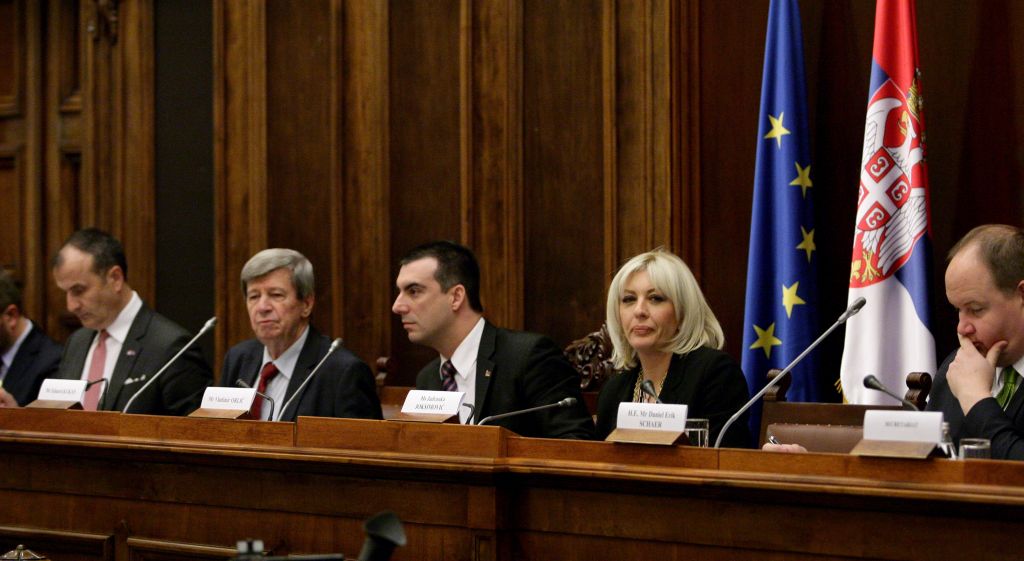 "Serbia expects a more specific date for EU accession so that the citizens would know what to expect", Minister of European Integration Jadranka Joksimović has stated today, saying that previous governments in Serbia had for years promised citizens various dates, which caused a great level of expectation, but was only followed by disappointment.

That was her response to the remark made by the chair of the EU delegation to the EU - Serbia Stabilisation and Association Parliamentary Committee, Eduard Kukan, that there is a strange element in the political life of Serbia, both in regard to the ruling majority and to the opposition, that they are "feeling sorry for themselves" and always asking for EU accession dates.

Kukan says that every EU Member State has gone through the same process and became a member only when it was ready. "You think that we are not giving you the date out of spite, but it is not so", said Kukan adding that one should recall Bulgaria and Romania when, according to his assessment, political criteria were put before the technical ones. "That has seriously backfired on us and we will not let that happen again. We in the European Parliament are there for you - when you give us something, we will then give you something in return", said Kukan.

He further added that it is not fair when Serbia says that the EU is always making new requests. "Don't feel like a bad student and as if we are torturing you in various ways", he said.

Joksimović responded that no one in Serbia sees themselves as a victim and that she does not see why he would think that. To his remark regarding the "constant asking for EU accession dates", Joksimović said that Serbia is not asking for the exact date, but a more precise timeframe. "Previous Governments had for years promised citizens various membership dates, which caused a great level of expectation, but was only followed by disappointment", said the Minister emphasising that more precise timeframes are required so that it would be easier to present to the citizens what they could expect.

The Minister said that Serbia understood EC President Jean-Claude Juncker's statement that Serbia could join the EU by 2025 as a predictable framework that could sway the citizens back to the perspective of membership.

At the committee discussion, MEP Tanja Fajon said that she supports EU enlargement to the Western Balkans and that she has been following EU enlargement for 15 years, stating that each following step in the enlargement has been more difficult, has required new conditions and has faced new challenges.

"Some in Brussels have a different view - they believe enlargement should be realised as a package, but I believe this is not realistic", says Fajon. She further states that many young people from the region are leaving their countries in search for a better life and that this is alarming both for Serbia and for the region. She adds that this means that young people believe in European values, but when asked whether they believe in the process of European integration, they usually say "no".

The question is how the government can communicate the process of European integration to the citizens so that it becomes more tangible to them because, as she says, when citizens are told about opening and closing of the chapters, they do not understand it.

"Enormous EU funds are present in the region, but Russia, China and Turkey are constantly talked about? The Balkans is a playground for various geopolitical interests, and this is where the EU loses its place. We have the opportunity to improve that in Serbia", says Fajon.

Fajon says that recently the Serbian parliament adopted the budget for 2018 adding that what raises concern is that 10 hours of discussion were "occupied by the ruling coalition, while the opposition couldn't get a word in edgeways", stating that the website of the Open Parliament has also "gone dark" and that an impression is being formed in the society that parties work in their own interest and not in the interest of the citizens.

Minister Joksimović says that it is a devastating fact that, from 2007 to 2013, less than 10 percent of Serbian citizens knew about the existence of EU pre-accession funds, and that she considers her personal success and the success of the government the fact that, according to the latest survey, 23 percent of citizens recognise the EU as the largest donor in Serbia.

She says that the trend of young people leaving Serbia existed before as well, and that she does not believe it to be increasing today.

The Minister conveyed the information provided by the Chamber of Commerce and Industry of Serbia that the largest number of seasonal workers coming to Serbia is from Romania, an EU Member State, that this information is important for Fajon as a member of EP, and that this certainly is not an encouraging indicator for Serbian citizens and their enthusiasm.

Democratic Party Member of the Assembly Vesna Marjanović said that support to the European integration has drastically declined and that it is now below 50 percent, and that she is glad to hear the information from Minister Joksimović that percentage of citizens who are informed that the EU is Serbia's largest donor has risen.

Member of the Assembly from the Social Democratic Party of Serbia Milorad Mijatović said that a fundamental interest of Serbia is to become an EU member, and that the EU is viewed in a positive light in the National Assembly of Serbia. "I always emphasise that we want to be a part of the EU, that we are changing and that we will continue to do so", says Mijatović.
(source: Tanjug)