J. Joksimović: Another two chapters – important step on European integration path
11. December 2017. | Brussels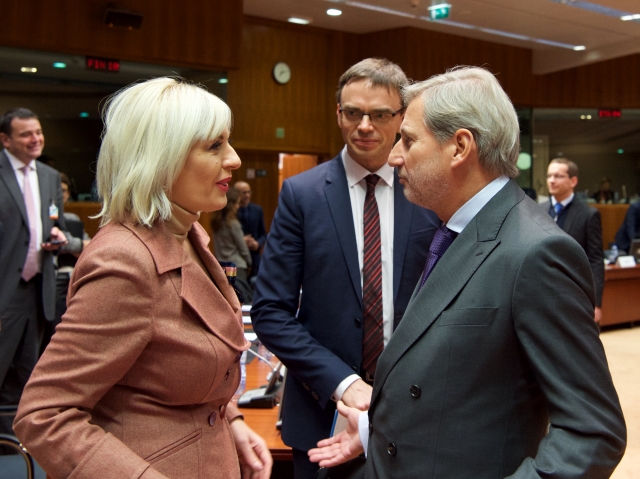 Minister of European Integration, Jadranka Joksimović stated today in Brussels that Serbia was making an important step on its European integration path by opening two new chapters - 6 and 30.

This is also a clear signal for Serbia's certain future in the EU, Joksimović said.
"We continue on our European path, and this is another important step in the accession process. With these two chapters, Serbia will have altogether 12 open chapters, which is a satisfying and reasonable pace, but it can and must be faster", emphasised Joksimović in her press statement before the Intergovernmental conference.

Minister Joksimović stated that Serbia had five negotiating positions prepared and that it expected to open more than two chapters. She said that most member states recognised Serbia's progress on its European path and consented to the opening of "three, maybe even four chapters", but the consensus of all member states resulted in a decision to open two chapters.
"If we are ambitious, we must not be satisfied. I believe this ambition is good because it indicates a political will and determination to head one way. If we are less ambitious, we will say that this pace is satisfying as it has already become habitual - two chapters opened at each Intergovernmental conference", Joksimović said in Brussels.

The Minister of European Integration of Serbia said that she expected the accession process and the pace of opening of chapters to accelerate in the upcoming period, particularly during the Bulgarian and Austrian Presidencies of the Council of the EU, which have enlisted enlargement among their priorities.

"I really believe that a momentum must be given so as to justify the message of President Juncker, who undeniably designated Serbia and Montenegro as most advanced in the negotiation process at the moment. I believe that was a good "wind at our back", Joksimović said. That should not be diluted, she added.

She concluded that the internal reforms would remain crucial for Serbia's European integration path and that the commitment to that path would remain clear and a top priority due to the promise given by the government of Serbia to its citizens.
(source: Tanjug)