J. Joksimović and Florian Hahn: Serbia has demonstrated that it is committed to regional stability
26. October 2017. | Belgrade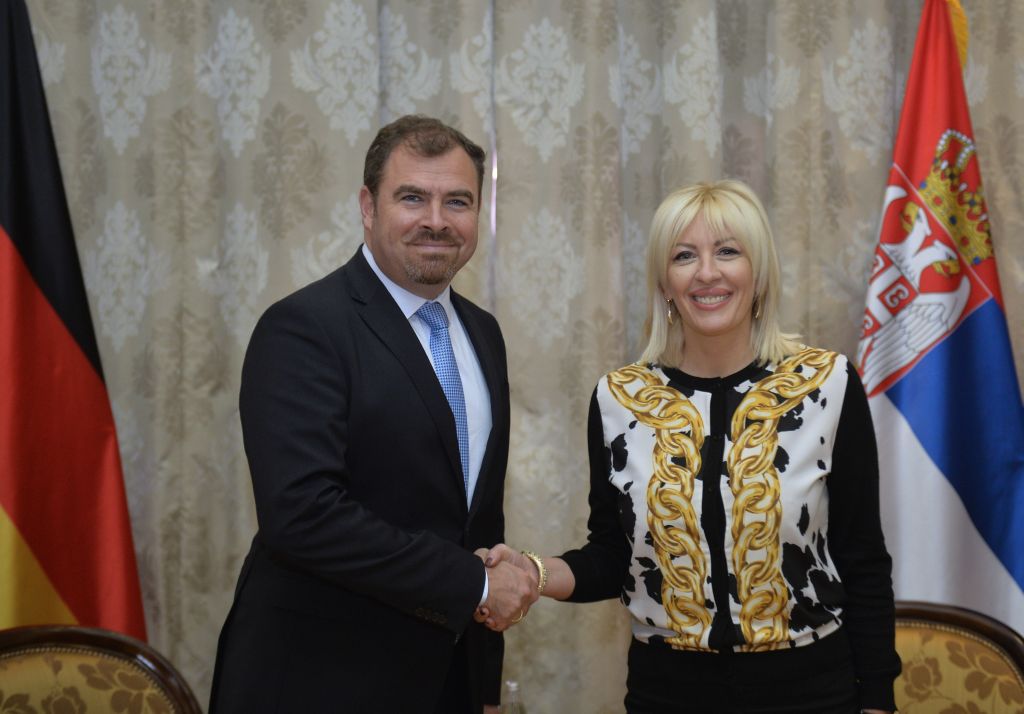 The Minister of European Integration Jadranka Joksimović spoke with German Bundestag member Florian Hahn from the Christian Social Union (CSU) about the relations between Serbia and Germany, the possibilities for their strengthening, the process of European integration of Serbia, reforms in the country, the situation in the region and other topics.
The Minister of European Integration has said that Germany is the largest bilateral donor of development aid to Serbia - in the last 15 years it has allocated EUR 1.7 billion for numerous projects. She expressed her thanks for this, but also for the support and assistance we receive from Germany in the process of EU accession. All this, according to minister Joksimović, supports the perception our public has of Germany as an important strategic partner.
Minister Joksimović has stressed that EU membership is a strategic interest of Serbia, and that European integration is the best mechanism for the overall development of the country. She expects that, apart from 10 opened chapters and 2 provisionally closed chapters, Serbia will open several more chapters we are ready for by the end of the year.
"For Serbia, the stability of the region is of great importance," the Minister of European Integration has said, emphasizing that cooperation is a prerequisite for peace, development and progress. Joksimović has expressed her belief that others, like Serbia, should also demonstrate such orientation, which is also important for the European Union as a whole.
Bundestag member Florian Hahn has praised the commitment that Serbia, as a significant factor in the region, is showing in order to strengthen the stability and achieve concrete results through the reforms which are being implemented. He has agreed that others in the region must also demonstrate responsibility and a constructive approach for the sake of stability. With the statement that he believes in the European future of Serbia, Hahn has provided unequivocal support to the continuation of the process of Serbia's European integration, convinced that our country has proven to be an active and reliable partner of the EU.
(Source: Tanjug)