J. Joksimović and Szijjártó: Serbia and Hungary are examples of good neighbourly cooperation
09. October 2017. | Belgrade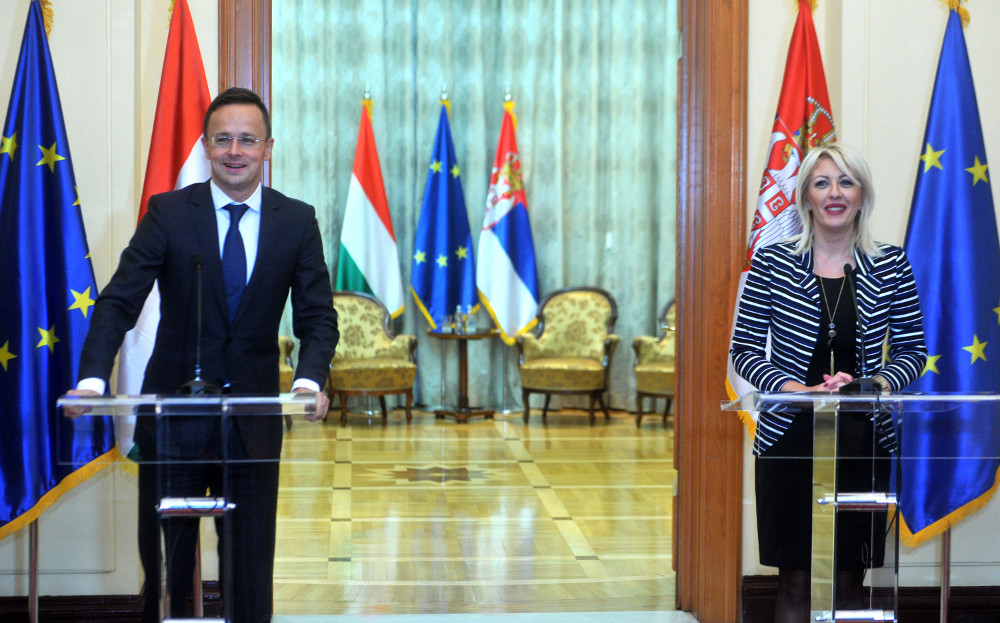 "The interest of Hungary, as well as of the European Union itself, is that Serbia becomes a member of the Union at the earliest opportunity", Hungarian Foreign Minister Péter Szijjártó conveyed today after holding talks with Serbian Minister of European Integration Jadranka Joksimović, who stressed that despite all the problems, European integration remained a strategic priority of Serbia.
Szijjártó highlighted that Hungary respected Serbia's progress on its European path and that it therefore did not plead, but demanded that five chapters in the process of Serbia's EU accession be opened over the course of this year.
"We must give positive responses to Serbia, so it could achieve the best progress possible towards the EU," stated Szijjártó.
He underlined that without a stable Serbia there would be no stable Balkans, stating that stability was achievable through faster integration of the region into the EU.
"Hungary is doing everything to enable Serbia to conclude negotiations with the EU by 2021," stressed Szijjártó, adding that this was a sign of appreciation for Serbia's attitude towards national minorities and that the relations between the two countries had never been better.
Serbia's treatment of minorities, he said, was in line with European regulations and standards, so Serbia could serve as an example for both EU member states and countries that wished to join the EU.
He added that Hungary guaranteed all rights to the Serb minority in that country. Szijjártó said that Serbia and Hungary were working on two major investments, one being the Belgrade - Budapest rail line and the other involving energy connectivity.
Minister Joksimović pointed out that Hungary was an important partner in the process of European integration and that it was vital that the two countries cooperated and connected in the areas of transport and energy, which, in her words, was in the interest of citizens, as well as the EU.
"For that reason, we believe that the certainty of Serbia's European road is clearer and we are confident that this will be recognised in other member states, as it has been in Hungary. It is our task to implement our part of the reforms, primarily because of the promises given to our citizens. European integration, despite all the problems that occasionally appear and that will certainly appear in the future, remains a strategic priority of Serbia," stated Joksimović.
She added that the third revision of the National Programme for the Adoption of the EU Acquis had been adopted, by which the state had given itself a deadline to harmonise the national legislation with the Union by the end of 2021.
"It is more important that the citizens feel the improvement and progress, and I am certain that EU membership will logically follow, if the EU consolidates itself in the proper manner, recognising enlargement as a development opportunity and not just as a mere chance given to candidates," Joksimović said.
Minister Joksimović emphasised that Serbia appreciated Hungary not only as a neighbour, but also as a country that had shown that it had its own position and voice and that it was capable of protecting its national interests.
She stated that Hungary was extremely significant for Serbia and that the members of the Hungarian minority in Serbia are a reflection of respect and common interest in the economic advancement of this region and a better life for citizens, regardless of their nationality.
"What Szijjártó says about the state of national minorities' right in Serbia means more to me than any assessment from an EC report, because the Hungarian minority in Serbia is large; Hungarians work and live here and they can assess how Serbia treats citizens of other nationalities", she said, adding that Serbia would strive to keep the standard from falling and make it even better.
"I am not certain that all the other countries in the region can take pride in having such a relationship with and treatment towards citizens of other nationalities and their minority rights, but this is an issue that those other countries need to deal with," underlined the Minister.
Source: Tanjug