Jadranka Joksimovic: We are not a Russian Trojan horse in Europe
28. July 2017. | Belgrade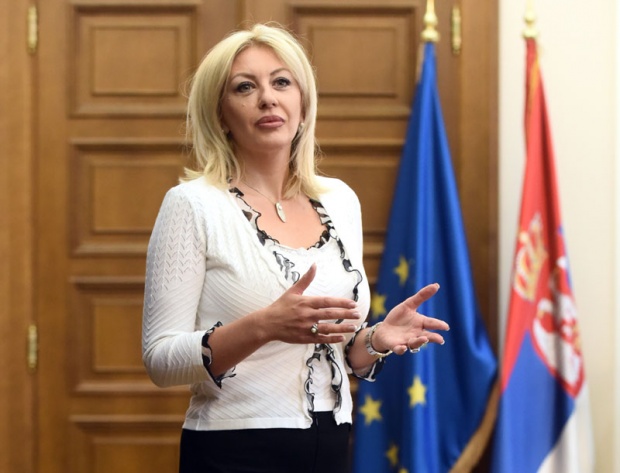 Jadranka Joksimovic, Minister of European Integration, has spoken for Novosti about relations with Brussels and Kremlin, conditionalities, integration...
We have a long road towards membership in the European Union ahead of us. On this road, we will often rely on the EU's assistance and support for external and security challenges, and for some matters we have a very significant support from Russia. We are Serbs, we are not "little Russians", nor are we a 'Trojan horse' for Russian interests in the EU. However, we do respect the support and approach towards our interests that the Russian Federation has demonstrated and we are not hiding it, which is why we have not imposed sanctions on them.
This is what Minister of European Integration Jadranka Joksimović has said for Novosti, answering the question on when she will be expecting the opening of Negotiation Chapter 31 on foreign policy and whether the request to impose sanctions on Russia would await us as our first task.
- The EU Member States have to adopt the decision on the opening of Chapter 31 by consensus and it is certain that it will not happen this year, but Serbia understands the messages which are important to certain Member States. This chapter should be treated in the same way as it was for other candidates. After all, you can see for yourself that the circumstances have become more complicated, which leads to a shift in relations between global powers.
* Will Serbia encounter the resistance of the Baltic countries, since Lithuania is in favour of "re-examining" the enlargement policy because "some are negotiating on membership while participating in military exercises with Russia"...
- We understand that certain countries, especially the Baltic ones, have a different attitude towards Russia than we do, in the context of their own view of the near and distant past. I also think that a large number of Member States certainly understand the reasons why our policy is different. However, we have had incomparably more military exercises with the EU countries and the NATO.
* Do you know has someone defined a period when Serbia could join the EU?
- The statement of President of the European Council Donald Tusk is encouraging as he said that the door will be open for us when we are fully prepared. This is a legitimate answer, because it means that enlargement is not a finalized policy, although many want to present things in that way. The EU countries also benefit from new Member States, as this is not a one-sided process where only a new member profits.
* A quarter of respondents from your ministry's survey says that Serbia's accession to the EU is slowed down by a policy of continuous blackmailing...
- Nobody forces us and we do not have to do anything, unless that's our choice. I do not think we would benefit from the policy "we don't want to do anything, we don't want to go anywhere, we don't want to be with anyone,", bearing in mind that Serbia is surrounded by the EU Member States and those aspiring to become one, especially due to the EU economic importance for us.
I DO NOT THINK THAT VUČIĆ'S CRITICISM REFERRED TO ME
* Have you felt the words of the Serbian President, that only a few of those from the Serbian Progressive Party publicly took a stance to protect him against the attacks in some tabloids, as criticism on your account as well?
- No. The attacks of this type on the President are the reflection of the twisted awareness of what criticism and the freedom of the media mean. Many from the world of media will need time to learn professional ethics, responsibility for words spoken in public, and the obligations of transparent and responsible business. The European standards are the best medicine for that.
Source: Večernje novosti