U.S. Government commits $9 million to strengthen Serbia's economy and improve government operations
28. April 2017. | Belgrade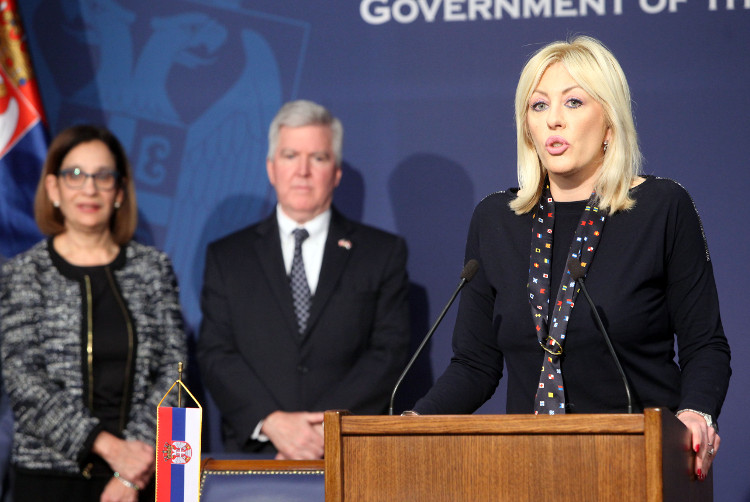 Jadranka Joksimović, minister of the Republic of Serbia responsibly for EU integration and Azza El - Abd, mission Director of U.S. Agency for International Development (USAID) in Serbia today signed amendments to two bi-lateral assistance agreements: Agreement for the better functioning of the public administration of the Republic of Serbia (worth 4.450.000 U.S. dollars) and amendment to the Agreement for a more competitive market economy (worth 4.645.425 U.S. dollars).
After signing these documents, Minister Joskimović and United States Ambassador to Serbia Kyle Scott, particularly stressed the importance of these amendments which provide an additional $9 million to support Serbia's EU accession efforts by improving government operations, combating corruption, strengthening rule of law, and growing Serbia's economy.
Since 2001, the United States, through the USAID has provided $748 million and partnered with Serbians to strengthen democratic governance and to make Serbia's economy more competitive.
Previous USAID support to Serbia has: made obtaining construction permits and complying with business inspections easier and more transparent; helped make Serbia one of the ten most improved countries in the World Bank's 2016 Doing Business ranking; renovated misdemeanor courts throughout Serbia and reduced problematic case backlogs by up to 80 percent in some courts; introduced e-governance solutions in 83 municipalities--making it easier for Serbians to change their official residences or to register marriages and births; helped Serbia draft and implement its first Whistleblower Protection Law—making it easier and safer to report corruption and fraud.