Joksimović and Falconi: Final goal of the accession process – full membership
November 01 2019 | Belgrade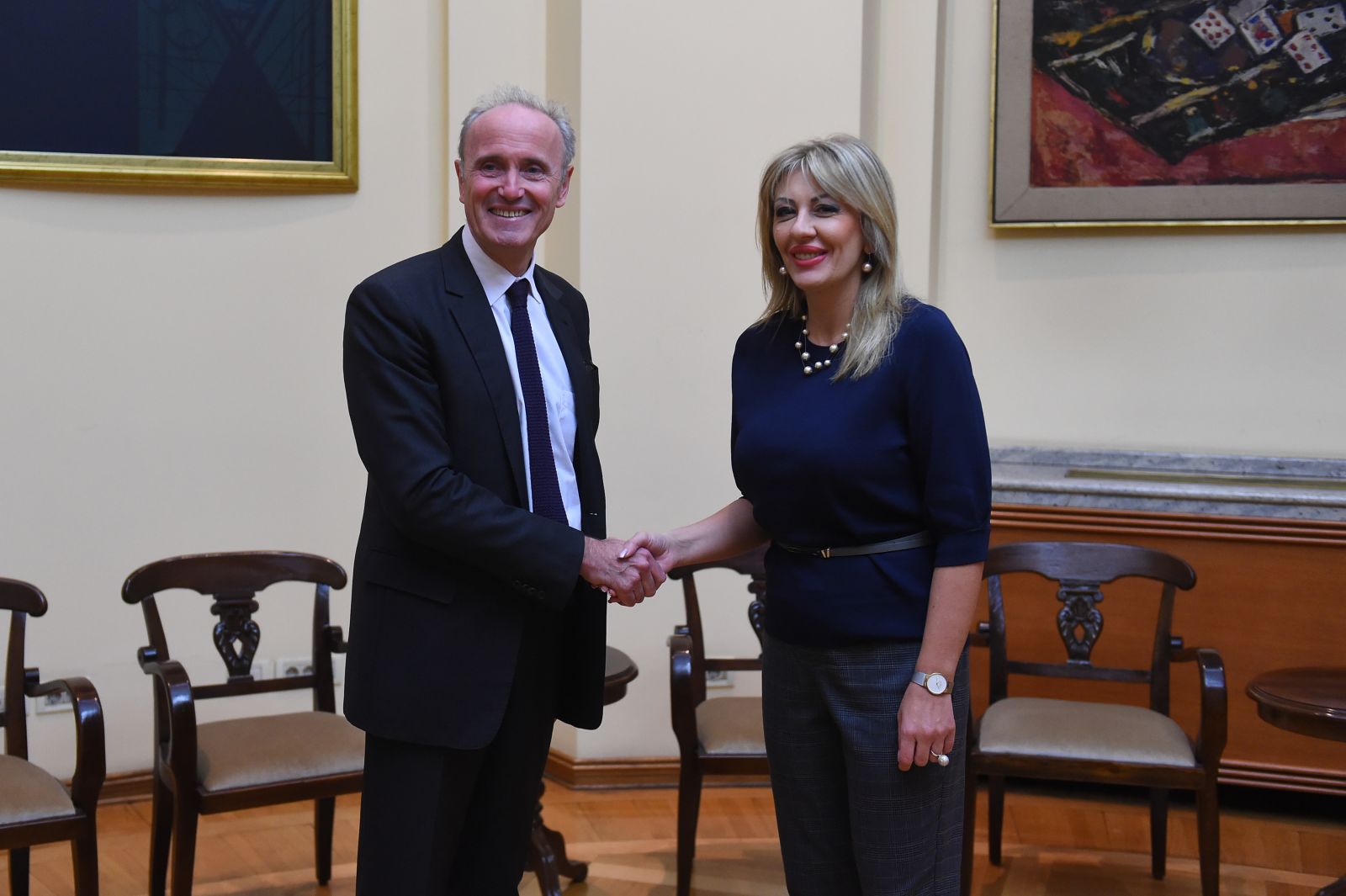 Serbian Minister of European Integration Jadranka Joksimović and French Ambassador Jean-Louis Falconi have talked about the future of the enlargement policy, Paris' position regarding the enlargement policy, current thoughts on the direction of potential reforms within the EU and its common policies, as well as about the relations in the region, bilateral relations and Serbia's accession process.
In an open and comprehensive discussion with the Ambassador, Minister Joksimović has thanked him for his initiative to provide a general overview of France's position regarding these topics. She has further emphasised that Serbia has shown a high level of partnership relation with the EU in many issues of common interest, adding that Serbia will continue to be responsibly committed to the European integration process. She has recalled an important document that the European Commission adopted in February 2018 – Credible Enlargement Strategy for the Western Balkans, where Serbia was recognised as one of the favourites for EU membership. In this regard, the Minister has expressed her expectation that the new composition of the European Commission will continue with the enlargement policy in a responsible and reliable partnership-like way, just as the Strategy has foreseen.
Joksimović has emphasised that Serbia observes the still unofficial proposals of reforms of the EU and enlargement policy with understanding and patience, but that it is also actively working on the accession process and implementing the undertaken obligations. She has therefore expressed her expectation that, during the Finnish presidency by the end of the year, the member states will recognise the significant results Serbia has achieved in implementing obligations under chapters 23 and 24, and that Serbia will be granted the opening of new chapters in the accession process.
The French Ambassador has underlined that France's position is clear with regard to the final goal of the accession process – and that is full membership for candidates that implement all necessary reforms. He has outlined general ideas on potential changes, which certainly should first be agreed on within the EU and among all member states. He has stressed that France recognises Serbia as a serious acceding country that implements important reforms in the area of the rule of law and economy. He has further emphasised that it is important for France to hear positions, views and experiences of Serbia, as a responsible candidate deep in the accession process, regarding the current way and methodology of negotiations and tangible and concrete benefits of the process in this stage.
The interlocutors have agreed that the cooperation of the two countries is continuously on the rise, particularly after the important visit of President Macron to Serbia in July this year. Economic cooperation is intensive, as evidenced by the recent establishment of the French Development Agency for the purpose of giving additional impetus to the economic development of both Serbia and France.
Source: Tanjug