J. Joksimović and Schütz: Germany is supporting the credible enlargement policy
October 17 2019 | Belgrade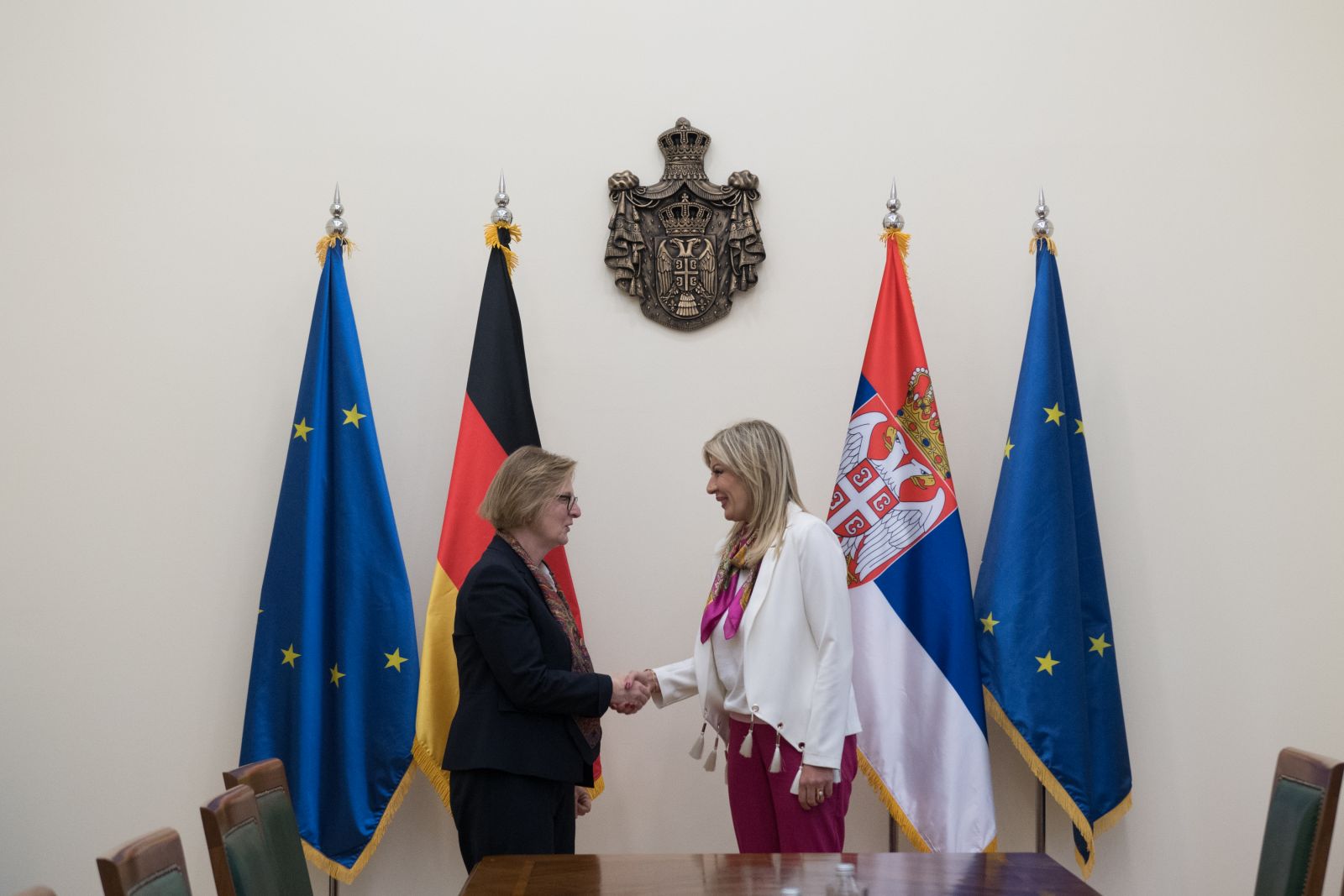 Minister of European Integration Jadranka Joksimović and Regional Director for South-East Europe of the Ministry of Foreign Affairs of Germany Susanne Schütz talked about the continuation of Serbia's European integration and further cooperation between the two countries within this process, the results of ongoing reforms, the situation in the region and in the EU, bilateral relations and other topics.
Joksimović and Schütz assessed that Serbia was moving forward on the path of European integration which is an important segment of reforms - both in Serbia and the region, and that in addition to security and stability, the European path and partnership with Serbia increased the competitiveness of the EU itself, and our state could make a significant contribution to that.
They assessed that the relations between the two countries were at a high level and that there was a mutual desire to improve and strengthen them. The Minister expressed her gratitude for the assistance and support that Germany has provided to Serbia in the process of European integration, which has been confirmed by the fact that Germany is a significant foreign trade and strategic partner and individually the largest bilateral donor.
Susanne Schütz confirmed that Germany would continue to support the enlargement policy and Serbia's European integration process, in accordance with defined criteria. At the same time, she stressed the importance of implementing reforms which are expected to be intensified. She assessed that the Government of the Republic of Serbia recognized the significance of reforms in the area of the rule of law - which should be intensified, but also those that ensured macroeconomic stability.
Jadranka Joksimović emphasised the importance of German support - in particular when it comes to resolving specific political issues, such as the dialogue with Pristina. As regards Kosovo and Metohija, Serbia is in favour of a compromise and sustainable solution. She reiterated that Belgrade was ready to continue the dialogue as soon as Pristina abolished unilateral and illegitimate tariffs on goods from Central Serbia.
Regional Director for South-East Europe of the Ministry of Foreign Affairs of Germany Susanne Schütz assessed that the dialogue should be resumed after the establishment of a new Government in Pristina and that Pristina should abolish the tariffs.
Source: Tanjug