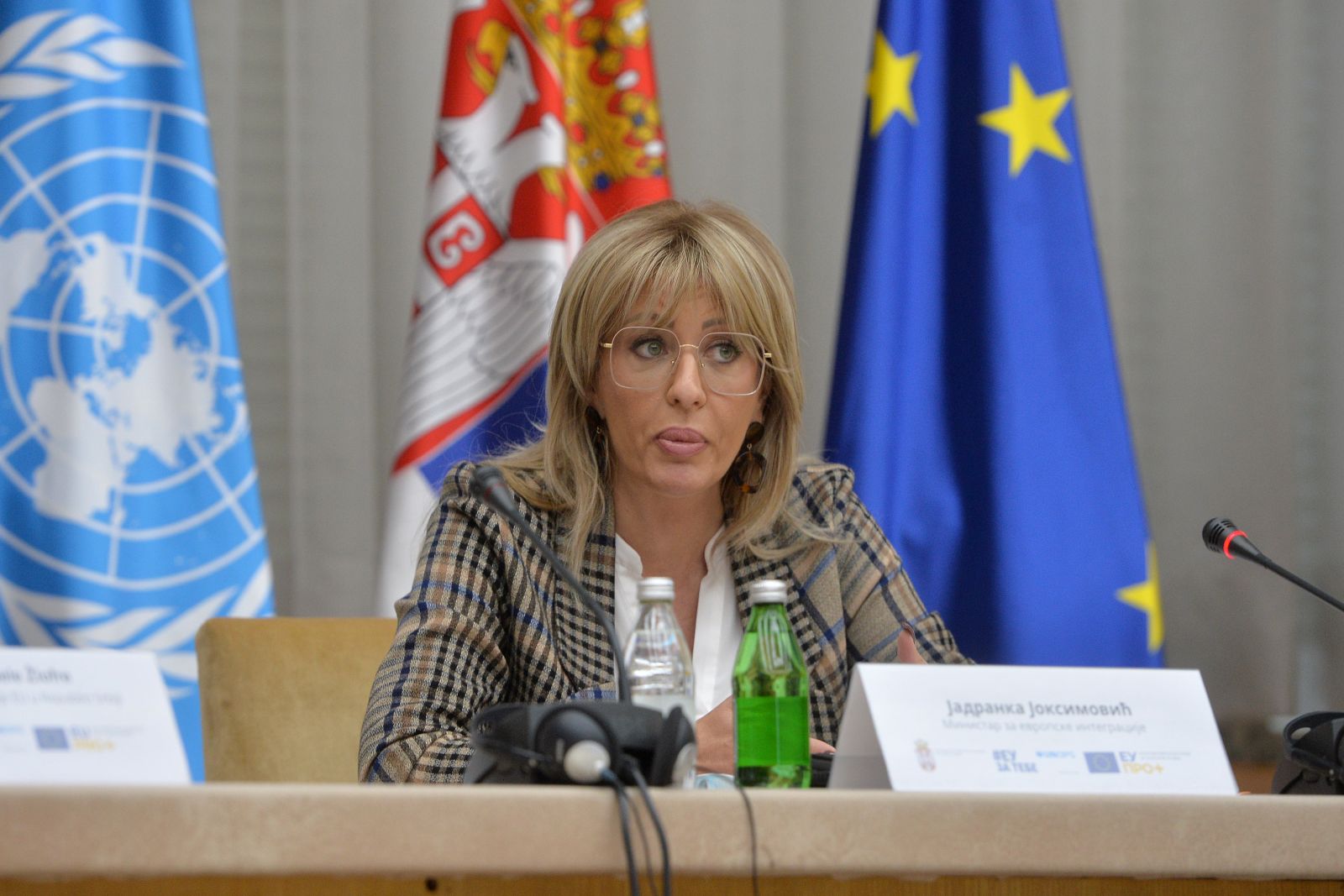 "In Serbia, we do not advocate or want anything less than the highest European standards, but all aspects of a project should be considered to define both the benefits and potential harm", Minister of European Integration Jadranka Joksimović has stated today regarding the Rio Tinto project, stressing that no major project can be realised without a serious assessment of its impact on the environment, since, according to her, that is a European standard.
"Do not doubt that", said Joksimović after the signing of a new agreement for the EU PRO Plus programme worth EUR 10 million, responding to a journalist's question about Chapter 27 and how much the intentions of Rio Tinto are in contravention of the environmental protection agenda.
"We are taking this very seriously, and the opening of Cluster 4 indicates that Serbia has brought at least the institutional mechanism for monitoring the implementation of such projects to the highest level", said the Minister, adding that she believes that the European integration process gives additional support and foundation for "us to be transparent and responsible and to follow the EU standards".
The Minister has further stated that she understands that people relate current developments to the entire process, but that they sometimes do it in a strange and not quite so logical way.
She has recalled that the Rio Tinto project is not new, that it has not yet started and that, over 10 years ago, an interest was expressed in a project that on the one hand can bring Serbia huge commercial relevance, and on the other, that can have an environmental dimension that must be carefully considered.
"And have no doubt – all these large projects cannot be realised without previously conducting serious environmental impact assessments, and that is the European standard", said the Minister, emphasising that Serbia is acting in accordance with European standards, which will additionally be supported by the opening of Chapter 27 and Cluster 4.
"Chapter 27, within Cluster 4 – Green Agenda and sustainable connectivity, is related to environment and is highly demanding. There were no opening benchmarks, but there was an entire series of activities that we had to implement and that the EU recognised as significant Government activities regarding the establishment of all institutional mechanisms, key umbrella laws adopted to build a sound foundation for everything that we will do together with the EU in the area of environmental protection", said the Minister.
She has recalled that the EU has allocated EUR 14 billion for the Western Balkans within the IPA 3 financial perspective and that more than 42 % of those funds will be intended for transition to a green and sustainable economy and projects related to environmental protection.
"All those projects are prepared in the utmost accordance with European standards, because that money comes from the EU and Serbia is on the European path, and all the criteria of the highest standards in the area of ecology, protection and environmental restoration will be applied as part of the joint work on upholding the highest standards in the area of environment.
Source: Tanjug