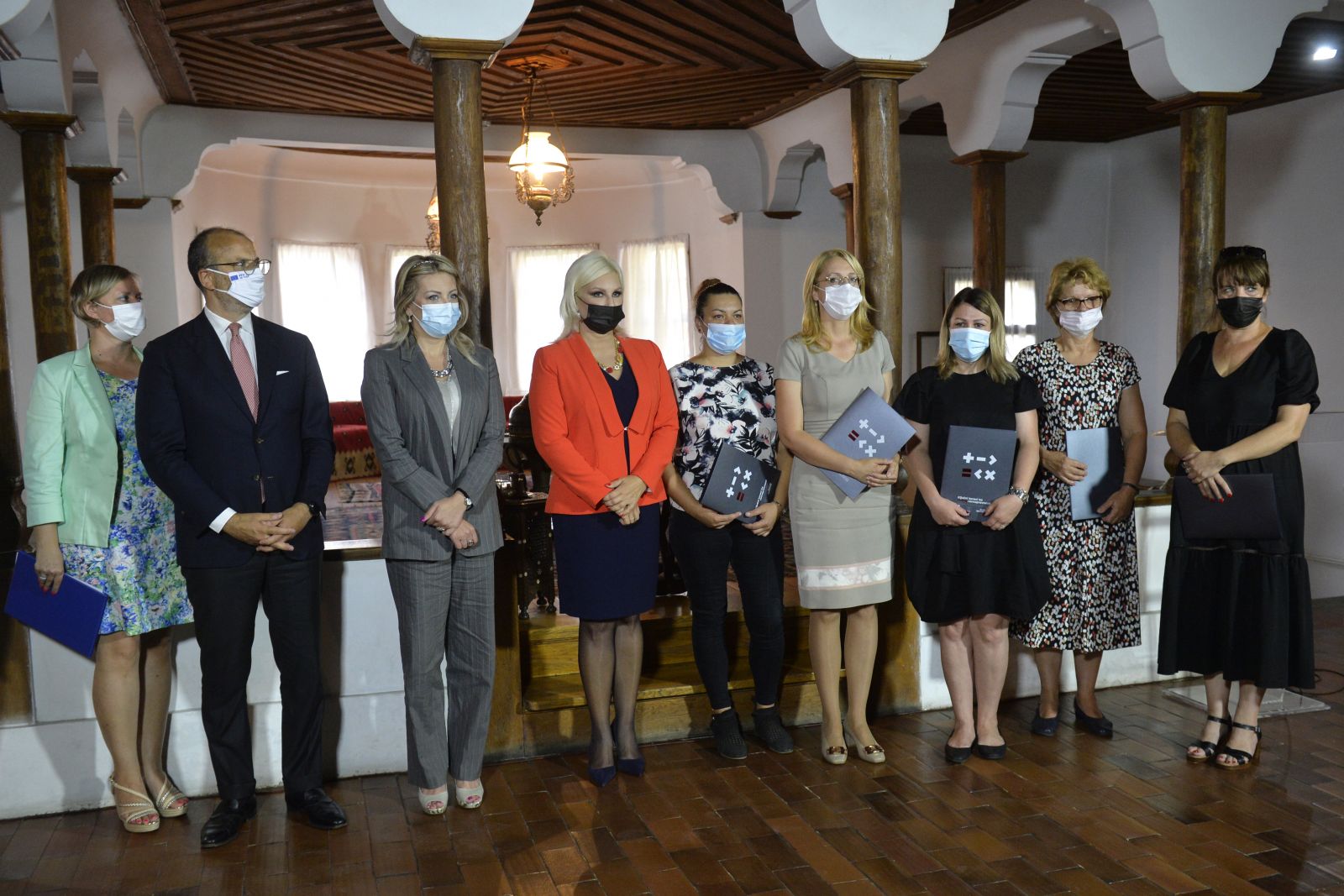 Grants in the value of 17.2 million RSD have been officially awarded today to women's civil society organisations to assist women's economic empowerment, and ministers Jadranka Joksimović and Zorana Mihajlović have indicated that gender inequality is present and that women are less paid for the same jobs than their male counterparts.
Minister of European Integration Jadranka Joksimović has congratulated the winners on submitting good projects, since, as she has mentioned, it is important to submit good projects for competition and not only to talk about the importance of gender equality.
"It is important to create sustainable projects which will produce specific value", Joksimović has said.
She has explained that these projects are financed from EU funds, in fact, from IPA 2019 pre-accession funds.
"We have allocated two million Euro for continuation of one important project which has been launched several years ago – Key steps towards gender equality and for several years now we have been implementing those projects successively", Joksimović has said.
She has emphasised that gender inequality is still present, as well as the fact that women are less paid than their male counterparts for the same jobs, but they are also burdened with numerous private and family obligations.
"A lot is expected from women, huge burden is placed on their back, and every responsible society has to recognise that and offer solutions for women's empowerment, while economic empowerment is recognised as crucial", she has noted.
In her words, final Report from the European Commission on Gender Equality Strategy 2020 – 2025 at the EU level, has indicated that coronavirus pandemic has contributed to additional inequality.
Joksimović has said that it is similar in Serbia, as the Report indicated how difficult it is to make steps towards gender equality and yet it is easy to make steps backwards at a time of crisis.
"It is something we have to detect timely and precisely through these initiatives along with the EU and civil society organisations we have to be more active in every part of Serbia, especially in rural areas, jointly doing everything we can to stop the inequality trend and reverse its flow", Joksimović has said.
She has added that the Ministry of European Integration always endeavours to introduce gender component in its work and include it in all types of projects implemented in Serbia.
Deputy Prime Minister of the Government of Serbia Zorana Mihajlović has mentioned that more than 1,000 women will benefit from the grants allocated today.
"These grants, in the amount of 17.2 million RSD for one-year project will enable women to get a step closer to economic independence", Mihajlović has said.
She has indicated that if they cannot find a job, about 70 per cent of women today choose to set up their own stores and small enterprises, but that only three per cent manages to get loans.
"It is necessary for all of us to work together so in the future the financial conditions for women who want to start their own business would become more simple", she has emphasised.
Mihajlović has said that projects of women's empowerment have been ongoing for several years now and mentions that from 2018 until 2020 more than 1,600 women have participated in training and courses and managed to procure specific equipment which has enabled them to establish their shops or small enterprises.
In her words, when it comes to women, the situation in the labour market in Serbia is not very favourable; data on employment rate of women indicate 42 percent compared to 58 percent of employed men.
Also, Mihajlović has indicated that women's employment rate in informal sector is very high and amounts to 62 percent.
"Today, women are less paid than their male colleagues for the same job, which amounts to about 10,000 dinars", she has emphasised.
During the crisis caused by coronavirus pandemic, it has become obvious that most women required to work from home or less hours in order to take care of children, elderly or ill, while men mostly referred to additional training and education as main reasons.
"These are specific gaps which exist in our society and we have to fight together to create equal conditions which should exist for both men and women", Mihajlović has said.
Head of the EU Delegation to Serbia, Sem Fabrizi has said that the Union supports the activities directed towards gender equality and that the funds awarded today have been directed towards balancing social inequality and assistance for women who belong to variously discriminated groups.
"We have therefore focused on economic aspect which will enable women to become economically empowered and have more sustainable life style", Fabrizi has said.
Project Officer at UN Women in Serbia Jelena Sekulić-Nedeljković has indicated that forecast regarding gender equality is not promising since globally, if we continue in this pace, full equality will be realised only in 99.5 years.
"I believe that it is our goal to accelerate that path at least in Serbia", Sekulić-Nedeljković has said.
One of the grant winners - President of Society for Development of Creativity from Aleksinac, Snežana Živadinović believes that these projects will create a better world and less inequality.
Source: Tanjug