J. Joksimović: Chapters we are opening – confirmation of the quality of economic reforms
December 08 2018 | Belgrade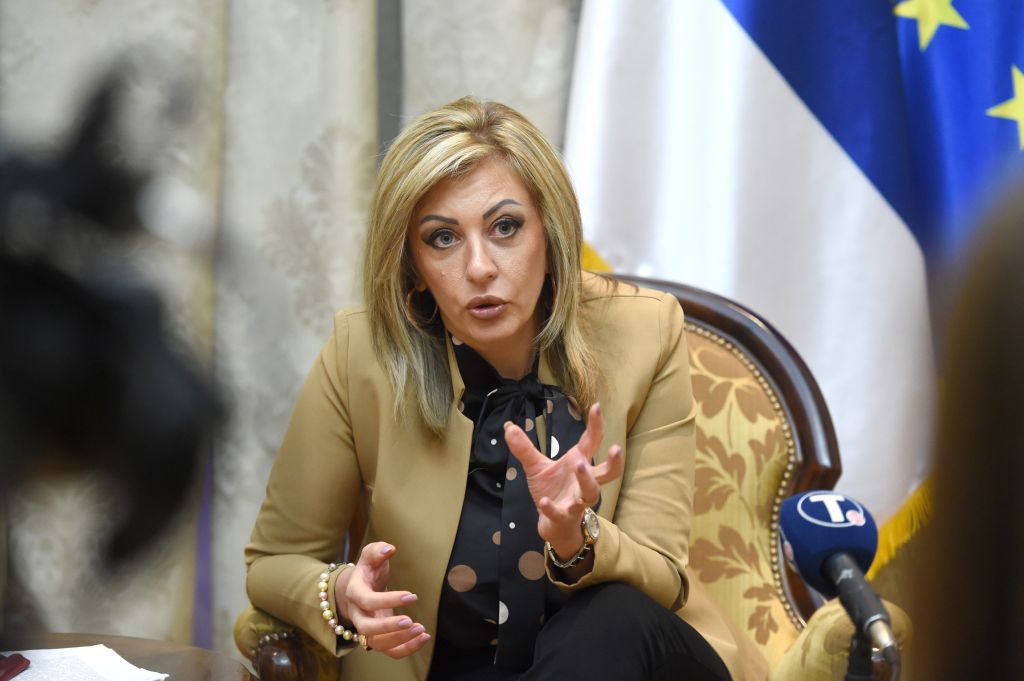 "Serbia will open two new chapters in the negotiations with the EU on Monday, at the Ninth Intergovernmental Conference in Brussels: Chapter 17 - Economic and monetary policy and Chapter 18 - Statistics, which are very significant for economic reforms and confirm that Serbia has been doing well in that segment," stated Minister of European Integration Jadranka Joksimović.
She has noted that Chapter 17 is one of the vital economic chapters and that its opening will represent additional support to the already well-initiated economic reforms, in particular in the area of ​​structural reforms and macroeconomic and fiscal projections.
"These are provisions that help the country to further strengthen mechanisms for fiscal supervision and fiscal responsibility, which significantly influences the range of public debt, namely the reduction of the budget deficit. These chapters provide concrete and key instruments that further stabilise economic reforms", said Joksimović.
Opening Chapter 18 will enable new statistical surveys in Serbia, which have not been part of the system so far, making them more accessible and more transparent.
"We will be more comparable to others by various parameters - economic and social goals of sustainable development and quality of life", specified Joksimović.
The Minister has stressed that Serbia has seven technically prepared negotiating positions but that the EU Member States decided by consensus to open only two chapters at the intergovernmental conference, which, according to her, is fair news for Serbia demonstrating that the enlargement policy is alive, but currently not high on the EU agenda.
"I believe we deserved more, but the EU currently does not keep the enlargement policy high on its list of priorities due to the upcoming European elections, so running a pre-election campaign together with the enlargement policy as a crucial instrument is no mean feat. This has significantly affected the decision on the number of chapters to be opened", Joksimović told Tanjug.
She has explained that chapters 23 and 24, concerning the rule of law, as well as chapter 35 that follows the implementation of the Brussels Agreement and the Belgrade-Pristina dialogue, are taken into account when deciding on the number of new chapters that Serbia will open.
Her opinion is that, regarding the progress that achieved under chapters 23 and 24, Serbia deserved to open at least three chapters, and that, regarding Chapter 35, it is clear that Belgrade has in no way diminished the importance of the dialogue, adding that it is Pristina that has continuously been making unilateral moves and completely trivialising the entire process of dialogue, simultaneously undermining both the weak trust between the two parties and regional relations and stability.
Joksimović has explained that the number of chapters to be opened is decided upon by consensus, emphasising that there were countries that gave approval for three, four or five chapters, but that there were also those that did not want even one chapter to be opened.
The Minister has stated that Serbia remains within the previously foreseen pace, since, even if it opens only two chapters every six months each year, all chapters will be opened by 2023.
"It is essential, however, to close chapters, namely to work on reforms in each and every aspect in order to achieve full compliance with European standards," stressed Joksimović.
The Minister has also said that she is not optimistic about enlargement being high on the European Union's agenda next year, when elections for the European Parliament will be taking place and when the UK is expected to leave the EU.
She has added that after the establishment of a new composition of European institutions, it will become clearer in which direction the enlargement policy will move, stressing that Serbia will continue to do its job.
Joksimović has stated that 2025 represents a viable perspective for joining the EU if reform-related efforts are stepped up, adding, however, that this also implies that the EU will have to carry out its share of work.
"We are implementing reforms for our citizens, but if the goal is only the implementation of reforms without membership, we can do that without the European integration process. A credible enlargement policy means that, if you implement envisaged reforms, primarily for the sake of citizens, this will undoubtedly lead to EU membership", said Joksimović.
Speaking about expectations from the Romanian presidency that will begin on 1 January 2019, Joksimović has stated that, despite extremely significant events for the EU that will take place in the first half of the year, Romania has decided to set the enlargement policy as one of its priorities.
"Regardless of the fact that a presiding country cannot reverse the atmosphere in favour of enlargement, it is nevertheless crucial to keep it as a topic because it then must be discussed during each meeting, at every highest forum during the Romanian presidency", stated Joksimović.
She believes that this will result in at least one intergovernmental conference where Serbia will open some of the chapters it is prepared for.
Serbia has prepared negotiating positions for Chapter 9 - Financial services, Chapter 2 - Freedom of movement of workers, Chapter 4 - Freedom of movement of capital, Chapter 14 on transport policy and Chapter 21 on trans-European networks.
Source: Tanjug