Serbia's experience in EU negotiations is beneficial to Georgia
30. June 2017. | Belgrade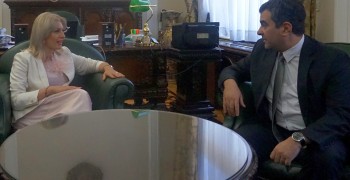 Minister of European Integration in the Government of the Republic of Serbia Jadranka Joksimović has spoken today with Ambassador of Georgia Ioseb Nanobashvili about the relations between the two countries, Serbia's European integration, and the reforms that are being implemented in this process.
During the meeting, they also discussed Georgia's relations with the European Union, the situation in the region and other important topics.
Nanobashvili congratulated Joksimović on her appointment as the Minister of European Integration and wished her success in future work, noting that the ministry would conduct the EU accession process with greater capacity.
Joksimović informed Ioseb Nanobashvili that Serbia had opened 10 chapters in the process of accession to the EU thus far, two of which had been provisionally closed.
She expressed her expectation that, in the second half of the year, when Estonia takes over the presidency of the EU, several more negotiation chapters that Serbia would have prepared would be opened.
The Minister pointed out that the membership in the European Union represented the strategic commitment of the Government of the Republic of Serbia, since European integration was the best mechanism for the country's internal development and progress, and that reforms were being implemented in order to improve the standard and the life of citizens.
Starting from the position that both countries mutually respected the territorial integrity and sovereignty of the two countries, she expressed her gratitude for Georgia's consistent and principled attitude of not recognising the unilaterally declared independence of Kosovo.
Nanobashvili reiterated his country's adherence to respecting the territorial integrity and sovereignty.
Joksimović stressed that Serbia advocated cooperation in the region, convinced that stability was a prerequisite of development and progress, and expressed her belief that others should show an identical approach and, thus, transform the declarative and verbal into real actions.
The Ambassador of Georgia praised the reforms being implemented in Serbia, assessing that Serbia's experience in the accession process would help Georgia's European path.
Joksimović and Nanobashvili concluded that the relations of the two countries were friendly and that they provided the basis for strengthening the overall cooperation between Serbia and Georgia, according to a statement from the Ministry of European Integration.