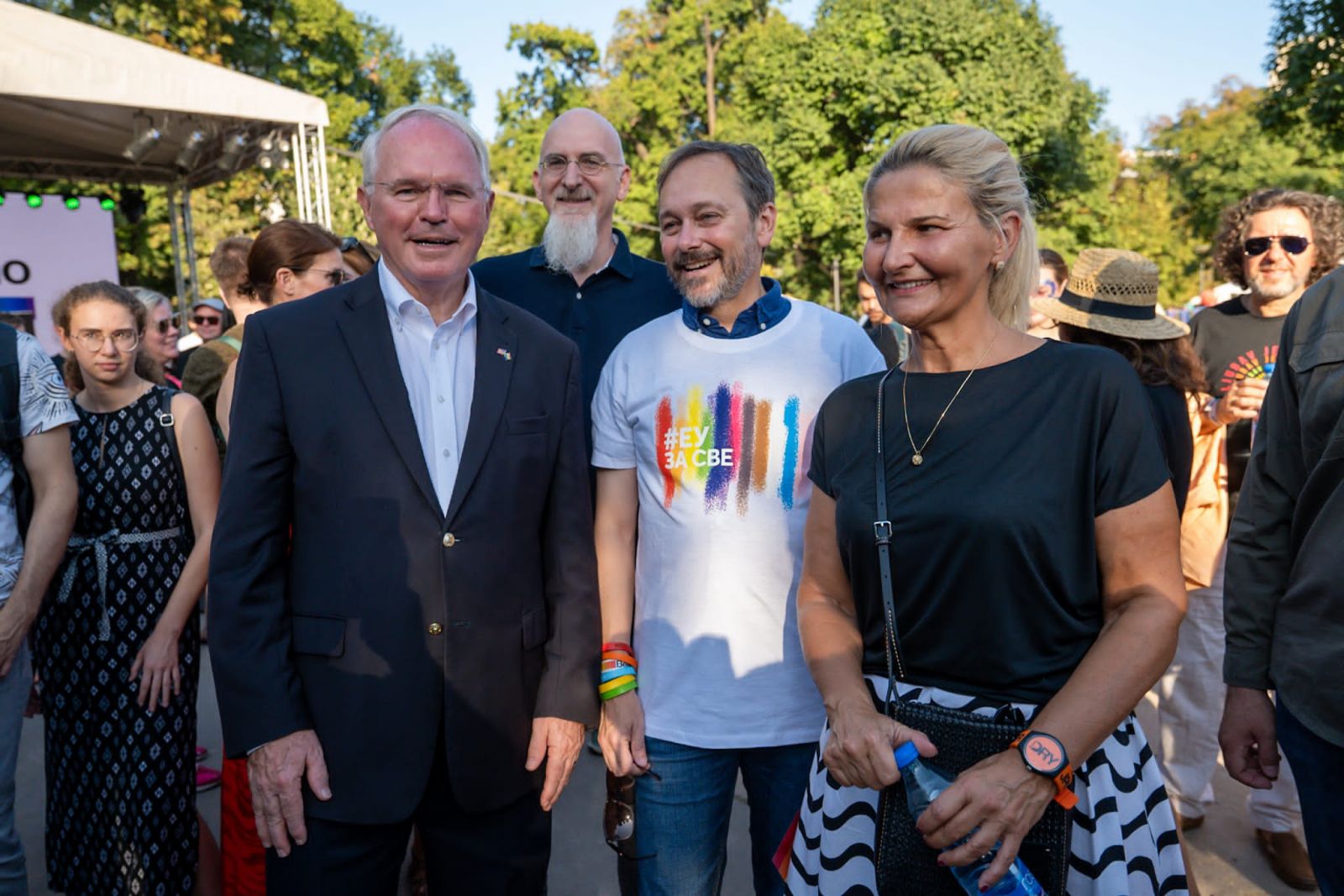 The Belgrade Pride march started a little after 5 p.m., and among the participants are Minister of European Integration Tanja Miščević, US Ambassador to Serbia Christopher Hill, as well as this year's Pride godmother Ida Prester.
Before the start of the march, representatives of the Thessaloniki Pride delegation and Pride godmother Ida Prester addressed the gathered participants.
The participants of the march are secured along the announced route by a large number of members of the police, and cordons are still placed at the entrance points of the march. Director of Belgrade Pride Goran Miletić said that he had information from the police that there had been no incidents and that the march was proceeding peacefully.  
The march started along Nemanjina, continued along Kneza Miloša, Kralja Milana and Trg Nikole Pašića to the National Assembly, and then again along Kneza Miloša and Nemanjina to park Manjež.
Before the start of the march, Minister Miščević said that the protection of human rights of minorities, such as the right to life, adding that it was completely equal to the rights of all citizens, was the primary message she brought.
"We are working on all the things that are important for the rights of this community, which primarily relate to better understanding and protection. We are all very committed to it. All the ministries in Serbia still have a lot of work ahead of them, but organising and holding the march in peace on this beautiful day is already a very good sign," Miščević said. 
Miletić said that, at that time, everything was going well and that he had information from the police that there had been no incidents until then and that he was confident that everything would go well. 
"As far as the police and cooperation are concerned, everything has been going as it should so far. The assessment of how many police officers are needed on the streets is made solely by them, depending on their security assessment. Up to this moment, there have been no incidents, we have that information. At the end of the march, I will tell you how satisfied I am," said Miletić. 
Ambassador Hill said that, regardless of all the problems that had been present in the previous years related to Pride, he saw progress that day. 
"Maybe some will say that Serbia has a long way to go, but that is also true for some other countries, including my own. It is important that we all understand that people are only people, and that love is simply love. I emphasise that it is very good that I can see today that we have the proper protection that will allow all this to go smoothly," said Hill.
Source: Tanjug
Photo: EU info network and Tanjug