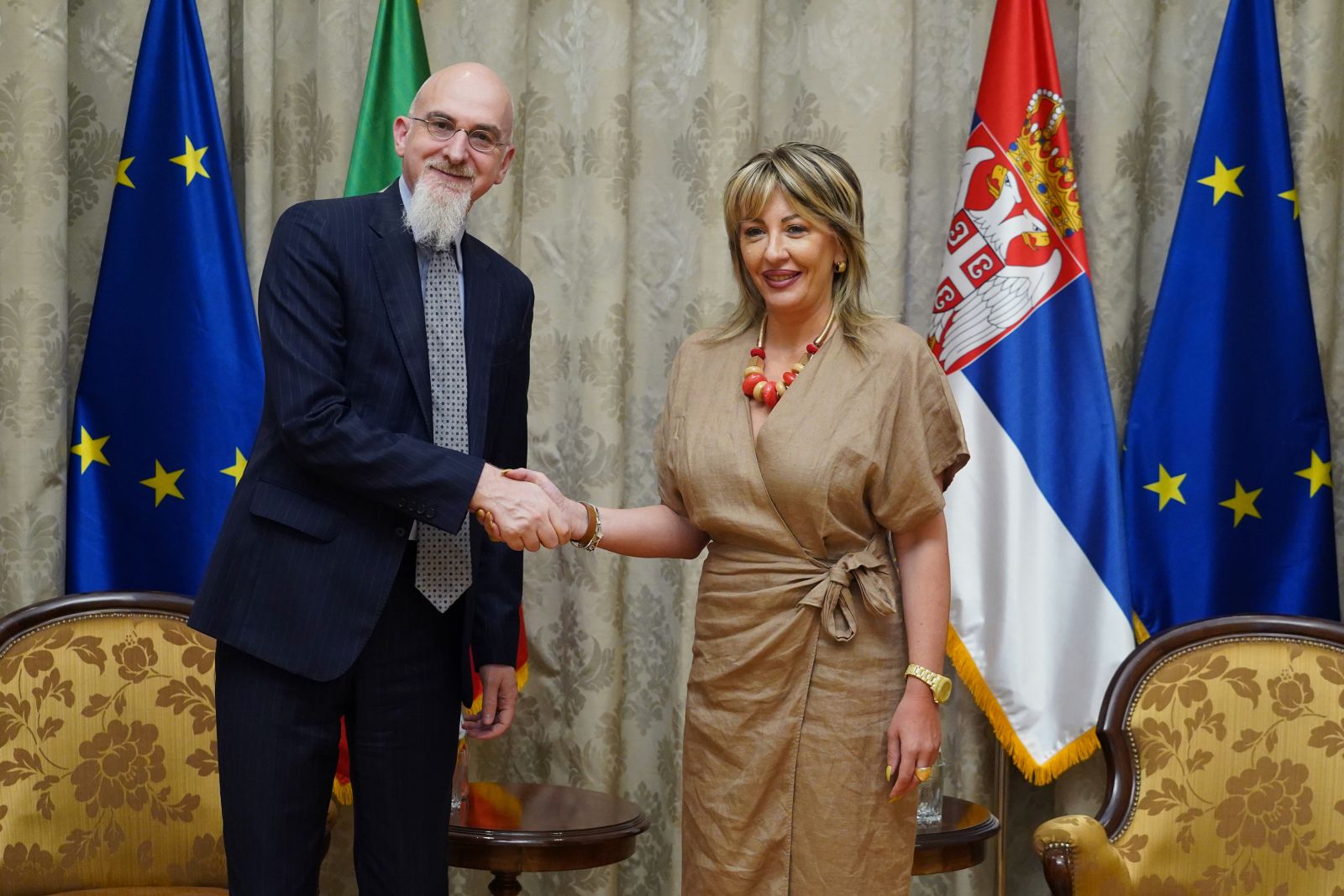 During the mandate of the new government, Serbia will strengthen reform initiatives and firmly adhere to its strategic commitment to the European future, expecting that it will have a reliable ally in Italy for such activities, Minister for European Integration Jadranka Joksimović has said today during a meeting with the newly appointed Italian ambassador to Serbia, Luca Gori.
It was announced that the topics of discussion were Serbia's EU accession, as well as the current political situation in the region and Europe.
Joksimović has expressed her belief that bilateral relations between the two countries will continue to develop on the basis of the sincere partnership between the governments and the friendship of the citizens of Serbia and Italy.
"The fact that Italy has always openly and unequivocally supported Serbia's European integration process gives us an incentive to continue improving cooperation in many areas, especially the accession of our country to the EU", she has said.
Joksimović has informed her interlocutor about the reform progress achieved so far, emphasising that last year Serbia seriously operationalised the new accession methodology, made a step forward regarding the rule of law, and opened Cluster 4 - Green Agenda and sustainable connectivity.
Gori has reiterated Italy's support for Serbia's efforts on the European path. 
"We respect everything that Serbia has done in the EU accession process, especially when it comes to constitutional reforms, as well as efforts to further improve the judiciary and the rule of law", he has said.
He has added that there are expectations regarding further alignment with the Common Foreign and Security Policy of the EU of all membership candidates.
He has underlined that even in the current geopolitical circumstances, his country is a strong advocate of bringing the Western Balkans closer to the European family of nations, as stated in the Ministry's press release.
Source: Tanjug