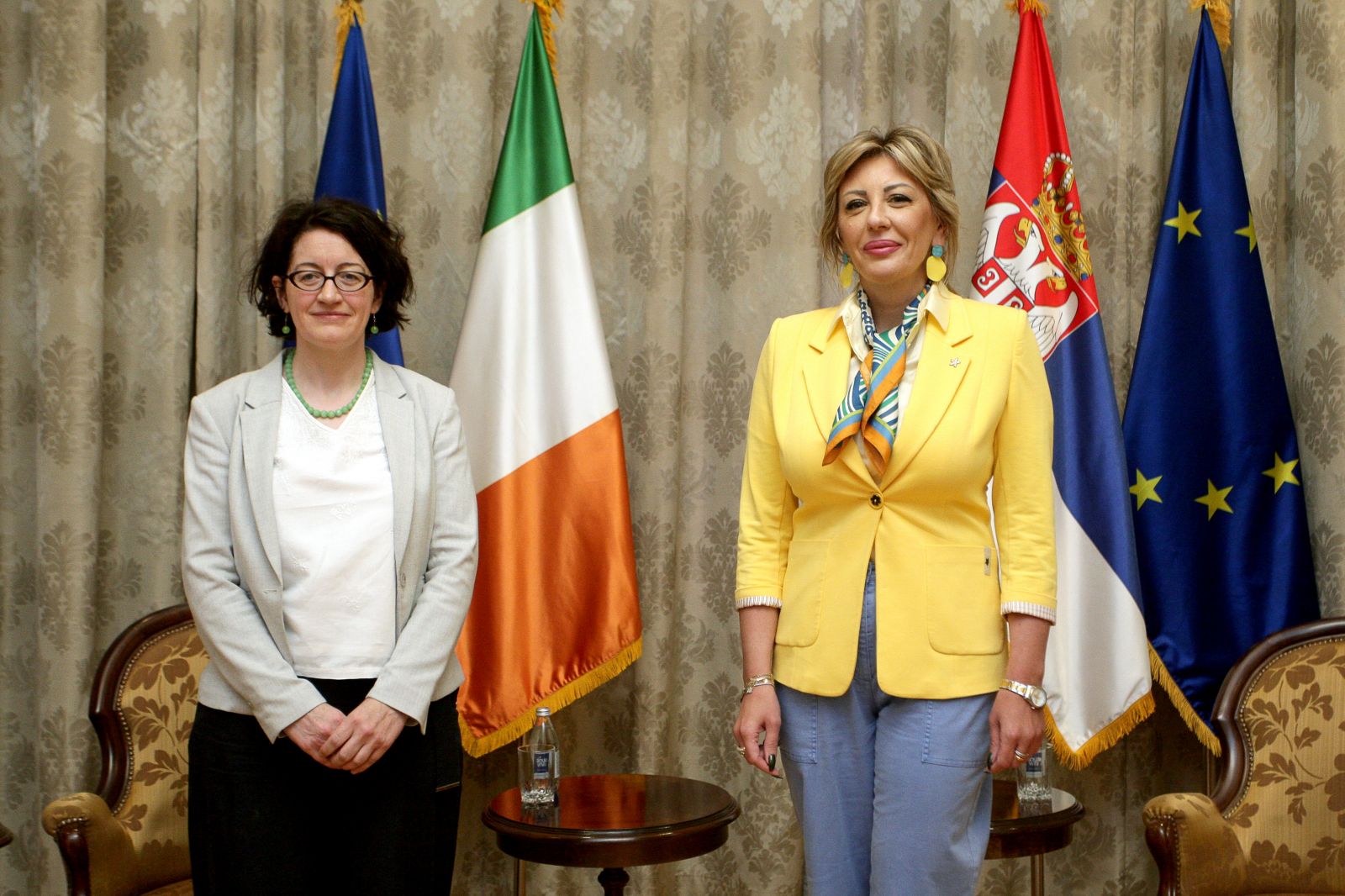 Minister of European Integration, Jadranka Joksimović, has talked today with the Ambassador of Ireland on a non-residential basis in our country, Iseult Fitzgerald, about Serbia's European integration, bilateral cooperation and the current situation in Europe and the region, the Ministry of European Integration has announced.
Joksimović has informed Fitzgerald about Serbia's activities in the European Union (EU) accession process, particularly in the rule of law area, which is one of the most important areas for faster progress of negotiations.
"After the successfully realized referendum on amending the Constitution with the aim of achieving greater independence of the judiciary, and then elections at all levels, which were conducted according to democratic criteria and with the participation of European partners in defining additional election rules, improving the institutional framework for fighting corruption, I believe Serbia has made significant progress in cluster 1 - Basics", Joksimović has said and emphasized that she expects the member states of the Union to respect that as well.
She has added that, in this way too, Serbia shows full commitment to the process of joining the European Union (EU) in accordance with the obligations of a country that is already associated to the European Union.
"I believe that the EU, and even Ireland, as an important member state, will take into account everything achieved in assessing the quality of our reforms. Particularly, having in mind the difficult geopolitical and geoeconomic situation caused by the war in Ukraine, which we are witnessing this year," Joksimović has said.
Ambassador Fitzgerald has stated that Ireland supports the European future of Serbia, all reforms that are being carried out with that goal, and that she expects that Serbia will strengthen its harmonization in the field of common foreign and security policy.
She has particularly announced the visit of the Minister of State for European Affairs, Thomas Byrne, who should visit Belgrade soon.
This visit is an important step in further strengthening bilateral friendly relations between the two countries, and above all towards their economic, educational and cultural cooperation.

Source: Tanjug