Introducing energy efficiency measures in four buildings in Belgrade
December 23 2021 | Belgrade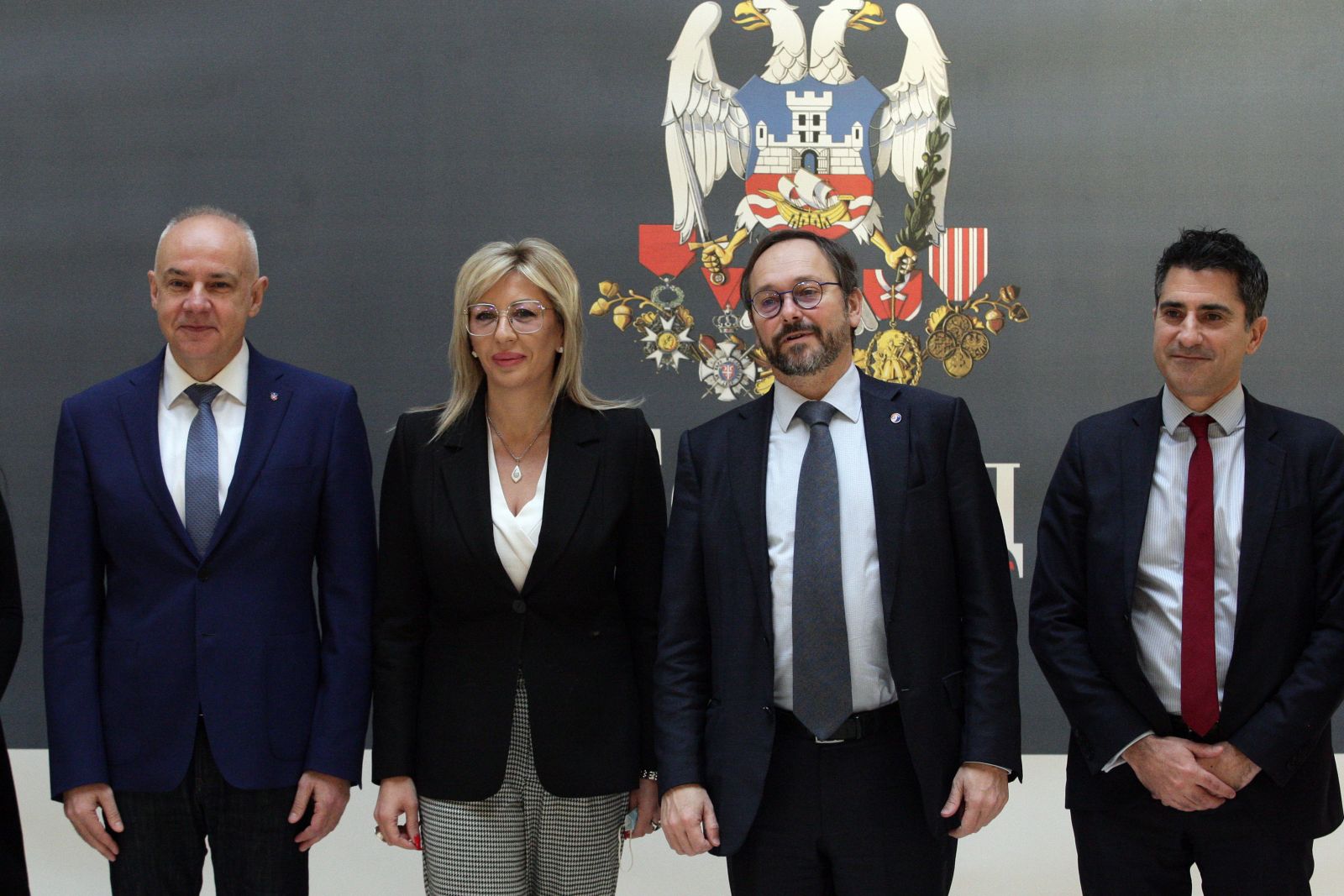 Today, in the Old Palace in Belgrade, the City of Belgrade and the European Bank for Reconstruction and Development signed a loan agreement on long-term financing for introducing energy efficiency measures into four public buildings in the Serbian capital.
The measures refer to the Emergency medical service, City Library, Students' Clinic and Hospital, that will be reconstructed and thermally refurbished and, once the works are completed, these buildings will be energy-efficient and consume less energy.
This is the EUR 16 million project, where EUR 11 million is provided from the European Union grants, and the remaining funds are a loan that the City of Belgrade takes from the European Bank for Reconstruction and Development.
The agreement has been signed between Belgrade Mayor Zoran Radojičić and Director of the European Bank for Reconstruction and Development for the Western Balkans region, Matteo Colangeli, in the presence of Minister of European Integration Jadranka Joksimović who has said that four years ago she had initiated this project.
"When we did the IPA programming for 2018, energy efficiency was not that relevant in the programming we did back then, but I thought the moment was right to start such type of projects, in particular for the City of Belgrade. It turned out that in synergy with the EU back then we have recognised what will be the main topic in the decades to come", Joksimović has said.
She has emphasised that this has been additionally confirmed last week by the opening of Cluster 4 - Green Agenda and sustainable connectivity, with one of the most important segments including exactly energy and energy efficiency.
"To that effect, for everything we have done together in this project for the last four years, it turns out we have taken the right direction, we have predicted properly and entered this matrix of change", Joksimović has said and added:
"It turned out we have planned on time, worked responsibly and consistently and now we can say that we have actively engaged in implementation of what Cluster 4 really is and we are doing that in Belgrade".
Joksimović has said that Serbia, as a country in the EU accession process, is eligible for specific funds from the EU.
"I think that we have implemented it highly responsibly so far and I am sure we will continue in the future. As we make progress in the process, more and more opportunities will open, in particular for the Green Agenda", Joksimović has said.
She has pointed out that the 2021-2027 IPA 3 perspective includes significant funds for the Western Balkans, and therefore for Serbia too.
In this connection, she has added that more than 42% of total funds meant for candidates and countries in the pre-accession process will be designated exactly for the Green Agenda and projects related to the environment, sustainable development, energy efficiency, waste water treatment, waste separation and other.
"We have already recognised such projects and work on them throughout Serbia, but I believe it is a great chance for Belgrade to make our city cleaner and better place for living and to improve our citizens' quality of life", Joksimović has said.
The Mayor of Belgrade has said that this is a significant project and its realisation is crucial for several reasons, notably because, as he has emphasised, the citizens using these facilities will directly benefit from it, since these buildings will be more functional, in particular the Emergency medical service that will have another 6,000 square meters.
"It is equally important that, through this project, along with the EU and our partners and with great assistance from the Ministry of European Integration, we prove that we can realise projects of such great importance", Radojičić has said.
He also emphasised the importance of this project providing specific contribution to Belgrade's energy efficiency and establishing a model, that, as he has added, could be implemented into many other buildings in Belgrade.
"I believe this would be another successful model that we could use to improve environment in Belgrade since this project refers to energy savings and energy efficiency that is one of the key steps on this path", Radojičić has said, and thanked everyone participating in the preparation of this project realisation.
Colangeli has said that the contract signed today is highly significant for Belgrade in three aspects, which are always taken into consideration when the European Bank for Reconstruction and Development approves loans.
The first aspect is to answer the question what, the second is the way and the third is the context.
"If we are answering to the question what - we are working on energy efficiency that will systematically contribute to everyone's benefit, in this case Belgrade, so the building selection was very important. The second aspect is the way - we have chosen this way as a new model of approving long-term financing through two-thirds of the grant given by the EU and one third provided through the long-term loan", Colangeli has said.
He has emphasised that the third aspect, the context, is very important since Belgrade is one of the green cities.
EU ambassador to Serbia, Emanuele Giaufret has reminded of the energy efficiency importance, in particular regarding the climate change context.
"When we improve the energy efficiency of public buildings it will simultaneously mean a better environment, less energy consumption, reduction of costs", Giaufret has said.
He has stressed that since 2000, the EU has allocated EUR 830 million in grants and assistance for the activities in fighting climate change, and also improving energy efficiency.
"We have a plan entailing next allowances for the Western Balkan countries in the amount of nine million. This should be observed in the context of the opening of Cluster 4 in Serbia's EU accession negotiations, since it is obvious that Serbia's activities in this field have intensified", Giaufret has said.
Source: Tanjug