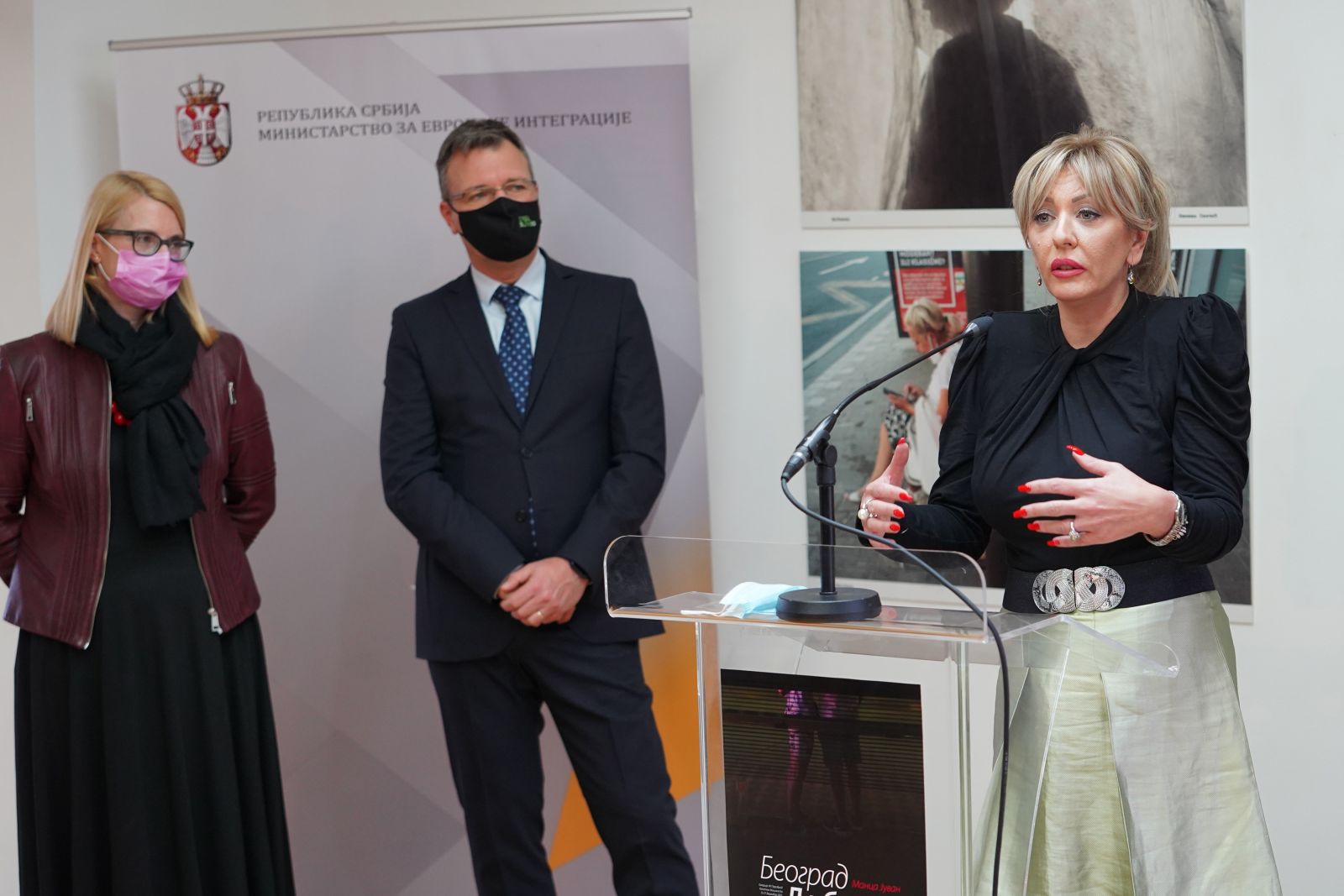 Photo exhibition "Applied Nostalgia Serbia-Slovenia", devoted to Belgrade and Ljubljana, has been opened today in Cultural Centre "Parobrod", within the Ministry of European Integration project meant as a series of joint photos of artists from Serbia and a country presiding the EU.
The exhibition includes photos of Manca Juvan, an author from Ljubljana, who took photos of Belgrade in the second half of the year, while Nemanja Pančić, a Serbian author, photographed Ljubljana.
Minister of European Integration Jadranka Joksimović has opened the exhibition, mentioning that this project marks the end of the Slovenian EU presidency, noting that the exhibition opening comes only a day after a momentous day for Serbia and its accession process with the opening of Cluster 4.
"With joint efforts of Government of Serbia, our citizens and the EU, we managed to instil some fresh air into the enlargement process, primarily Serbia's accession process", Joksimović has said.
She has mentioned that Prime Minister Ana Brnabić has accepted her invitation to lead the delegation of Serbia at the Intergovernmental Conference in Brussels. This demonstrated the significance of this process to Serbia and importance of making such step in the accession process after a long period of stagnation.
Emphasising the importance of the Cluster 4 opening, relating to the Green Agenda and sustainable connectivity, which includes chapters concerning transport, Trans-European Networks, climate change, environmental protection and energy, Joksimović has said that such important topics in the best way illustrate connectivity and interconnectivity of the European continent.
"Within these connections, no one can resolve nor manage anything alone, you cannot create, recover or promote such relationships on your own, we have to do it together in the European continent, as these areas know no boundaries, bearing a huge importance for all the citizens of Europe", Joksimović has said.
She has pointed out that by the opening of Chapter 4, Serbia has made an additional step forward since it has mapped the methods and paths of strategic cooperation with the EU as regards achieving goals of the Green Agenda and solving all important matters emerging in the scope of sustainable connectivity, climate change, the energy crisis in Europe and other.
"This map of strategic partnership means that Serbia has clear plans of achieving the highest standards in this area and a plan how to realise that, including the financial support that as a pre-accession country we have at the disposal, to continue with this financially challenging endeavour, together with the EU, because that is the only way to achieve results", Joksimović has said.
She has mentioned that during the Slovenian EU presidency, common interests and patterns were adequately recognised, including the ideas on the future of the EU indicating that Slovenia has kept the enlargement topic and the Western Balkans high on the agenda, despite, as she has said, growing scepticism of some countries towards the enlargement process.
"Slovenia has completed this successfully, though I believe that with our work and reform course we have made our contribution and kept the new methodology "alive", so the process continued and at the end of the year, we all have good results", Joksimović has said.
She has emphasised that Serbia remains dedicated, and it will use its positive result from the end of this year as an incentive to speed up the reforms. She has also mentioned that Cluster 3, related to inclusive growth and competitiveness, is ready. The work regarding Cluster 5, naturally building on clusters 3 and 5, will be also done, referring to resources, agriculture and cohesion.
"We have a road map, cluster coordinators, political will, good coordination and synergy, and now, I reckon the positive signal from the EC and member states, so I believe that the positive dynamics of the EU integration will continue in 2022 too", Joksimović has said.
She has thanked the exhibition authors for their efforts and emphasised that they have managed to "catch the spirit" of Belgrade and Ljubljana on their photos and show connections between Serbia and Slovenia. 
Ambassador of Slovenia to Serbia Damjan Bergant has said that Serbia has been on its path to the EU and that becoming a member is only a matter of time.
He has pointed out that on Tuesday in Brussels, 27 countries and the EU have permitted the opening of Cluster 4 in the negotiation process of Serbia. He has expressed his belief this is "an input" for further progress in Serbia and the opening of new chapters.
"I am sure that Serbia is on the right path, and it will benefit from it", the ambassador has said.
He has mentioned that Applied Nostalgia Exhibition offers the possibility of making many contacts in the cultural sphere, underlining the EU values.
"This exhibition has been very successful in Ljubljana, it has been extended due to public interest, and I am sure that Belgrade audience interest will be massive too", Bergant has said.
Mateja Norčič Štamcar, Deputy Head of the EU Delegation to Serbia, has emphasised that this exhibition is an efficient way to demonstrate what Serbia can give to the EU and what the EU gives Serbia.
"EU is synonymous for many things, not only for economic union, but also for culture and cultural heritage where we have our own identity, but we also enrich each other in various ways, so the identity is not lost but developed further".
She has expressed her satisfaction that under the presidency of Slovenia, her homeland, Serbia has opened Cluster 4, underlining this is good news for Serbia, its citizens and region, being in the heart of Europe and becoming Europe.
"I hope that we will cross borders again without showing passports like before", Norčič Štamcar has said.
"Applied Nostalgia Serbia-Slovenia" photo exhibition is open until 27 December.
Source: Tanjug