Conference 'Serbia's Youth on the Future of Europe - Ideas and Vision'
December 09 2021 | Belgrade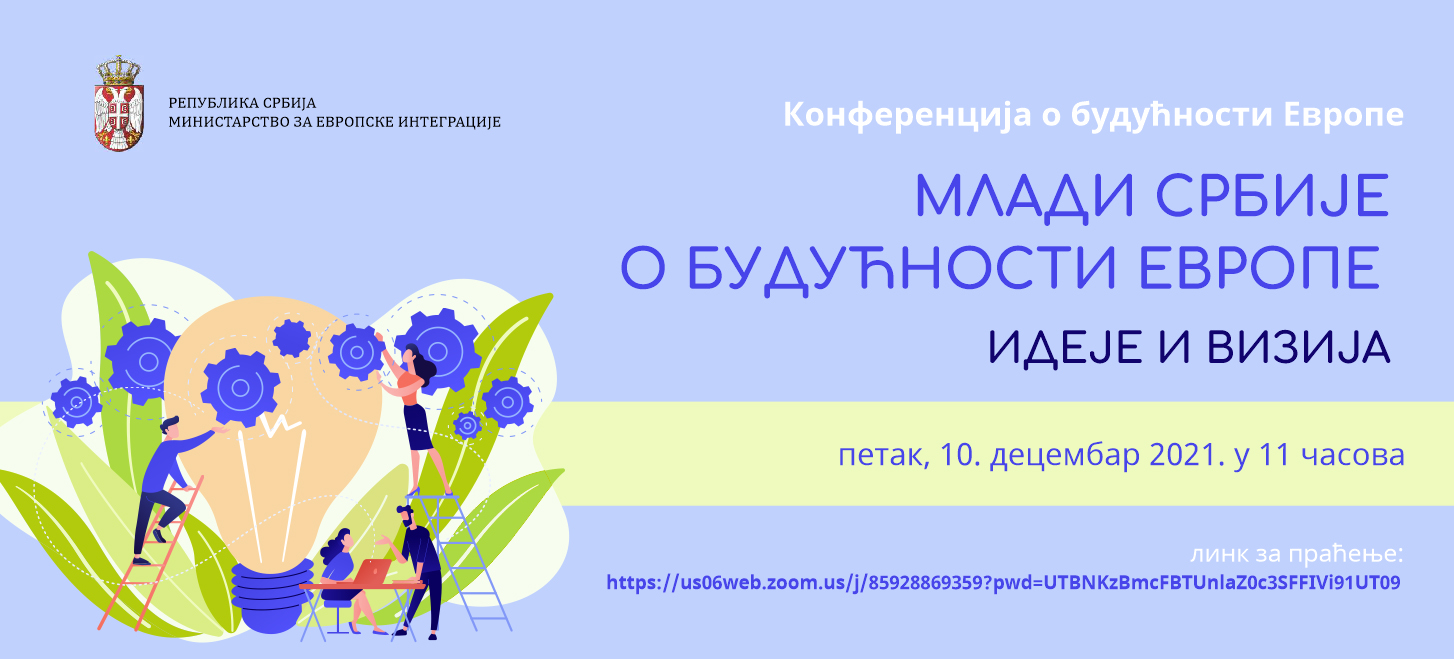 The Ministry of European Integration is organising a conference titled 'Serbia's Youth on the Future of Europe - Ideas and Vision', which will be held on Friday, 10 December 2021, starting at 11:00. The Conference will be opened by Jadranka Joksimović, the Minister of European Integration of the Republic of Serbia. The speakers at the introductory panel will also include Vanja Udovičić, the Minister of Youth and Sport, Damjan Bergant, the Slovenian Ambassador to Belgrade, Mateja Norčič Štamcar, Deputy Head of the EU Delegation to Serbia, prof. Vladan Đokić, PhD, Rector of the University of Belgrade, and Mihailo Vesović, Director of the Division for Strategic Analyses, Services, And Internationalization at the Serbian Chamber of Commerce and Industry.   
The Ministry of European Integration organises this event as Serbia's contribution to the EU platform 'Conference on the Future of Europe". The aim of the conference is to encourage public dialogue about the topics regarding the EU's development and a more active inclusion of citizens in the development of a modern Europe. Youth and their views on these issues has been chosen as the primary topic based on which guidelines and goals of Serbia's European integration should be further developed. This topic is one of the nine priority topics the European Union has defined as essential for its own future. 
This conference will also result in the preparation of a document containing conclusions and recommendations regarding the topics of youth and Europe, which will be based on the conference presentations and relevant materials that public stakeholders submit to the Ministry. The document will become part of the Republic of Serbia's official proposal for contribution to the discussion at the European level, within the "Conference on the Future of Europe". Learn more about the platform on the following link: https://futureu.europa.eu/?locale=en. 
The conference is open to the public, and after the introductory panel, the media will have the opportunity to follow the ceremony of awarding certificates to the students who have won the competition for the best student papers on the EU, which the Ministry of European Integration organised this year as well. The certificates will be awarded by Minister of European Integration Jadranka Joksimović.