Joksimović and Cochard: Rule of law and Green Deal in focus
November 26 2021 | Belgrade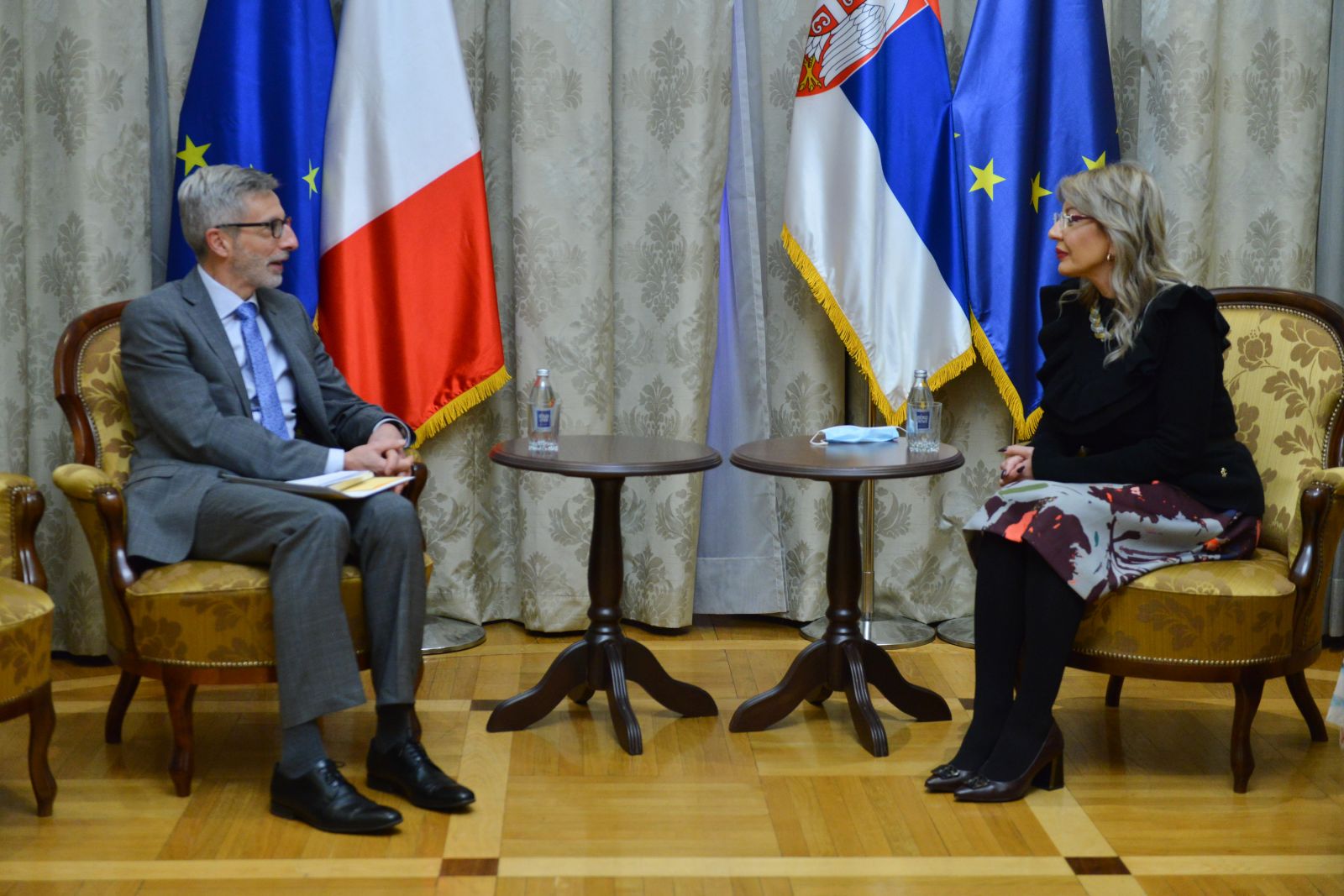 Minister of European Integration Jadranka Joksimović has met today with the newly appointed French Ambassador to Serbia, Pierre Cochard, to talk about Serbia's accession to the EU, bilateral relations and the situation in the Western Balkans in the context of European integration.
Wishing the new ambassador a successful term of office, Minister Joksimović has emphasised the importance of friendship and strategic cooperation that Serbia and France have been successfully building on the foundations of partnership and political dialogue between the two countries and good economic relations.
"For Serbia, it is very important that we develop our bilateral political and economic relations so as to contribute to our faster integration into the European Union, its legal system and the European Single Market". Said the Minister.
She has particularly informed the Ambassador about the most important reforms that Serbia is implementing at an accelerated pace to follow all the recommendations from the 2021 EC Report.
"The procedure of constitutional amendment is conducted within the envisaged deadline, as are other reform activities from cluster 1 – Fundamentals. I believe that, together with the EC's assessment of our readiness for the opening of two clusters, this can additionally convince the EU Member States to provide consent, so that the opening of clusters would actually happen by the end of this year", stressed Joksimović.
She has emphasised that the Government has been responsibly and thoroughly realising all policy priorities that lead to Serbia's faster accession to the European Union,
The Minister has added that support in the form of cluster opening and making a new formal step in the negotiations with Serbia would give further incentive to the Western Balkans to improve its internal and economic relations, thus contributing to its European future.
Ambassador Cochard has stated that Serbia is a vital political and economic partner to France, stressing that France will continue to support Serbia's European integration.
"We are ready to continue providing expert and any other kind of support in the reform activities of the Serbian Government, particularly in the activities that are crucial for the overall progress of your country and its EU accession", said Cochard.
Source: Tanjug