Green innovation and responsibility of all – key for circular economy
October 12 2021 | Belgrade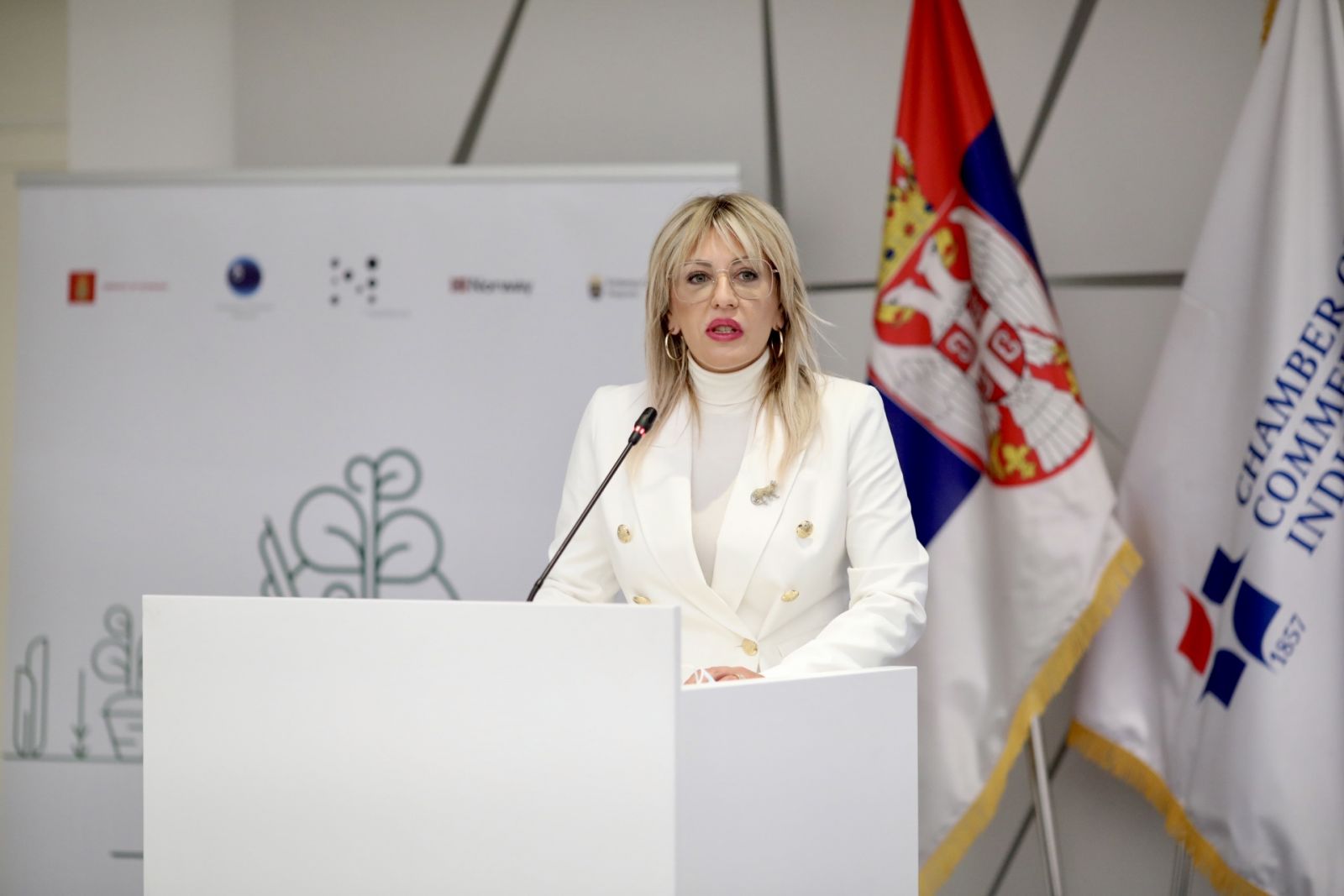 Green innovation and responsibility of all actors in society – institutions, local self-governments, private sector and citizens – are crucial on the road to circular economy. What is also needed are investments for enhancing the capacities of the state, investments in utility infrastructure and in solutions for better waste management, as concluded at the closing conference 'Strengthening circular economy – Nordic experience', which has been held at the Serbian Chamber of Commerce and Industry, in Belgrade.
The embassies of Denmark, Finland, Norway and Sweden, with the support of the Nordic Council of Ministers and in partnership with the Nordic Business Alliance, have organised a series of events dedicated to circular economy in Novi Sad, Kragujevac and Niš to share the knowledge and experience of Nordic experts in this vital area and to support Serbia in further implementation of the principles of circular economy. The closing conference has been held in Belgrade, in the presence of Nordic ambassadors, representatives of the Serbian Government and the economic sector. 
"Circular economy is what we have seen in our villages, producers have been very responsible, they've been doing primary waste separation and using everything they had not managed to use before. Today, we are talking about cities, about large settlements, where we lack that type of knowledge and awareness, but we are also talking about realistic needs of the economy that does not always easily keep up with these changes", said Minister of European Integration Jadranka Joksimović.
"We need a new way of thinking – circular economy. The Government and the business sector should apply forward thinking in terms of green investments that will connect all actors in the chain of circular economy. Once that chain is established, all its benefits will soon be felt", said Finnish Ambassador Kimmo Lähdevirta. He has added that circular economy is not only about saving money but also about an important matter of public health, citizens' quality of life, and the survival of the planet. 
In addition to saving resources and promoting innovation, circular economy reduces production prices and influences the creation of new jobs. In that sense, Nordic countries, as the pioneers of circular economy, fully support the European Green Deal promoted by the European Commission.
Minister of Environmental Protection Irena Vujović has recalled that the Working group on circular economy was formed in 2019 and that it gathers representatives of ministries, institutions and civil society organisations. "The task is to establish a strategic framework for the transition of society to the new model, and the Roadmap for Circular Economy in Serbia is the result of this Working group", said Minister Vujović, adding that Serbia is the first Western Balkan country to have the Roadmap for Circular Economy.
Previous workshops held in September and October addressed the topics of bio-waste management, green development of cities and the importance of waste water treatment. Nordic experts shared their experience and examples of good practice that can serve Serbia as a guide in the application of the principle of circular economy. 
Swedish Ambassador Annika Ben David has said that citizens are at the heart of change. "I am sure you've seen from Nordic examples that citizen engagement in recycling and circular economy is at the heart of this silent revolution in Nordic countries. It is not only about sorting plastic and paper, but also about the fact that anyone can raise their voice about what a city should look like and function. If citizens are allowed to engage in life improvement, it becomes part of joint progress", said Ambassador Ben David.
Speaking about the importance of circular economy, Marko Čadež, President of the Serbian Chamber of Commerce and Industry, has said that only 4% of utility waste is treated in Serbia, while Nordic countries treat more than 80% of their utility waste and use it for energy generation. "Serbian economy consumes two and a half times more energy in production than Nordic companies, which implies greater production costs and a lower chance of becoming competitive", said Čadež, adding that Nordic experiences in the application of circular economy can help Serbia deal with energy transition and ecological issues.
Partners to the embassies of Denmark, Finland, Norway and Sweden on the project 'Strengthening circular economy – Nordic experience' are: Nordic Business Alliance, NALED, Serbian Chamber of Commerce and Industry and the cities of Niš, Kragujevac and Novi Sad.
Photo: Dobrica Mitrović