J. Joksimović: We must all have trust in the dialogue
August 24 2021 | Belgrade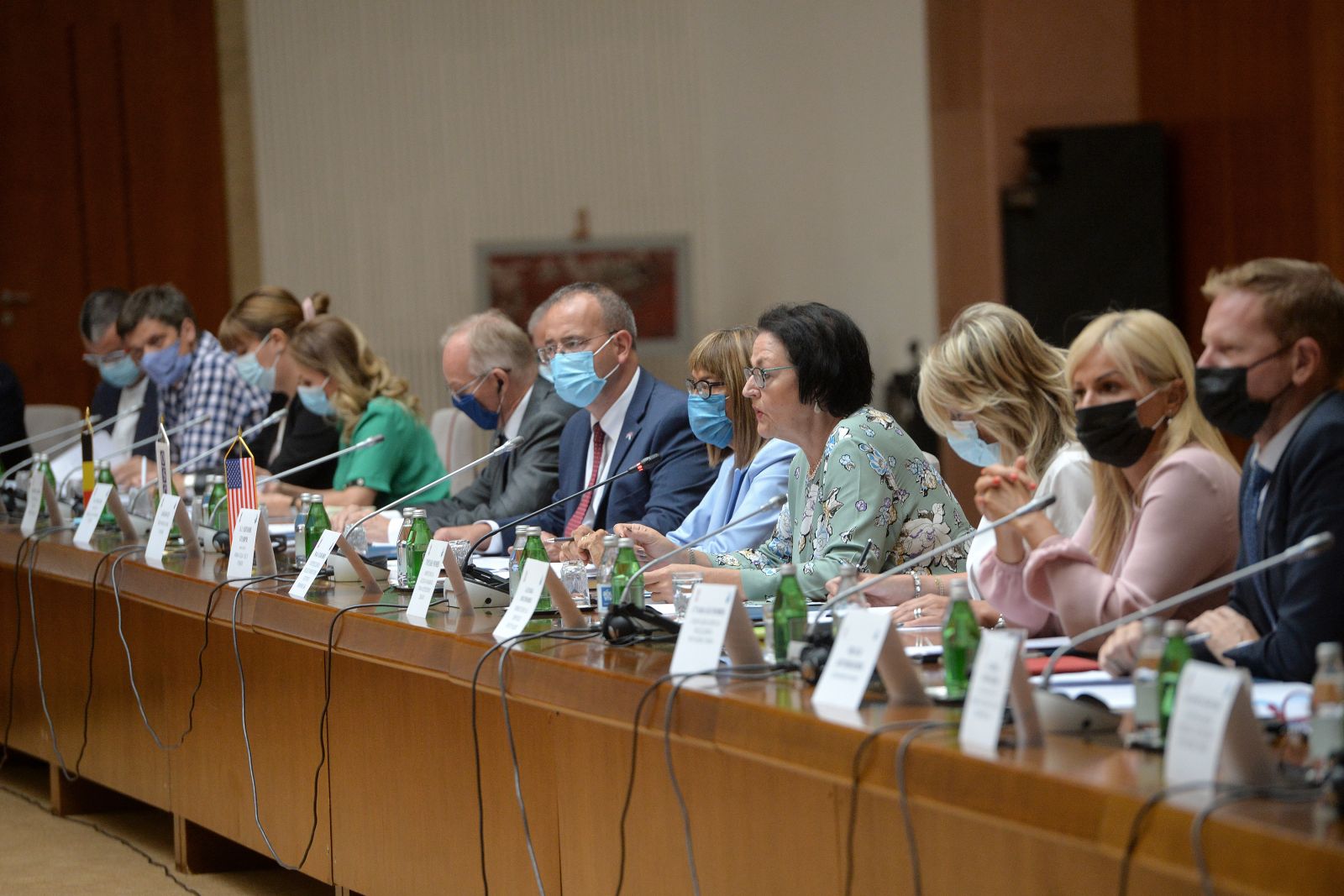 Minister of European Integration Jadranka Joksimović has stressed today that European Integration is a transformative process for the whole society and that it is important for everyone to take part in the dialogue as the foundation of democratic society, even those who oppose it and disagree.
"We don't need to have trust in each other, but we must have trust in the dialogue as the main form of democratic communication and society that wants to grow and advance as a democratic society, and I strongly believe that Serbia is one such society, which our European integration process also demonstrates", said Joksimović at the event 'Culture of Dialogue – Civil Society and Media' organised by the Ministry of Human and Minority Rights and Social.
Joksimović has stated that the part of the civil society that opposes European integration, as well as those who declare as pro-European but are dissatisfied with the fact that other governments or political parties do not conduct the process should also take part.
"That is all valid and everyone must be part of the dialogue", said Minister Joksimović at the event, which was also attended by ministers Gordana Čomić and Maja Gojković, Secretary General of the President of Serbia Suzana Paunović, US Ambassador Anthony Godfrey, Head of OSCE Mission Jan Braathu, etc.
She has added that it is important for everyone to learn the principles of the new methodology, announcing the Ministry's plan to organise a series of thematic meetings with civil society organisations gathered primarily around the National Convention so as to closely present the elements of the new methodology, which focuses on the rule of law, and accordingly on the role of the civil society and media, as well as on media freedom.
The Minister has emphasised that it is truly a task for everyone.
She has expressed her dissatisfaction at the fact that some NGOs and civil society organisations reject any form of dialogue with the representatives of the Serbian Government and deem it illegitimate. She has added that she does not know whether their standpoint is of moral, ethical, political or other nature.
According to her, this clearly shows that they are also not ready for dialogue with a number of citizens who decided in the election to support these policy approaches and who currently make up the majority.
According to her, this reluctance shows the vulnerability of the civil society not only in Serbia but also in Europe and the world.
She has added that these organisations are often thought of as places of complete tolerance and cooperation, although they are sometimes completely fragmented and vulnerable to the deficit of democratic capacity, which is a trait also shared by numerous political parties.
"That is why I think it is a mistake to reject the line ministry's open call with an argument that it is not legitimate", said Joksimović, adding that this is also democracy.
The Minister has expressed her belief that, by the end of the year, Serbia will make several important steps in the area of European integration, given that cluster 1 has been opened under the new methodology, which is important as it measures progress.
"We have prepared everything for clusters 3 and 4", reiterated Joksimović, stressing that it is important for the civil society and media to also participate in that process "whichever way they like, whether by providing critical, positive or constructive insight or by fully negating the importance of the process".
"This must be discussed", said the Minister, adding that this is precisely why civil society participation as an instrument has been embedded in the structure of the negotiation process, primarily through regular consultations.
"We have envisaged enhanced participation of experts from various NGO sectors, and I believe that, this year, we will intensify the process to the mutual benefit of citizens and the European path", said the Minister and, as a positive sign, presented the latest survey conducted in late July and early August, which shows that 57% of citizens would vote for EU membership if there was a referendum. She has added that 30% would vote against, and that 12–13% would not vote.
"What is even more important is that 83% of citizens expressed their support to reforms conducted within the process of European integration. This is the first time we have an amazing result of over 45% of citizens who know that the EU is the largest donor and 50% of those who have heard of a project funded by the EU", said Joksimović.
According to her, all this has shown that the media, Serbian President, Prime Minister, ministries – "everyone who has taken the new methodology as a new impetus for the entire process, a new chance and space, has already achieved positive results".
Source: Tanjug