Industrial zone in Bojnik will be finished next year
August 02 2021 | Bojnik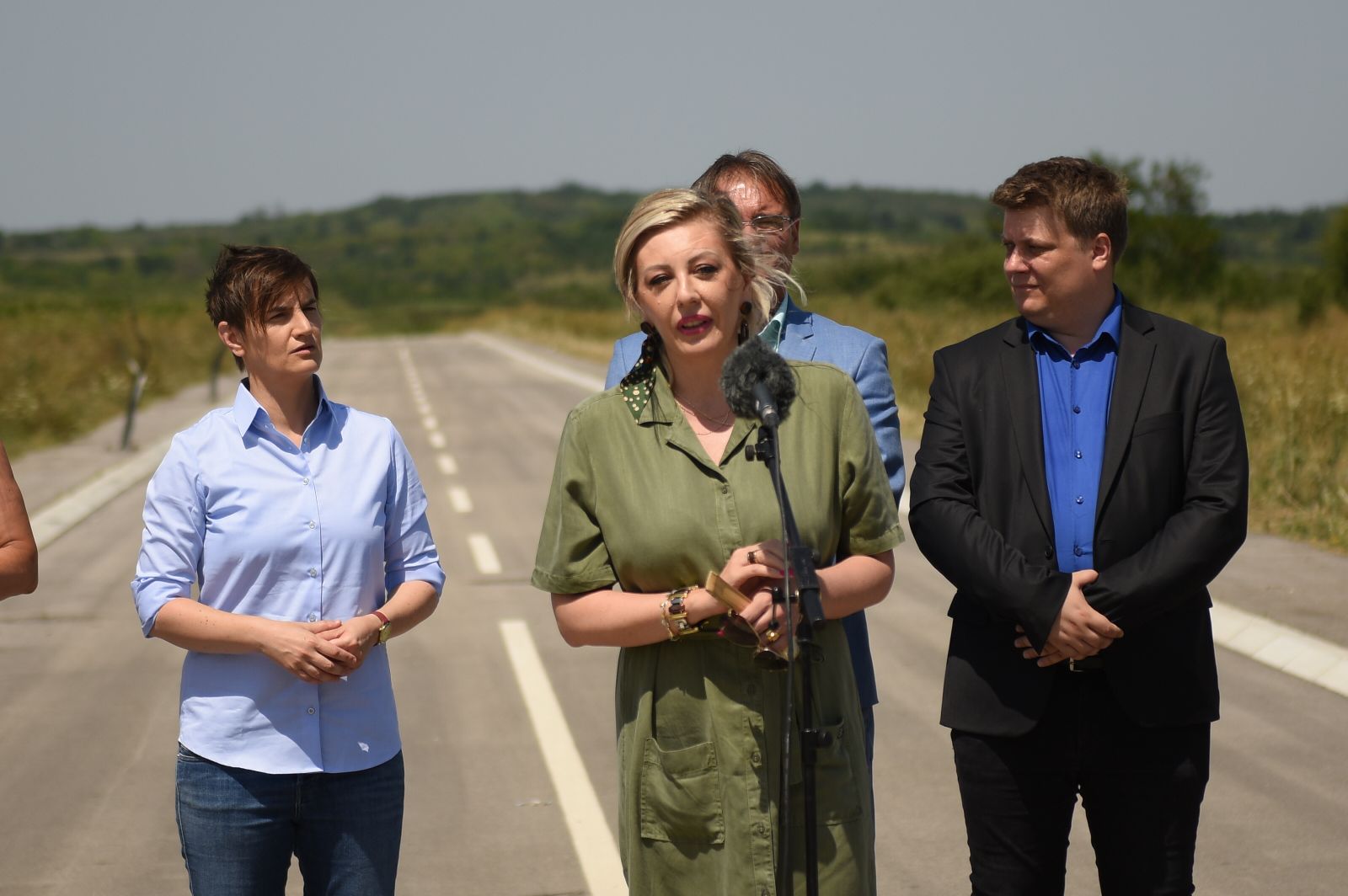 Prime Minister Ana Brnabić and Minister of European Integration, Jadranka Joksimović have visited today the industrial zone Kosančić in municipality Bojnik, which is expected to be completed in 2022. Brnabić has mentioned that the European Union has invested one million euro in that project, and additional EUR 219,000 has been invested from the state budget.

Minister of European Integration Jadranka Joksimović has reminded that she visited Bojnik almost two years ago when she received a plaque award for contribution to the industrial zone project Kosančić.
"I have really tried to help you get this million euro for agribusiness zone in Kosančić that is very important. However, for all of us to be proud and satisfied and not only to award each other plaques, we have to implement this because you must have direct benefit from this", Joksimović has emphasised.
She has said that local self-government also needs to work on this, and not only to await Belgrade for everything.
"We have to work all together and see how we can bring this major project to life. It is a good thing that this one million euro has been really purposefully spent, access roads have been constructed and necessary infrastructure to attract the investors", Joksimović has said.
She has mentioned that the 53 hectares area will be divided into 33 hectares of agricultural land, while the rest will be used for industrial plants.
"This is a development chance for municipality Bojnik since the majority of population is into agriculture, and to improve that we have to bring the investors. This is an enormous task for all of us", Joksimović has said.
She has expressed gratitude to the EU that has allocated one million euro, mentioning that this is not small sum even for big cities let alone a small town such as Bojnik.
"I believe that all of you will invest efforts so both you and your children will benefit from this and that you can stay here and live better. We promise you that we will continue doing everything we can to help you, but we appeal for all of us to be active and not just wait for someone to bring us something; local self-government in particular and the municipality mayor should do their part of the job since that is how we can implement the projects", Joksimović has said.
She has announced that new perspective EU PRO will be launched, meaning the European Union support to the local development.
"The Jablanica district has used these resources quite well so far. There will be new calls for proposals now with more than EUR 45 million available and I am inviting all municipalities in the Jablanica district to prepare projects that are this good, in particular those related to sustainable agricultural production so we would stir up this area", Joksimović has said.
As she has mentioned, these funds have been used to set up primary communal equipping of "what will be the industrial zone in Bojnik".
Brnabić has mentioned that 50 per cent of work is completed and that the remaining 50 per cent should be financed by local self-government, but it remains to be seen how well Bojnik can "push it forward".
If it fails to do so, we'll see how much the Ministry of Economy will be able to assist from the budget in order to complete communal-infrastructural equipping, to prepare industrial zone Kosančić for some foreign investor", she has explained.
She has said, nevertheless, that Serbia should increasingly rely on local knowledge and skills, since there are 1,650 registered agricultural holdings in Bojnik.
"We have to see what we can do to help you get stronger, what more we can provide you through incentives so you would get planting stocks, additional education, electrification of fields, watering - everything to make your production more competitive and sustainable, so as to make you the beneficiaries of this industrial zone. It is something we have to work on every day", Brnabić has said.
She has mentioned that the Jablanica district could be one of key tourist centres in Serbia and added that the initiative "Open Balkan" will contribute to that and everything President of Serbia Aleksandar Vučić has agreed during his visit to Skopje.
"A large share of products from here go to North Macedonia. Our businessmen will have most benefit owing to the initiative "Open Balkan". The perspective before us is very clear, we know what we have to do, we will push further and you have to be not only patient but also fight with us since our country depends on all of us", Brnabić has said.
Deputy Head of Delegation of the European Union to Serbia Mateja Norčič Štamcar has said that the goal of the project for which the EU invested one million euro is to attract more investors and increase the number of jobs and economic capacity not only in Bojnik municipality but in the entire area.
Bojnik municipality mayor Nebojša Nenadović has said that the municipality management invests huge efforts since, as he has said, they want to be remembered by the fact they have succeeded in salvaging Bojnik from 40 most underdeveloped municipalities in Serbia.
"In order to do this, we have been working daily and preparing various projects that we want to implement both through cross-border cooperation with Bulgaria and with our ministries. One of successful projects we have completed is exactly this one in Kosančić. This place will, I hope, bring renaissance to our municipality since we expect new plants here, new jobs and new investments", Nenadović has said.

Source: Tanjug