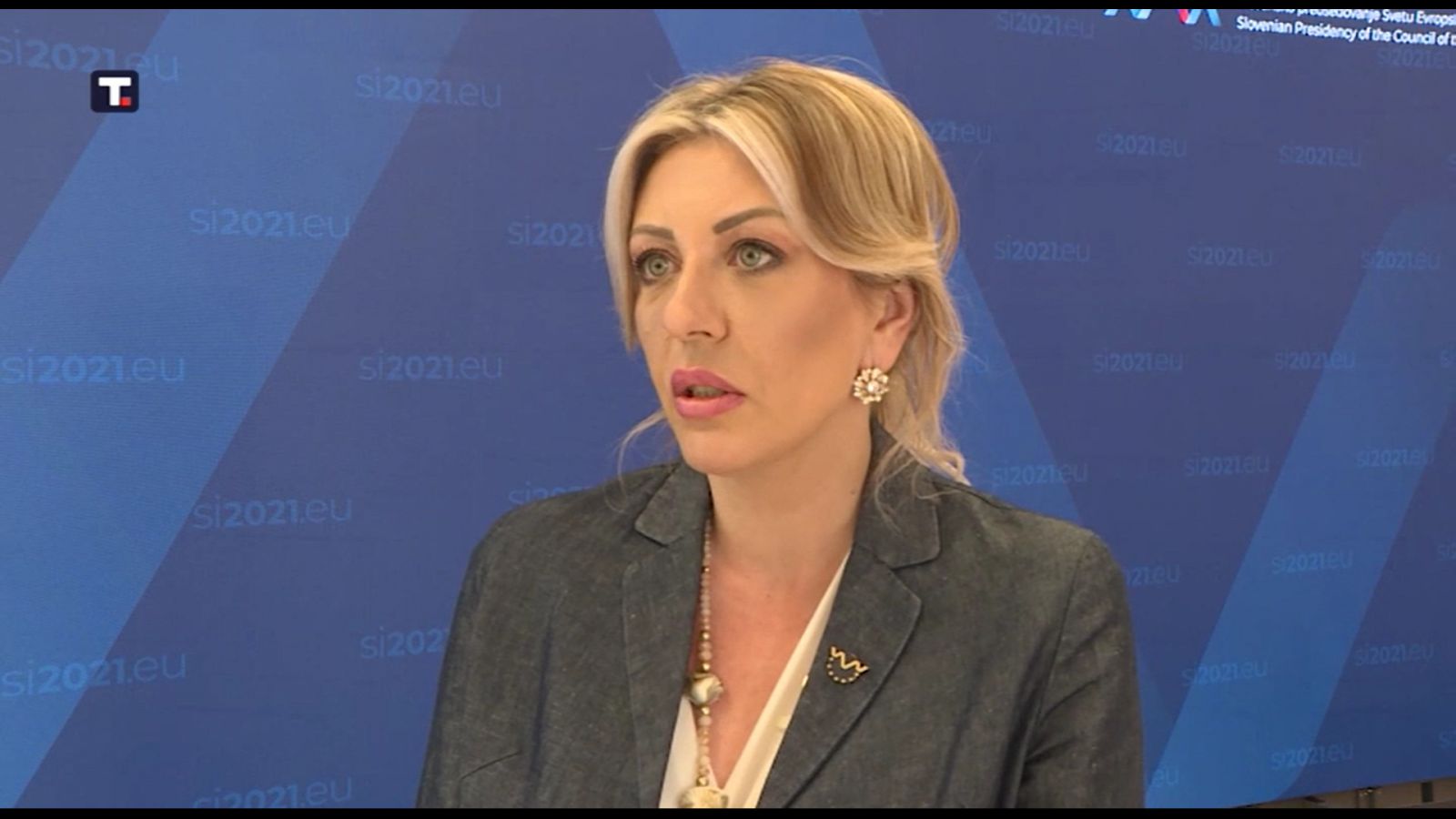 Minister of European Integration Jadranka Joksimović has assessed today that all regional initiatives represent a support column and catalyst for cooperation in the region, they are not a replacement for European integration, as they serve to enable higher living standard to all citizens in the region and secure peace and stability.
Joksimović has stated this as a reaction to the speech of Donika Gërvalla-Schwarz, Minister of Foreign Affairs within provisional Pristina institutions, who mentioned at today's Informal meeting of European Affairs ministers in Slovenia that some "players in the region undermine the EU" with initiatives such as Mini-Schengen.Gërvalla-Schwarz has imparted her assessment of the Mini-Schengen concept to the ministers of the EU member states assessing it as "problematic" and "dangerous to the stability and peace in the region".Joksimović has told Gërvalla-Schwarz that Pristina will not decide which initiatives Serbia, North Macedonia and Albania will participate in and whether they will cooperate or not.She has emphasised that the values of regional initiatives are good cooperation, constant communication on various grounds and they are certainly not a replacement for European integration, but they represent a support column and catalyst of regional cooperation which should lead to a more dynamic process of European integration.
"Such initiatives are on a voluntary basis and no one prevents anyone from participating or not. That is a matter of assessment and political trust", Joksimović has said adding that the initiative such as the Mini-Schengen where Serbia, North Macedonia and Albania are members to and whose name will be changed soon, is open for everyone else.
In her words, this initiative is yet another format for increasing the level of mutual trust, which is required primarily for the sake of economic interest of citizens in the region.
Joksimović has emphasised that this does not mean that the value of other regional initiatives would be diminished.
In this sense, Serbia was one of the first initiators of the Berlin Process which, as she has said, has produced many benefits and includes an element of cooperation in the areas of economy and regional economic area.
In her words, the debate on "duplicating initiatives" has been launched last night at an informal dinner organised by the advisor of the Slovenian Prime Minister in charge of European affairs, which was attended only by the Western Balkan countries' representatives.
She has added that during the debate it was absolutely clear that not everyone shared the same enthusiasm and interest for regional initiatives and that the question of duplication was opened.
"Such duplication is not an attempt to underrate any initiative, yet it implies additional channels of communication which manifest differences on specific topics, but contribute to constant communication, cooperation and what citizens in the region expect from the leaders in the region, such as better life, better quality of life, higher living standard, good cooperation, peace, stability, accelerated process of European integration and for sure recovery from the pandemic", she has emphasised.
She has stressed that Serbia supports all present and "living" regional initiatives adding that it will always take part in them.
Joksimović has said that she indicated to the leaders in the region who are opposing specific initiatives that there have been many initiatives in the last 20 and more years that have been overlapping regarding the matters or topics of their focus.
"If the Berlin process has been initiated, does that mean the Brdo-Brijuni Process should have been cancelled? Of course not, and no one ever thought about it. It is true that we are constantly opening new platforms for communication since that is the only healing and possible solution for problems that still exist in the region", Joksimović has indicated.
She has said that Serbia, North Macedonia and Albania have focused on economic cooperation and has informed both representatives of the region and the EU member states' ministers about good macroeconomic indicators that Serbia has scored in this area.
"These indicators are stable and good, which does not mean we have lulled into comfort, but continue working – Government in synergy with the President, and all these initiatives are aimed at bringing everyone such economic stability in the times when even ministers of the European Union express their concern", she has added.
In her words, many questions have also been opened regarding cooperation and recovery from the pandemic, as well as enlargement, and there has been a lack of enthusiasm of everyone in the region who expect specific steps on the European path, in particular Albania and North Macedonia, which, as she has assessed, is understandable.
"I have passed on that Serbia clearly supports European integration in the region, primarily in North Macedonia and Albania, and that this coincides with regional initiatives", she has said.
She has mentioned gratefulness to Slovenia for inviting the representatives of the region to such a meeting, stating that Slovenia has thus demonstrated its resoluteness and determination to restore the topic of enlargement to the agenda during its presidency by the end of the year, as well as the topic of the Western Balkans.
"Not all member states are so much in favour of the enlargement process at this moment, but it is important that Slovenia demonstrates from the very beginning that it is starting to implement what it has announced," Joksimović has mentioned.
Source: Tanjug