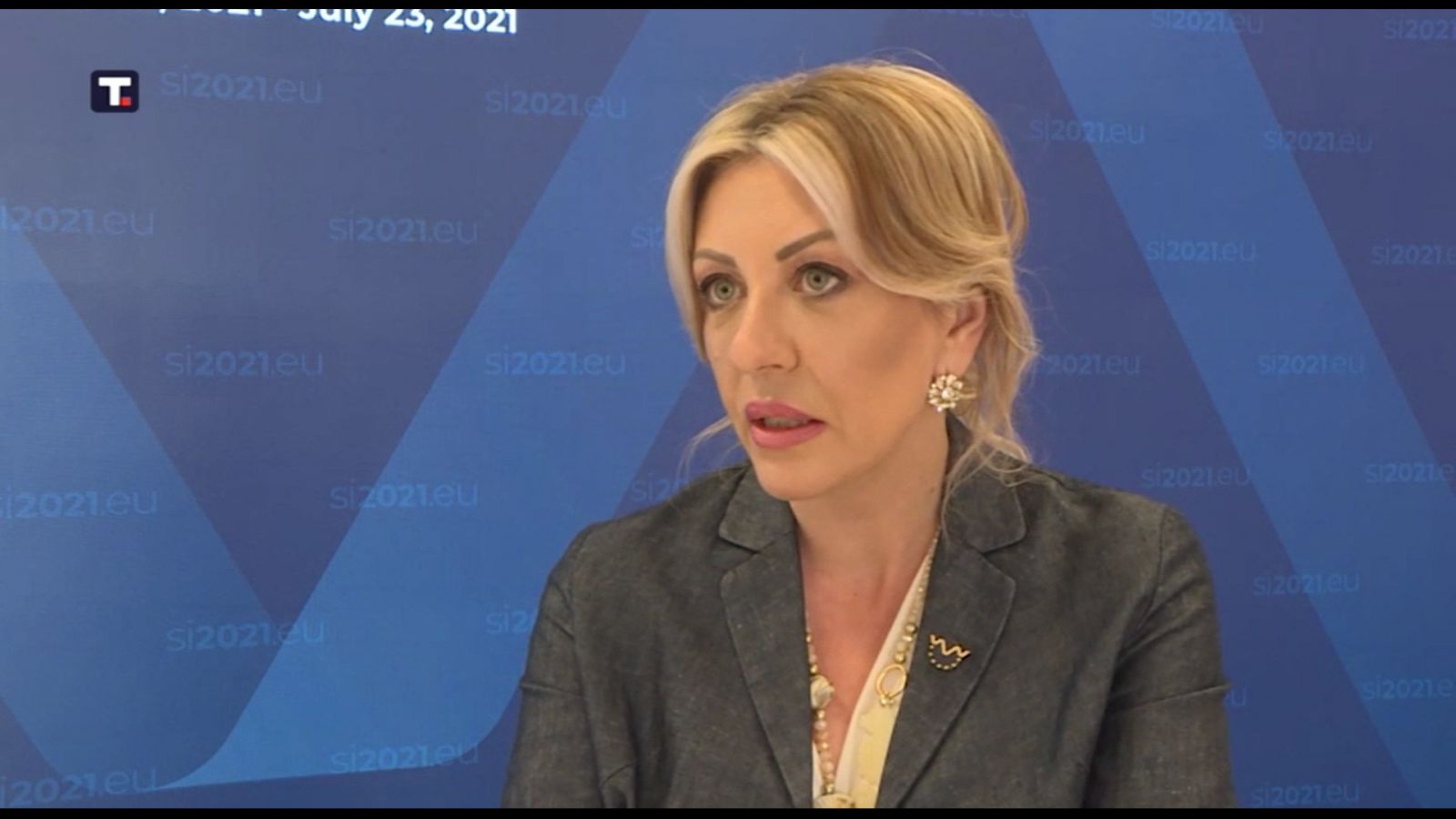 At today's Informal meeting of the European Affairs ministers in Slovenia, Minister of European Integration Jadranka Joksimović has presented how Serbia has faced the crisis caused by the coronavirus pandemic, as our country has managed to preserve good macroeconomic indicators despite the crisis.
Following the meeting at Brdo Congress Centre, Joksimović has imparted that European Union ministers have expressed concern regarding this issue and that today they have presented joint plans for the recovery of the European continent.
"The unprecedented huge financial envelope for EU recovery has been prepared, which is however conditioned by specific national reform plans which every member state will have to present and to fulfil in order to benefit from this money", Joksimović has said.
As she has mentioned, she has presented Serbia's method in facing the crisis, demonstrating functionality and good organisation, but also the founding values of the EU – solidarity and understanding that only together we can do better and be more successful in responding to the situation which is equally difficult for everyone.
Also, Joksimović has talked about how Serbia has organised vaccine procurement, but also vaccine donation to the countries in the region, and even some member states.
"We haven't done that to pursue vaccine diplomacy, but to demonstrate that no one is safe unless we are all safe, and that we understand that we share the common area in Europe and that challenges which await us in the future go beyond what many have focused on, which are the matters of the past", she has said.
She has added that this does not mean Serbia is avoiding matters of the past, which are, as she has said, always present and will receive their epilogue.
"However, I think that facing the future at this moment is even more challenging", she has said.
She has said that combating climate change is a part of the EU response to potential crises.
Joksimović has mentioned that she also communicated that during the pandemic Serbia demonstrated it shared basic European values, which are measured through the accession process too, the rule of law, specific steps in the very accession process, but these steps were also measured and visible during the crisis when no one really had an appropriate response.
"This does not mean anyone has been reprimanded, but the EU also has to consolidate and see where the problems were. This is demonstrated through these meetings and it is good we have participated and showed our experience", she has said.
She has said that she also notified them that Serbia was ready for the new methodology, and that two clusters were prepared, but also that the obligations from the rule of law action plan were being implemented, which will be the basic requirement for a positive decision on potential opening of clusters to be adopted by the end of the year.
Serbia has prepared two clusters, Joksimović has said and added that these are cluster 4 – Green Agenda, digitalisation and sustainable connectivity and cluster 3 – Inclusive growth and competitiveness.
"I think that during Slovenian presidency the entire region expects some positive steps in the process of European integration. It won't be easy for Slovenia to meet all these expectations, while Serbia expects that by the end of the year the progress we have realised will be validated", Joksimović has said.
She has added that she has offered to the representatives from the region technical assistance for the European integration process, since, as she has said, not everyone is ready for the new methodology.
"I believe that by the end of the year there will be some concrete steps on the European integration path. Reforms await, we continue with their implementation, primarily in the area of the rule of law. We have prepared two clusters and I can say that we are ready for Slovenian presidency", Joksimović has concluded.
Source: Tanjug