EU donates EUR 10.2 million for projects of 19 local self-governments
July 19 2021 | Belgrade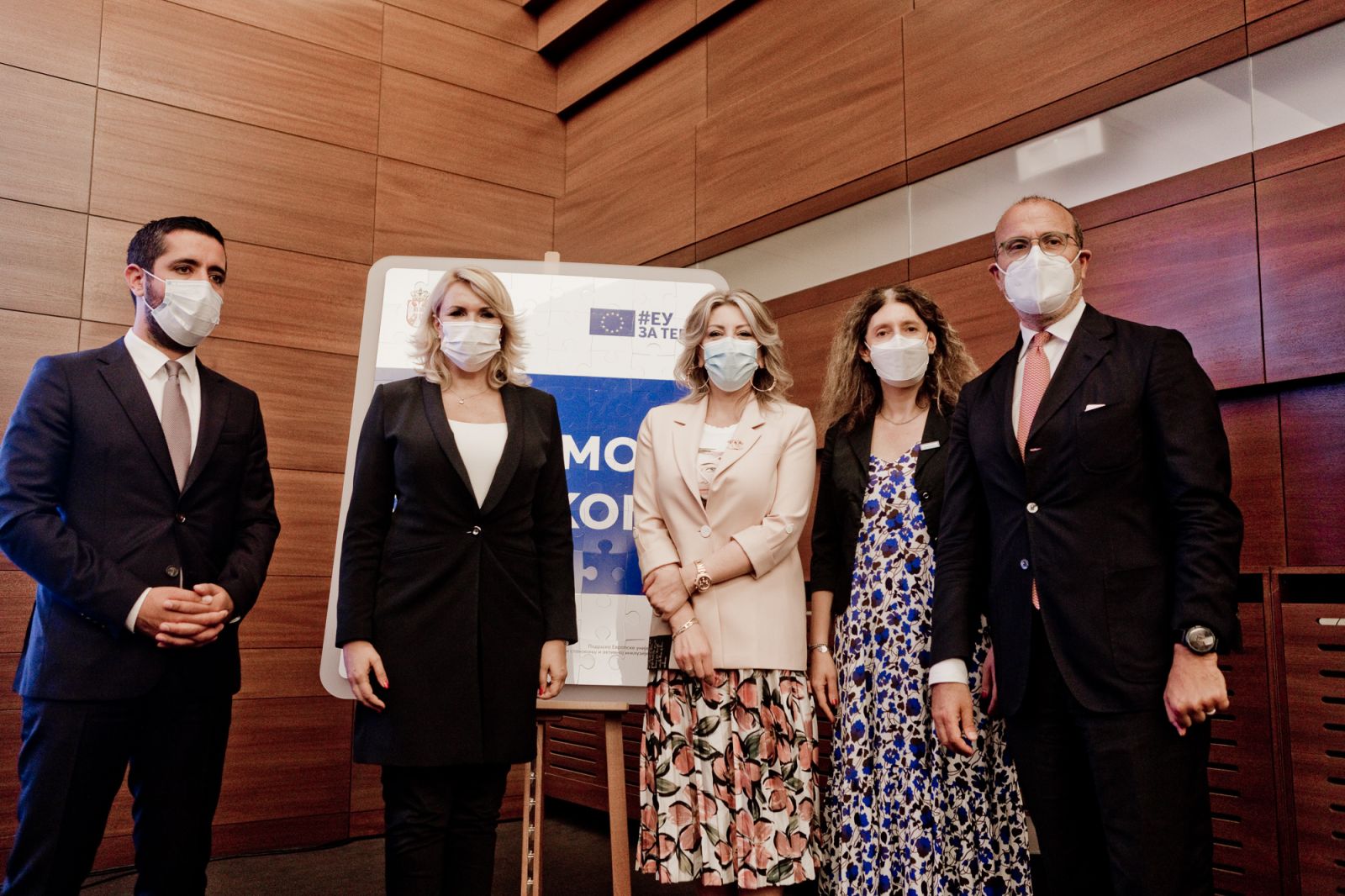 Agreements on EU donation worth EUR 10.2 million have been awarded today for the implementation of social housing and active inclusion projects in 19 local self-government units.
The agreements have been awarded by Sem Fabrizi, Head of the EU Delegation to Serbia, Tomislav Momirović, the Minister of Construction, Transport and Infrastructure, Darija Kisić Tеpavčеvić, the Minister of Labour, Employment, Veteran and Social Policy, and Jadranka Joksimović, the Minister of European Integration.
Minister Joksimović has stated that Serbia has shown that it entered the process of using and preparation for using EU pre-accession funds, in a reasonable, responsible, serious and efficient way, for the benefit of every citizen of Serbia living in any part of the country.
She has recalled that around EUR 11 million from IPA funds were used for the reconstruction of the navigation lock at Djerdap, adding that a similar amount – EUR 10.2 million – has been granted today through agreements on EU donation.
"On one hand, we have a large infrastructure project that is very important, and on the other, we have something that is vital for the social dimension, social empathy that we must show particularly in times of the COVID-19 pandemic and the post-COVID recovery, where no one will recover if they do not have basic conditions for a dignified life", said Joksimović.
She has added that this includes housing, as well as the accessibility of medical care, health insurance and everything that in the 21st century makes up the basic package of elements for a dignified life of every citizen.
Fabrizi has said that social housing is one of the key issues and that this is why this project is so important. He has stressed that it is a concrete project aimed at vulnerable groups, adding the 421 families will receive help.
Momirović has said that his ministry recognises the importance of equal opportunities for all, and that it strives, within its competences, to contribute to equal development and better social inclusion.
"This project directly contributes to the improvement of the position, right to a dignified life and active social inclusion of members of the Roma population and other vulnerable groups", stated Momirović.
He has added that, in the following period, the Ministry will provide an active contribution to the planning and implementation of projects that promote social inclusion, improvement of housing quality, improvement of social housing and development of the housing support system.
Kisić Tеpavčеvić has said that this is one of the good projects to participate in, where the results of its implementation can be seen directly.
"We should act just as this project's slogan says – 'Let's take care of everyone' and we should not abandon anyone who needs help. It is easiest to close our eyes to problems, but it takes so little to bring back smiles to the faces of people who need our help", said the Minister.
She has said that, owing to this project, appropriate housing solutions have been provided for 421 families, which is more than 1,500 people.
"These people belong to the most vulnerable categories of our population – Roma, people with disabilities, victims of domestic violence, and young people who lived in social protection institutions or foster families and who are now more than capable of staring their life on their own, but they need our support", stated Kisić Tеpavčеvić.
She has stressed that, in addition to giving them the roof over their heads, this project enables them to gain economic independence through various forms of education, additional training, incentives for employment of people with disabilities etc.
Source: Tanjug
Photo: Tanjug, UNOPS (Sanja Knežević)