J. Joksimović: Serbia continues to strengthen structures for EU accession process
July 07 2021 | Belgrade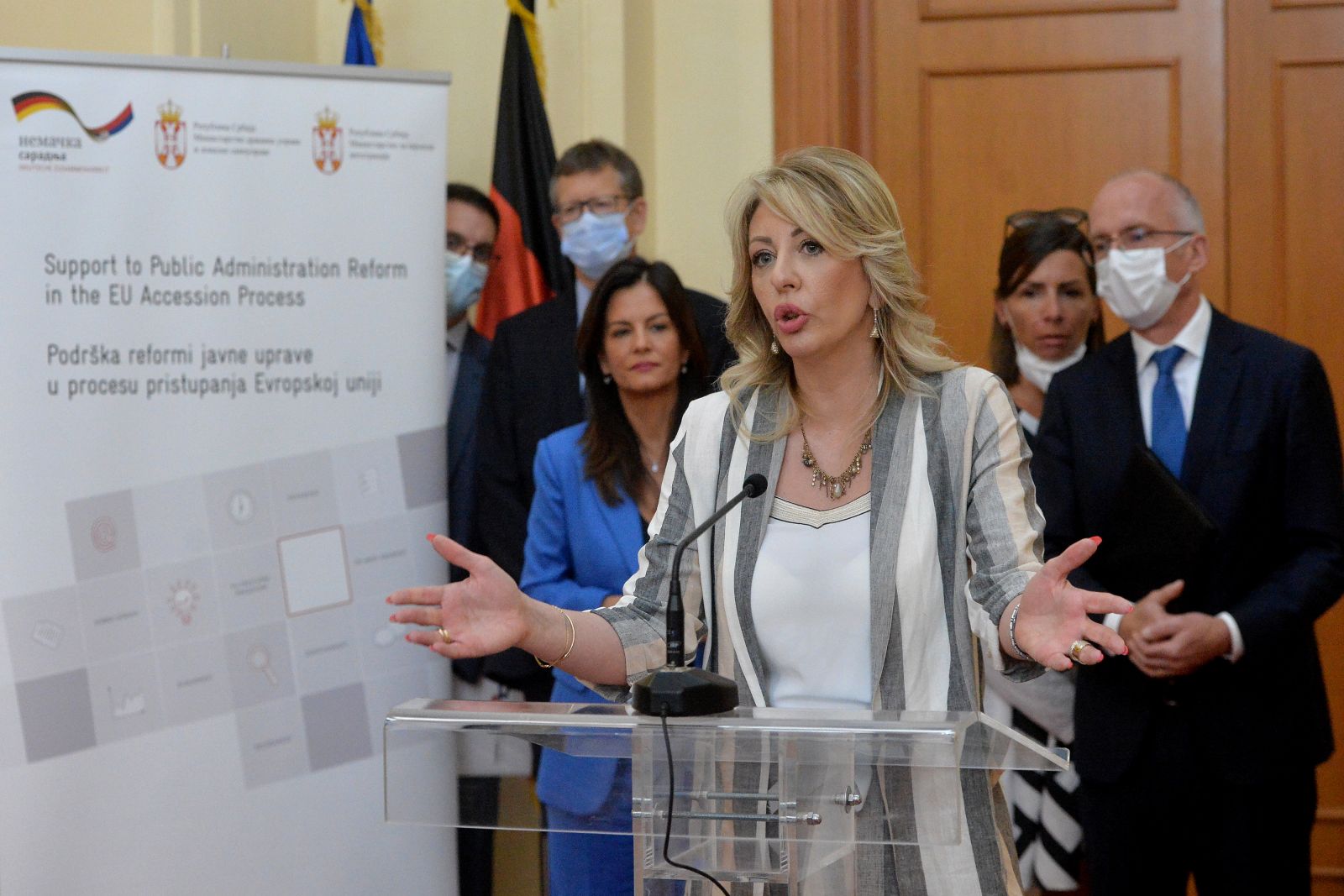 With the active support of European partners, primarily Germany, Serbia is ready to continue strengthening structures for the EU accession process, as stated today by Minister of European Integration Jadranka Joksimović, who has expressed her expectations that the enlargement policy will become "more popular" among certain EU member states and that the process will be accelerated.
Joksimović has said that Serbia was the first country to accept the new EU enlargement methodology and the only country in the accession process that has initiated an active application of new negotiation structures.
"We have introduced the Team for Support to Negotiations and coordinators for all six clusters, and we have become fully prepared both in the structural and organisational sense. In addition, we have strengthened the political steering of the process, with an active participation of the President and the Prime Minister, particularly in the first cluster, which among other things includes public administration reform", said Joksimović at the press conference following the signing of the Agreement on the implementation of the project 'Support to Public Administration Reform in the EU Accession Process', which is realised with the support of the German Agency for International Cooperation (GIZ).
She has recalled that the Intergovernmental Conference held in Luxembourg in late June marked the beginning of the concrete application of the new methodology to Serbia's negotiation process, where it was noted that Serbia had already opened cluster 1, which, according to her, is the main and the most important cluster.
"All negotiation chapters from that cluster had already been prepared and opened. This confirmed that the new methodology is "alive" and that, with the support of our partners, particularly Germany, we are structurally and organisationally ready to continue strengthening our structures in terms of public administration reform", said Joksimović.
She has emphasised that the Ministry of European Integration provides analytical support to other ministries that have an important role in preparing the negotiation chapters grouped under six clusters.
"The process is now more demanding, because everyone must be coordinated and horizontally connected, and all chapters within one cluster must be prepared and managed by line ministries and other participants in the process, such as the non-governmental sector, academic community, and professional associations", explained the Minister.
She has emphasised the importance of the signing of the agreement with GIZ, expressing her belief that the project will additionally strengthen the restructured organisation so that Serbia can enter the process of public administration reform with greater dynamism and intensity in the upcoming years.
"This is completely transparent and everyone will be involved. The beneficiaries are the Ministry of Public Administration and Local Self-Government and the Ministry of European Integration, in the segment where all of us together are becoming better prepared and are strengthening our structures for the accession process", said Joksimović, thanking Germany and GIZ for their long-lasting partnership and support to Serbia's European path.
Source: Tanjug