J. Joksimović: Technological development gets support from EU funds
June 28 2021 | Kruševac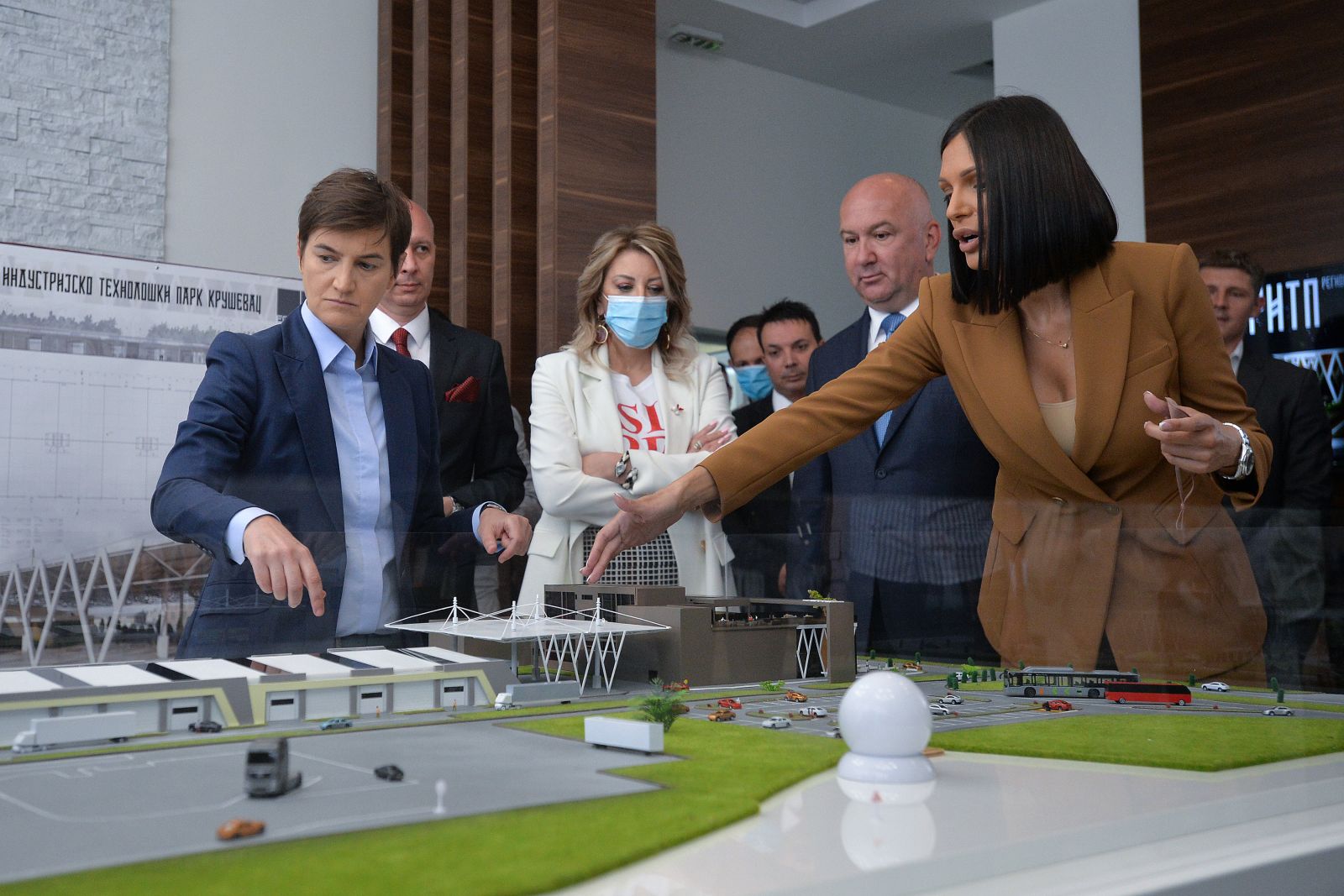 Prime Minister of the Government of Serbia Ana Brnabić with ministers Jadranka Joksimović and Nenad Popović has visited Business Incubator Centre in Kruševac and attended the presentation of the project for upgrading and equipping of the Regional Industrial and Technological Park.
Brnabić has assessed that a lot has been done in the Business Incubator Centre and that the project for the industrial and technological park in that city will be completed in the same manner as science technology parks in Niš, Novi Sad and Čačak.
"Honestly, well done. Bravo! You have done this mostly by yourself and with very little help from the state budget. Kruševac and its citizens have deserved this. This project will roll, there is no way that it won't", said Brnabić and assessed that this is a project and vision for the future.
She has mentioned that there was a lot of scepticism when the Government of Serbia announced the construction and equipping of similar parks in other cities, but it turned out that it was not only an empty promise and a nice sketch.
"There are science technology parks in Čačak, Niš, Novi Sad and there will be one in Kruševac now. We will be completing this for sure and soon we will be making other plans", Brnabić has said.
Minister of European Integration Jadranka Joksimović has said that the European Union IPA pre-accession funds should be used, adding that there have been discussions today how to find additional funds for this project.
Joksimović has invited interested parties to keep an eye on calls for proposals that are open and transparent, mentioning that this could be an opportunity for development, not only of science, but also of other areas.
"We have just completed EU PRO for local economic development which started in 2018. Today we move to EU PRO . Possibilities are huge, co-financing ranges from 15 to 49 per cent, which are very favourable terms", Joksimović has said.
As she has said, it refers primarily to what would be the urban development which is the main component of grant scheme.
In her words, a large share of funds could be donated from the EU grants donation, with smaller co-financing.
Joksimović has stressed that Rasina district has used 18 projects from the EU PRO, out of them eight in Kruševac in the total value of EUR 350,000.
Director of Business Incubator Centre Martina Manojović has said that the Regional Industrial and Technological Park represents a new vision of future for Kruševac.
"We hope that the Prime Minister will recognise the importance of the park since it is significant for the development of youth, family and female entrepreneurship, new technologies and robotics", Manojlović has said.
Source: Tanjug